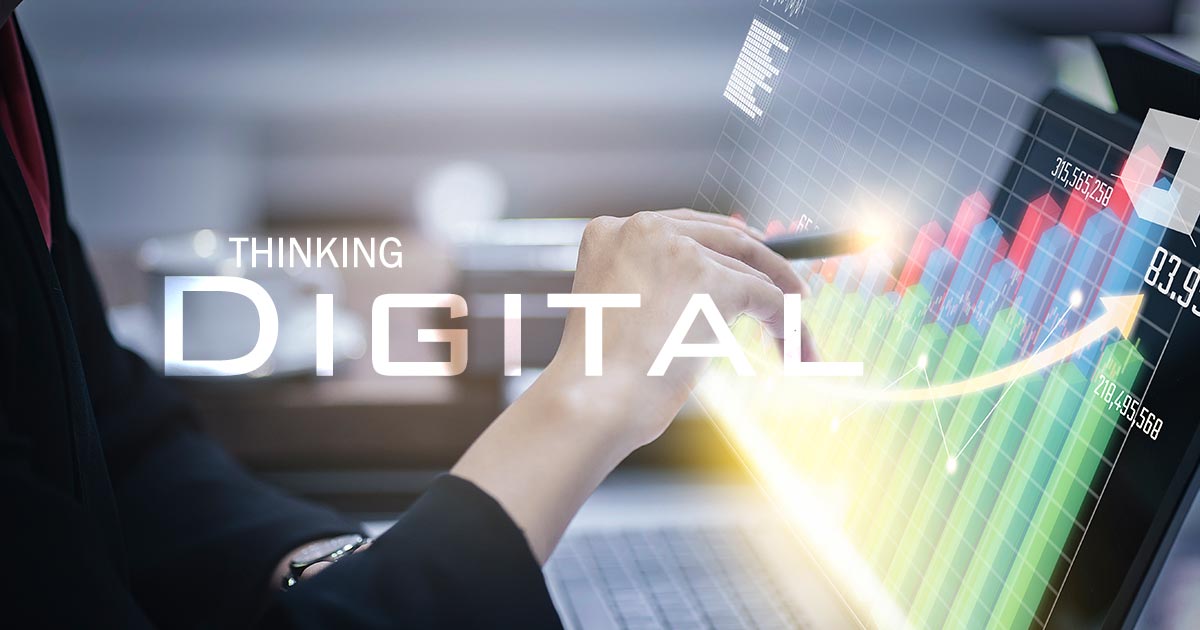 11 MIN READ
The world is a drastically different place than it was when we celebrated a new year in January:
Worldwide, over 8 million people have contracted COVID-19 and almost 450k have died.
Experts believe at least 20% of US workers are unemployed.
Billions of people have locked down in their homes for months to stop the spread of the virus.
Businesses have shifted all operations online.
Entire sectors of the economy have ground to a halt while others have surged.
Uprisings have swept across over 400 cities in the US and even more around the world.
The required response to COVID-19 has triggered an unrivaled recession.
On paper, it looks pretty bleak but make no mistake: there's still plenty of good in the world. Businesses and individuals have stepped up to the plate in response to these catastrophes and dire situations to help their communities.
Digital marketing isn't so much a solution to any of these problems but more so a tool to help you persevere.
Because the truth is, no one knows what the future holds. Coronavirus cases might plateau in places like Michigan, but they're surging for the first time in the Carolinas, for example. In other words, you shouldn't write off another lockdown on non-essential business over the summer or fall.
Here's why digital marketing is so important for rolling with the punches right now and beyond.
How COVID-19 Has Impacted Traditional Business and Why Digital Marketing Helps
Digital marketing works because it's dynamic. Here is an example of what I mean:
You can't rely on foot traffic, but you can use digital SEO tools to make your brand visible to new customers.
You can't count on seasonal holiday events, but you can bring the celebrations online to your social accounts and website.
The secret is to understand your customers on a personal level and develop the right strategies to reach them. Here's why and how to do it.
Breaking Free from Essential Vs. Non-Essential with Digital Marketing
Your status as essential vs. non-essential is directly linked to your survival as a business right now.
As soon as the lockdowns began, a wave of industries started lobbying governments to gain that coveted "essential" label and remain open.
A comprehensive digital strategy helps you rise above the essential business conundrum. Instead of relying on customers to come to you, you can go directly to them.
It works too. Several brands and non-essential industries you'd think would have vanished have grown exponentially since lockdowns began.
Most online retailers have experienced 65% growth on average. Some home goods companies and athletic companies have experienced more than 200% more sales than the previous year.
You can't control the economy and job losses, but you can control your digital marketing presence. Staying afloat – or even experiencing massive growth – relies on more than a functioning website. You need a comprehensive digital strategy across multiple channels.
Embrace Dynamic Retail Trends with Digital Marketing
Consumers are shopping for everything online now.
E-commerce sales have risen steadily over the past five years as mobile shopping experiences have improved. However, a recent report from Adobe shows that e-commerce sales under COVID-19 soared to $1.7 trillion dollars during the pandemic.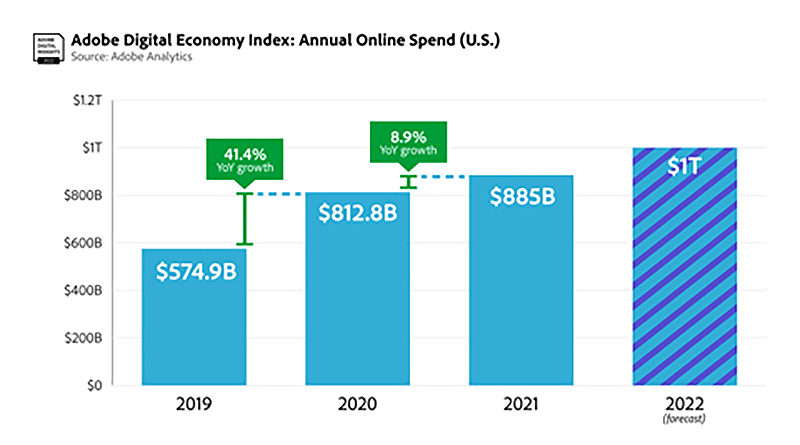 As of May, Adobe says apparel and computer sales rose by 12% and 11% respectively.
To take full advantage of e-commerce and online marketing, it's useful to know what's in-demand in your own community. UPS, USPS, and FedEx are all overwhelmed right now and shipping times aren't always reliable which makes for less-than-pleased customers.
Google recently released a retail tool for you to monitor what's trending in your own backyard. The tool lets you search by category and location to figure out which brands and products are tending where.
Here you can see the top metro areas looking for office supplies:

Google
From there we can zoom in on metro locations like Detroit to see which brands are in-demand: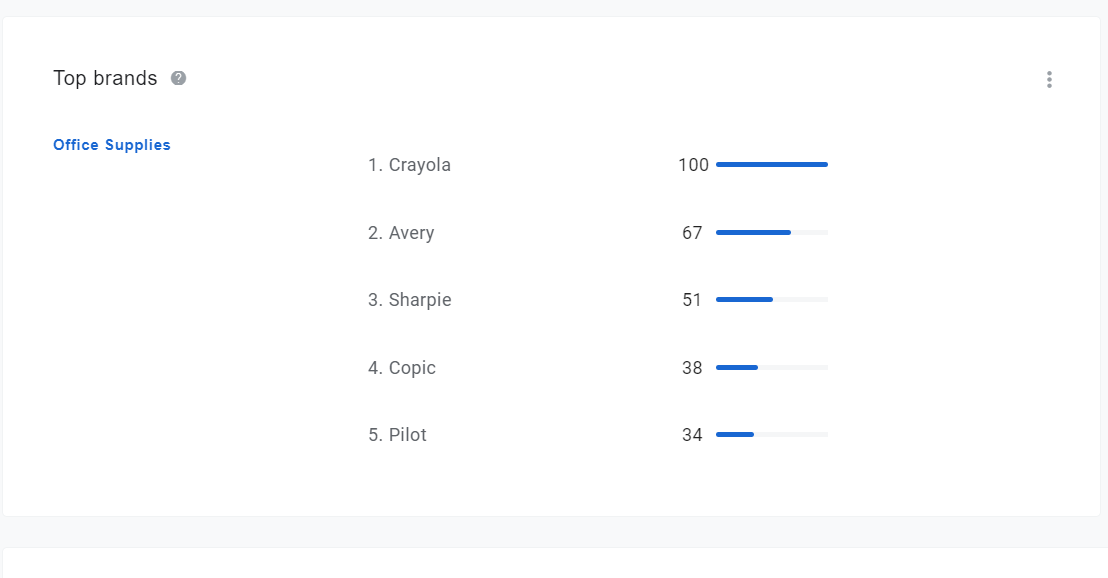 Google
This information is especially useful for stretching your social media ad spend.
Digital Marketing Offers Versatile Options to Help Your Audience
Brands have gotten pretty creative with their e-commerce sales over the past few months. Creativity is good! It forces you to put yourself in your audience's shoes and adapt to best meet their unique needs.
Some families are struggling with a single income right now while others just can't wait to get on a plane to visit Europe. Where does your audience fit?
Here are a few interesting ways brands have adjusted their tactics and digital marketing outreach to build momentum during COVID-19:
World Market: Offering a 10% discount on all curbside pickup orders to take the burden off shipping companies.
Panera Bread: Opening their online store to groceries and family-style meal services for pickup.
HBO: Providing their entire streaming catalog to Prime customers for free.
Staples: Offering free delivery while encouraging customers to consolidate orders.
Planet Fitness: Free online fitness classes streaming from its Facebook page.
Customer demand for these freebies and services will not vanish with the pandemic. Plus, Walmart just surpassed eBay in e-commerce sales for the first time, probably due to curbside pickups and deliver-to-store options.
Use Social Media Digital Marketing for Local Outreach
You can't rely on foot traffic to draw casual shoppers into your store but you can develop highly targeted social media advertisements.
Pinterest, Facebook, and Instagram all offer extensive audience insights and tools to help you reach customers in your local community (or anywhere you please).
Beyond sponsored ads, social media platforms are vital tools for keeping your customers posted on the ever-changing environment. Use your page to alert customers about your current store hours, capacity restrictions, and social distancing practices before they step out the door.
Post your hours regularly so customers see up-to-date information as soon as they visit your page. It's also worthwhile to create an "official" post on your current status and pinning it to the top of your page. You could also create a special header photo so the details are clearly visible right away.
Rely on Content Marketing to Replace In-Person Trust-Building
Without foot traffic, you don't have the same opportunity to speak with customers and build relationships in-person.
That's where content marketing comes in handy.
Even before COVID-19, small businesses with active blogs enjoyed 126% more leads than those without. Content marketing gives you a chance to educate shoppers about your brand's values, mission, personality, culture, and products.
Regular blog posts, videos, and infographics give your website visitors more information to consume when they come to your website which encourages them to stick around for a while.
Content marketing also lets you position yourself as an industry expert and earn more links to your website. You can improve visibility, traffic, and consumer trust all in one fell swoop!
But for content marketing to work, it must be relevant. Your blogs need to solve real problems your customers face with answers they haven't heard before. You also need to incorporate keywords and SEO to boost your exposure through search engines.
Boost Visibility with Local Search Platform Digital Marketing
Even with businesses shut down, local search is booming by 60% to 100% depending on the topic: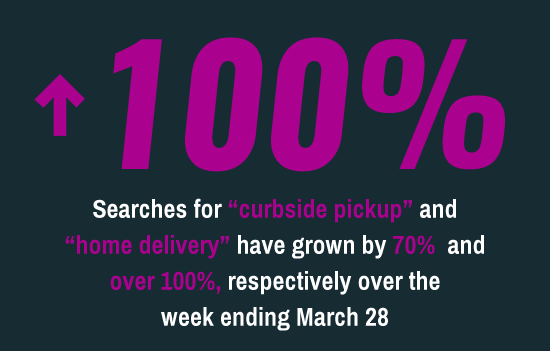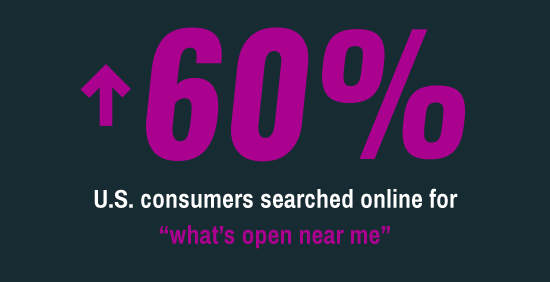 Like many other digital marketing strategies here, local searches were already on the rise before COVID-19 so you shouldn't expect this trend to go away anytime soon.
Remember that conditions change almost daily right now. People expect your Google Business listing, for example, to include current information:
You should also expect the real-time traffic data to grow in importance as people seek to avoid crowds. Google is already working on improving its real-time traffic information for public transportation due to COVID-19.
Create a Virtual Shopping Experience with Digital Marketing
Your web design plays a huge role in building trust and encouraging engagement in your audience. Any business growing under COVID-19 has a 100% stunning and user-friendly website – guaranteed!
Here's the thing with web design. You want to impress shoppers with your digital experience – not web designers.
A website optimized for visitor experience should:
Offer a guest checkout option (no need to register)
Create a seamless checkout experience on mobile and browsers
Allow customers to add products to their cart on one device and checkout on another
Provide simple navigation menus with clear instructions
Supply high-quality photos of your products
Offer VR or interactive features
Replace Cancelled Events with Digital Marketing
We don't know how many holidays we're in for yet under COVID-19 restrictions. Meanwhile, events like concerts and fireworks displays have vanished for the time being.
Lots of artists like Common, Pearl Jam, Lady Gaga, and everyone with summer tours planned have switched to live stream formats.
The demand for digital events was rising before COVID-19 and you can expect it to remain important from here out.
Expect to see brands investing in digital holiday events over the next year for Independence Day, Halloween, and the winter shopping season. Get ahead now by looking for ways to create a unique experience for your customers and promote your products.
B2Bs, 84% of which rely on events for visibility and business success, should look for fresh ways to connect through intimate networking and skill-building events.
Connect with Industry Partners Through Digital Marketing to Benefit Customers
Competitor or colleague? COVID-19 is forcing companies to redraw the line.
Depending on your industry and location, this could mean coordinating with competitors on factors like inventory and logistics in the interest of your customers.
Of course, this is a touchy situation so consider what's best for your long-term business strategy.
Replace Direct Mail Coupons with Email Marketing
Consumers overwhelmingly prefer to hear from brands through email.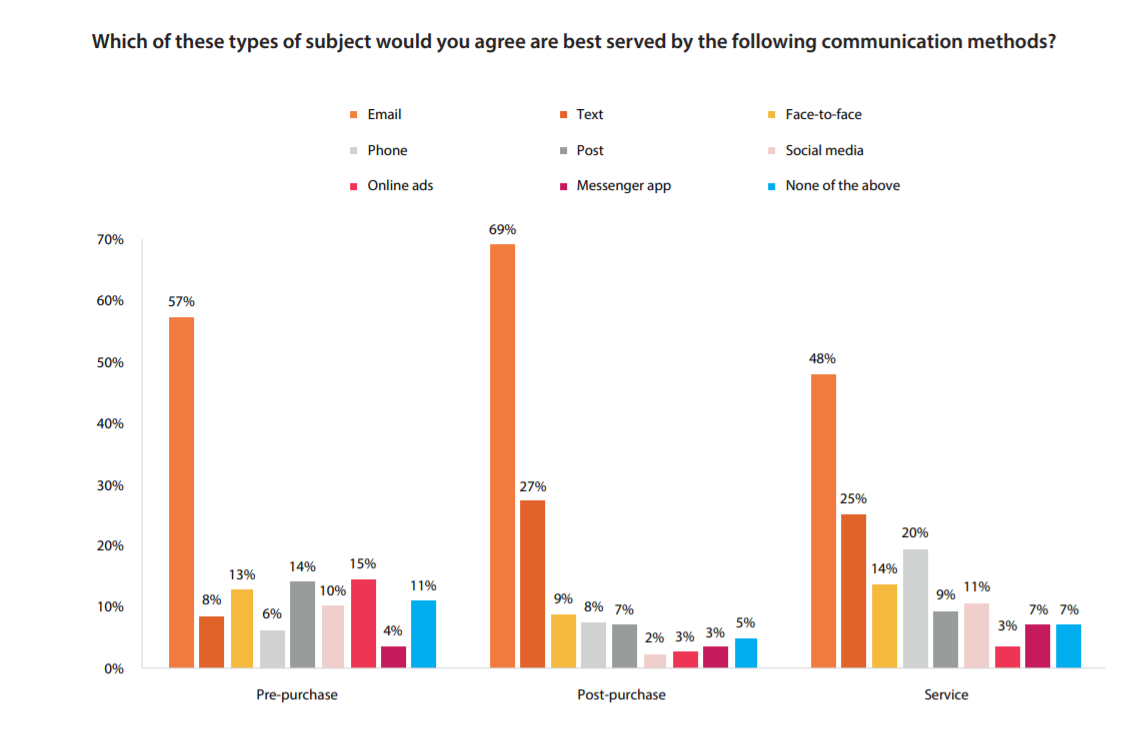 DMA
Plus, email helps you stretch your marketing budget. Instead of sending the same coupon to every household in your area, you can develop personalized campaigns for different segments.
For e-commerce, email marketing is vital during COVID-19 and beyond. Why? Email makes it easy to stay connected with shoppers and build loyalty. You can send exclusive discounts to your most loyal customers and personalized promotions based on their browsing behavior.
World Market sent an email containing the exact product a customer viewed on their site along with upsells for a rug the customer recently bought:
Any e-commerce company growing during COVID-19 is taking full advantage of email's vast digital marketing tools.
Swap Out In-Store Conversations with Messaging Apps
Messaging apps help you answer questions and provide details. Something as simple as answering a question about store hours or curbside pickup could make the difference between a sale or not.
The goal is to meet your customers where they're at – whether it's WhatsApp, Facebook, Telegram, or Instagram.
Facebook, Telegram, and other messaging apps also make it easy to integrate chatbots for frequently asked questions about your products, shipping, or hours.
While live chat offers a nice touch, don't bother if you can't keep it staffed. People expect a response instantly. If they ask a question and no one answers, not only will the customer go somewhere else but the experience will leave a bad taste in their mouth.
Take Charge of Your Digital Marketing Strategy
The demand for e-commerce and digital marketing isn't going anywhere after COVID-19 passes. The pandemic is one of those things that shape our economy, business, and shopping behavior for a generation.
Our Austin-based team of reliable marketing consultants, SEO strategists, web design developers, and content marketers believes relationship building is the key to success.
15 years of working in the digital marketing field have taught us that honesty and transparency are vital to helping clients reach their goals. You need a trusted partner to guide your digital strategy and our team at JS-Interactive has the authority and experience to help you succeed.
Because it's not about us, it's about YOU.
We know how important reviews are for building trust. Read the latest client reviews of our work to see why so many Austin businesses trust us with their online presence.