13 Ways Small Businesses Can Respond to COVID-19 with Digital Marketing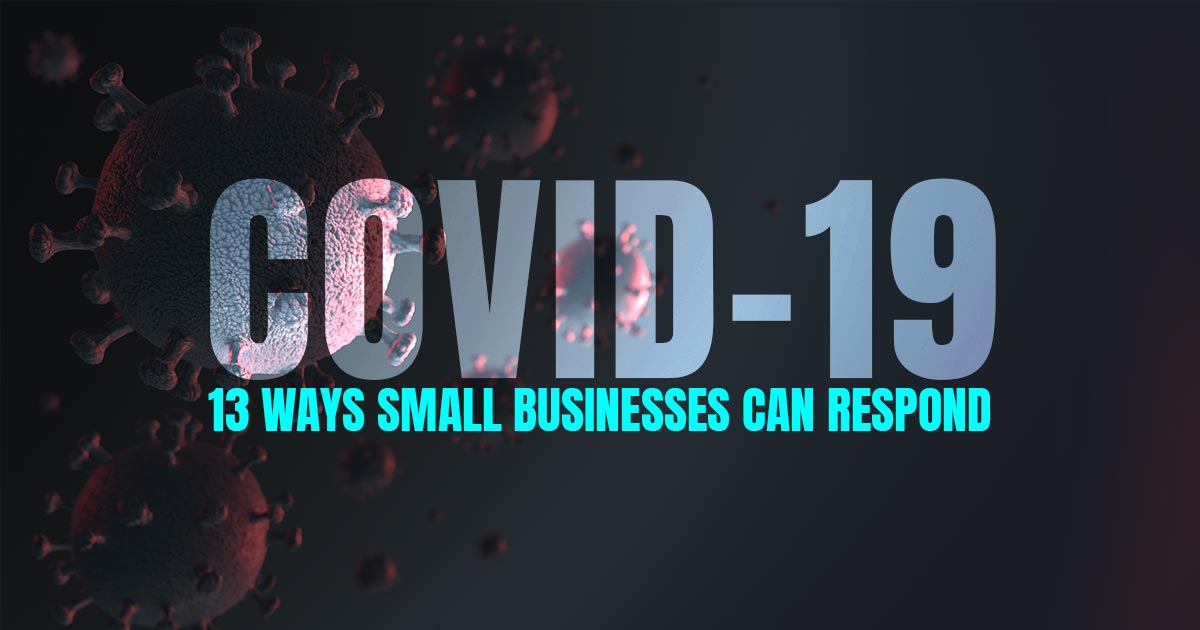 It might not feel like it right now, but it's definitely not the end of the world.
The COVID-19 pandemic has shaken us to our core. Everything we knew about day-to-day life has changed, and millions are suffering.
People have lost a lot of control, and their futures are uncertain.
During times like this, however, it's essential to look at what you can control. As the saying goes, you can't control the actions and behavior of others; you can only control your response.
COVID-19 has encouraged us to expand our perspective and evaluate fresh ways for carrying on despite the widespread hardship.
Small businesses feel like they're getting the short end of the stick right now (and for good reason). However, you can take a step back, re-evaluate your digital marketing strategy, and temporarily adapt.
How Small Businesses Can Productively Respond to COVID-19 with Digital Marketing Strategies
Over the years, JS-Interactive has helped countless companies – in industries like fitness, travel, and hospitality – expand their digital marketing and SEO strategies.
Yes, the economy looks like it's in shambles. However, COVID-19 also provides new e-commerce opportunities for nearly every industry. Plus, it also gives you a fresh chance to connect with your audience and build up your branding.
Of course, no one likes an opportunist, so don't look for ways to exploit a captive audience. Instead, discover how you can help people while growing your business. Here are a few ideas.
1. Prioritize Your Mental Health and Wellbeing
You can't run a proper business if your head and health aren't in the right place.
It's way too easy right now to slip into your PJs, grab a beverage at 11 AM, and binge Tiger King.
While tempting to treat this as an isolation vacation, that attitude doesn't help anyone. Of course, we all have our own coping skills. Unfortunately, many people are reaching for unhealthy coping tools right now, like alcohol or binge eating.
Instead, small businesses (and everyone, really) need to treat this as an opportunity for self-reflection and growth.
We're in a pandemic. No one has ever lived through something like this before.
Embrace it. Don't panic.
Stay informed, but don't keep sensational news running all day.
Use a planner and keep a routine going.
2. Stay Physically Active
Exercise is important for keeping your immune system and mental health strong.
Regular physical activity is scientifically proven to reduce depression, anxiety, and negative moods while boosting confidence and cognitive function.
Sure, the gyms are closed, but YouTube is loaded with awesome bodyweight exercises. Plus, athletes, gyms, and influencers continue to upload equipment-free programs to their channels.
Go for a bike ride or jog and stretch every day.
3. Rethink Your Approach to Business and Digital Marketing
Now, it's time to consider how you'll shift your business online. You might need to get a little creative. Here are a few options:
Fitness: Streaming or downloadable workouts, home equipment, meal plans, personal training via video.
Travel: Vouchers for future tickets, virtual tours, downloadable eBook guides to specific destinations, partnerships with local NGOs in different destinations to support COVID-19 relief.
Spas and salons: DIY videos for haircuts, DIY home facial videos, recipes for making natural skincare products at home.
Restaurants: Boosting delivery services, switching to grocery delivery, DIY recipe videos, discounted gift cards.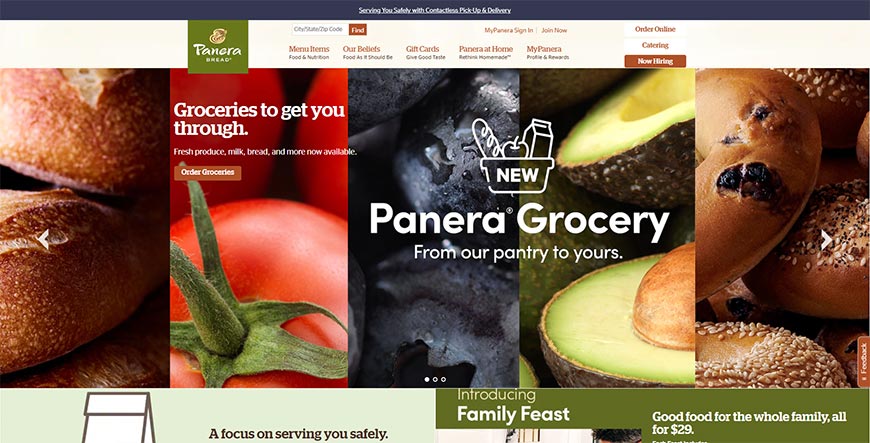 4. Panera has shifted to grocery sales.
Set Up a Dedicated Workspace
You can't focus on your work without a dedicated space. Set up an ergonomic desk and chair in a quiet room where you can concentrate and take phone/video calls.
It's also worthwhile to get an adjustable computer stand so you can stand up to work for a few hours each day.
5. Be Intentional with Video Conferencing
Everyone communicates through video now. That's just how it is.
Don't rely on email, either. Threads with multiple team members can get confusing and overwhelming.
Set up specific meeting times, assign someone to take notes, and get a document to outline the meeting's structure.
6. Stay Empathetic with Your Workers
We're all sailing through uncharted territory. Everyone responds to challenges and crises differently.
There's a solid chance someone at your company may have a family member diagnosed with COVID-19 or received a diagnosis themselves. Other team members are working from home while homeschooling their kids or caring for young children.
We're all in this together, and that means we need to be understanding and accommodating to our teams.
7. Ramp-up Your SEO Strategy
Search engine optimization is your secret weapon to boost leverage over your competitors. It's a long-game strategy – not a quick fix – but it's 100% worth it.
When social media and PPC fall apart, SEO will always be there to carry you through the tough times.
Keep a few key points in mind:
Choose long-tail keywords: They're more relevant and show a searcher is closer to a purchase.
Skip black hat techniques: Google will eventually catch on and punish you.
Don't forget local search: Optimize Google business listings, Yelp, etc.
8. Revisit Your User Experience and Web Design
Digital experience reigns supreme right now. Research shows the average consumer engages with six touchpoints before completing a purchase online.
Now might be the time to install a new WordPress theme focused on user experience (UX).
Optimize every touchpoint and use popups to inform visitors about your new hours, deliveries, services, or changes regarding COVID-19.
9. Nail Down Your Content Marketing Strategy
Marketers who prioritize blog production are 13x more likely to enjoy positive ROI from their efforts.
The more blogs you publish, the more chances you have for ranking on the first page of Google search results.
Everyone is home reading content on their phones right now. Think about what problems, questions, or concerns your audience might have and design killer content around them.
10. Set Up New Customer Support Resources
Now is the time to supercharge your customer service experience.
Make sure you have all your bases covered. Consider every possible touchpoint a customer might try to contact you online. Such as:
Live chat or chatbots on your website
Facebook messenger
WhatsApp
Email
Phone
While live chat can seem tempting, if you don't have the resources to staff it, you shouldn't bother. Customers will get frustrated if someone doesn't respond immediately during preset hours.
11. Build Your Digital Marketing Reputation
Your brand's online reputation matters more than ever. If you haven't yet, set up brand mention alerts through a tool like Sprout Social or BuzzSumo. They'll alert you any time your brand (or a branded term) is mentioned anywhere on the entire internet.
Don't forget your reviews! 91% of people read reviews before committing to a purchase, and 84% of people consider them as valuable as a personal recommendation. Cover all the bases like:
If you see a negative review, don't freak out. Reply calmly and try to rectify the problem. Future customers will see that you took the time and effort to respond and at least attempt to fix the problem.
12. Look for Ways to Help Others
Everyone is struggling right now. People who aren't sick are unemployed and struggling to make ends meet. Folks working from home might be doubling as teachers with homeschooling.
People need help right now. Anywhere you can offer help, do it.
That might include free shipping, free add-on items, additional customer support, or donations to relevant organizations. Go above and beyond for loyal customers with nice discounts or coupons.
13. Tap into Resources for Small Businesses
With millions of small businesses closed across the United States, it's easy to feel like it's truly the end of the world. We'll get through it.
Start by checking out these resources from the Small Business Administration (SBA). Payroll loans allow small businesses to cover basic expenses like worker salaries, rent, utilities, and other bills.
If you stay open and keep workers on your payroll, you don't have to pay the loan back.
Small businesses can also apply for Enhanced Debt Relief. If you qualify, the SBA will cover your principal, interest, and fees on current and future microloans for the next six months.
Start Planning Your SEO with a Remote Team You Can Trust
JS-Interactive has helped businesses across Austin and beyond build their digital marketing and SEO strategies. As an award-winning company, B2B and B2C brands trust us to reach their audience with authentic and relevant content. We do what it takes to learn about your brand and audience to earn the visibility you deserve.
Don't let COVID-19 fear-mongering consume you. Schedule a free 30-minute call, and let's go over your options for growing your digital presence.
Get Marketing Insights to your Inbox
Boost visibility, outshine your competitors and attract more customers