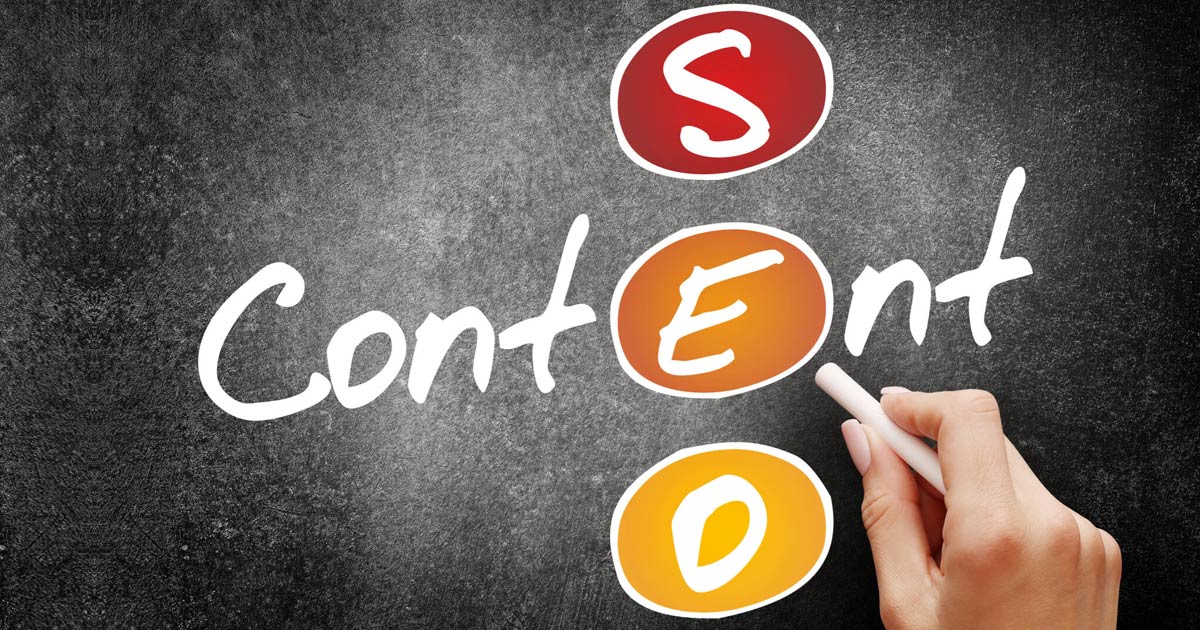 8 MIN READ
Most marketers agree that driving inbound organic traffic is important – critical even.
No one's debating that.
When the question of HOW comes up, though, that's another story.
One team swears content marketing is the answer. The other believes SEO is the solution.
Content strategy and SEO aren't competitors: You need both simultaneously to increase long-term targeted traffic, visibility, and conversions.
Below you'll read about the basics of content marketing strategy and search engine optimization. You'll also find a step-by-step guide for building an SEO-driven content marketing strategy and drive sustainable traffic.
It's Not Content Marketing Vs. SEO
Chicken and the egg. Peanut butter and jelly. Hipsters and craft beer.
It doesn't matter which came first or which is more important because content strategy and SEO need each other.
Why Does SEO Need Content Marketing?
Let's say your goal is to improve search engine optimization. You can:
Speed up your website.
Plug keywords in all the right places.
Optimize your local search apps.
Fix the technical stuff.
You'll eventually hit a ceiling after optimizing everything above. You only have a finite number of pages on your website to optimize.
Producing regular content gives you more opportunities to show up in Google search results.
Think of it this way: If you're looking for a new job, would you apply to one company or as many as possible? The more places you apply, the better your chances are of landing an interview, and so on.
That's why brands that blog enjoy 434% more indexed pages in Google than those that don't.
Plus, the Google bots like to see a website producing content regularly. It shows that you're knowledgeable about certain topics and care about sharing your expertise with others.
Google's job is to answer search queries – not sell things (aside from Google Shopping). You're much more likely to enjoy better SEO when you churn out high-quality content that answers specific questions consistently
Why Does Content Marketing Need SEO?
Content marketing is critical for demonstrating your value and authority.

Source: Tumblr
You could invest thousands each month on expert-level content, but without SEO, your promotion routes are limited. You can only share on Facebook, email, and tweet the same link so many times. Facebook will even repress your reach if you try to share the same link too often.
Search engine optimization is necessary for getting your content in front of a wider audience. Plus, blogs designed with SEO in mind build more sustainable traffic than social media.
Content marketing and SEO build a cycle of positive reinforcement too: The more content you publish and rank for, the more your website's rankings will improve.
How to Build an SEO-Driven Content Strategy Step by Step
A content strategy is what you get when you combine content marketing and SEO effectively. It helps you build brand authority and recognition while earning trust and converting leads into customers. Here's how to build a content strategy with SEO for sustainable and highly targeted traffic.
Set Your Content Strategy and SEO Goals
Before you research a single keyword, you must figure out why you're developing content in the first place. Do you want to:
Generate more leads
Create demand
Build brand awareness
Convert leads into customers
Prevent customer churn
You can set different goals for your content too. The point here is to figure out your KPIs so you can monitor metrics and track your content's performance.
Develop Your Audience Personas
If you don't write content for specific people, your blogs will never be relevant enough to apply to anyone. Generic content is no good for SEO, visibility, traffic, or conversions.
Develop distinct audience personas using details like:
Age
Location
Whether they're a parent
Interests
Favorite media outlets
Hobbies
Values
Gender
Problems and concerns they face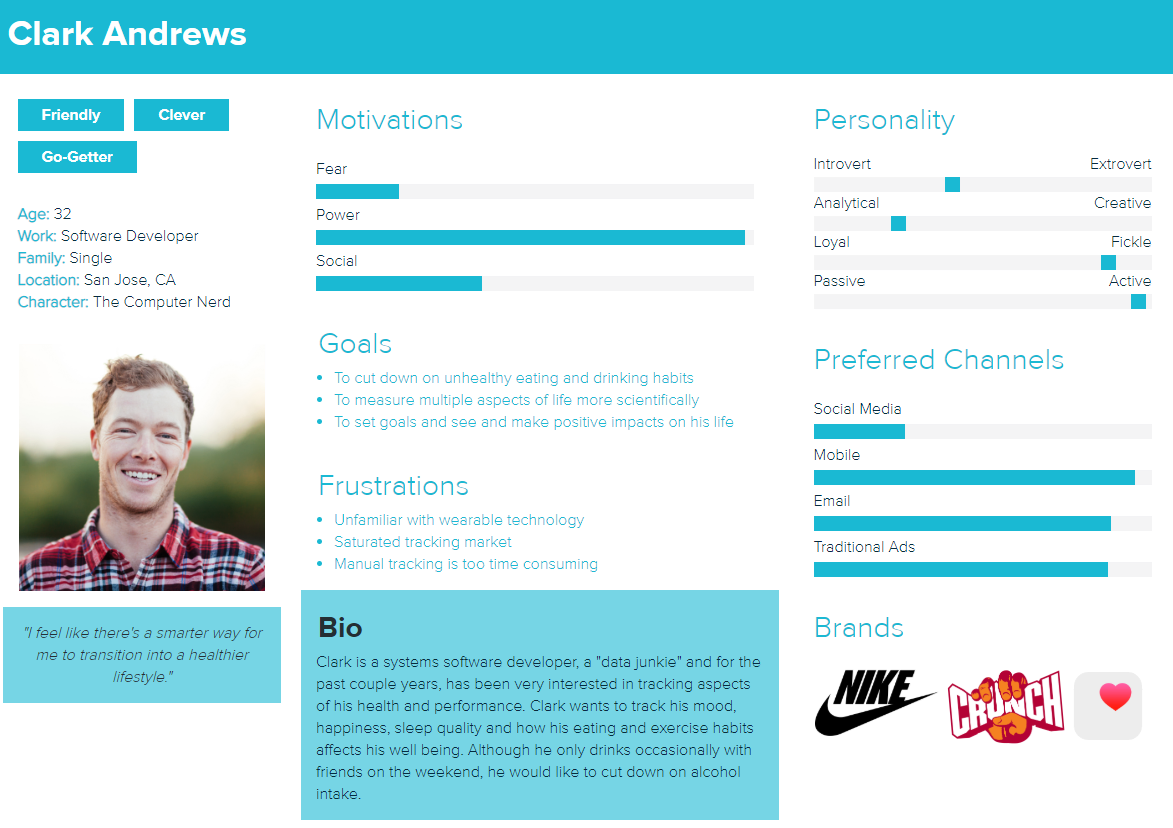 Source: Sprout Social
For B2B, you would develop your personas based on firmographics instead with things like:
Company name and industry
Job role
Buying power
Company size and market share
Day to day problems
Creating personas ensures that your content strategy and SEO are highly relevant.
Get Your Brand Guidelines Straight
Consistency is key to ensure your brand voice stays recognizable across every channel. Beyond logo and colors, nail down tone in your brand guidelines. Keep in mind that different platforms demand unique voices too. For example, Twitter is more straightforward, while Instagram is more storytelling and airy.
Research Your Seed Keywords for Content Strategy and SEO
Keywords are essential for building your content strategy SEO. They tell you what people are searching and asking on Google. Shoot for long-tail keywords. These keywords are phrases of three-words or more. They're also:
Lower competition
Highly relevant and targeted
Super targeted
More likely to suggest the searcher is further along in the buying process
It's easy to see why writing a blog around the keyword "best gardening tools for Midwest summers" is better than "gardening tools."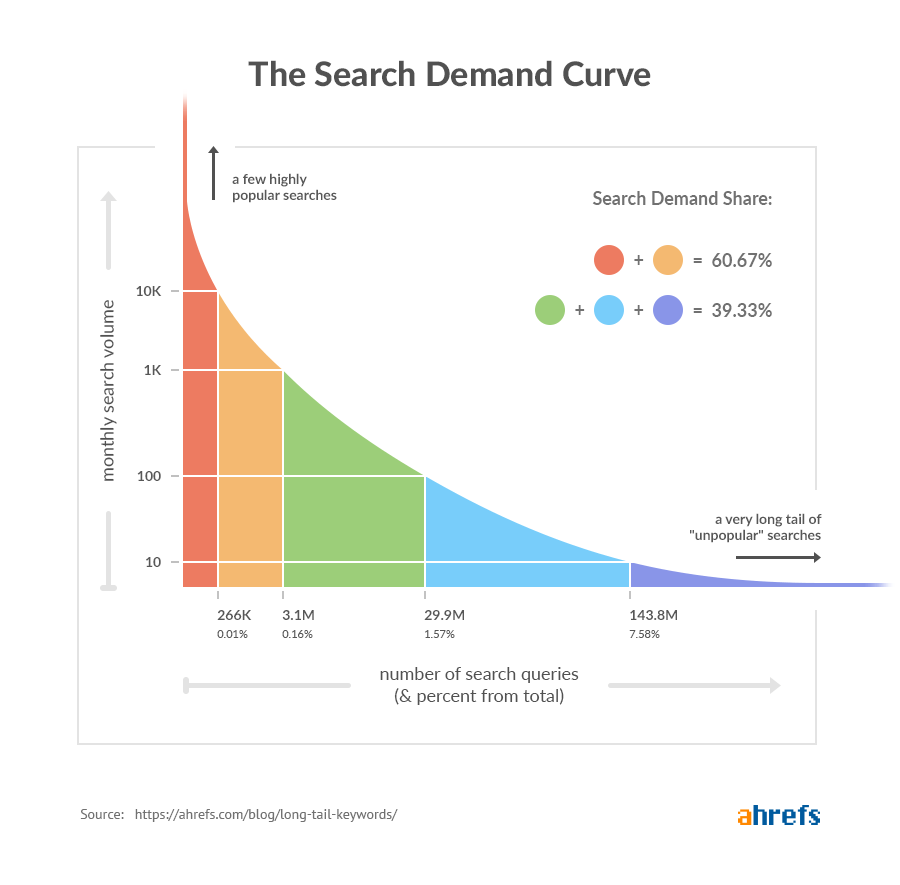 Source: Ahrefs
Decide What Types of Content to Create
Long-form blogs (over 1,000 words) are essential because they give visitors and Google bots lots of information to consume. You should also research your personas to figure out what type of content they like to consume. Such as:
Infographics
Videos
eBooks
Case studies
A BuzzSumo search for each keyword can tell you which types of content (lists/what/how-to/video) earns the most social shares.
Study the Competition and Successful Content
You can't add nuance to the discussion if you don't read everything that's already been said. Nobody wants to read nor share the same thing they've read 30 times.
Run a search for your target keyword and carefully read everything on the first page of the results. As yourself questions like:
Are they missing any vital points?
How can I add to the conversation?
Are any of the stats outdated?
Put Your Topics Editorial Calendar Together
Using your keywords, build a spreadsheet calendar in Excel, Google Sheets, or Airtable. You can use BuzzSumo and the AMI Headline Analyzer to make sure you're developing topics that stand out.
Make sure to include:
Headline
Topic notes
Links to include
Publishing date
Who's working on the project
Format (blog/infographic/video/etc.)
References for inspiration
Places to republish or promote
Structure Your Content for SEO
It's time to talk about keyword placement. How you structure your content determines whether it shows up in Google search results for your keyword. Of course, other factors play huge roles in your search engine rankings, but this sets you up for content marketing success.
Ideally, place your keyword in:
Headline and meta title
Slug (URL)
Some H2 or H3 subheadings throughout the content
ALT text for all your post images
Meta description
It's also smart to run a Google search for your target keyword and pepper in some of the semantic keywords you'll find at the bottom of the results. For example, these are the semantic searches that appear when we type "hemp oil hand lotion" into Google: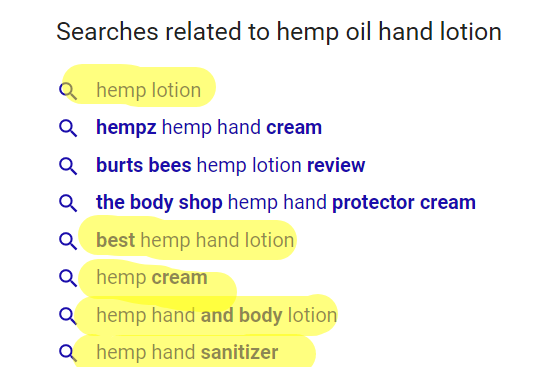 Earn Your Backlinks through Effective Content Strategy and SEO
Most backlink building is a waste of time. Yes, backlinks are important for SEO. However, your backlinks should come naturally by developing authoritative content people want to link to.
Don't hound websites with cold emails or comments. Instead, develop well-written long-form content that answers questions. Build relationships by networking with other brands and influencers – earn those backlinks.
Find the Best Places to Guest Blog and Promote
You can also earn valuable backlinks through guest blogging. Not only that, but it gets your brand message in front of a wider audience. Ideally, always write 100% original content for guest blogs.
Choose specific websites where either your current target audience or markets you'd like to reach hang out online. You can find some excellent opportunities by following industry influencers on social media and noting the domains they share.
Boost Your Content Strategy and SEO with Expert Help
Every content strategy should be 100% unique. Our expert content marketers and SEO consultants take time to learn about your business, goals, and audience before jumping into action. The team at JS-Interactive has over 15 years of experience helping both B2B and B2C brands develop winning blogs, email, and other content.
Let's talk about what you'd like to accomplish with an SEO-driven content strategy. Schedule a complimentary 30-minute consultation now.