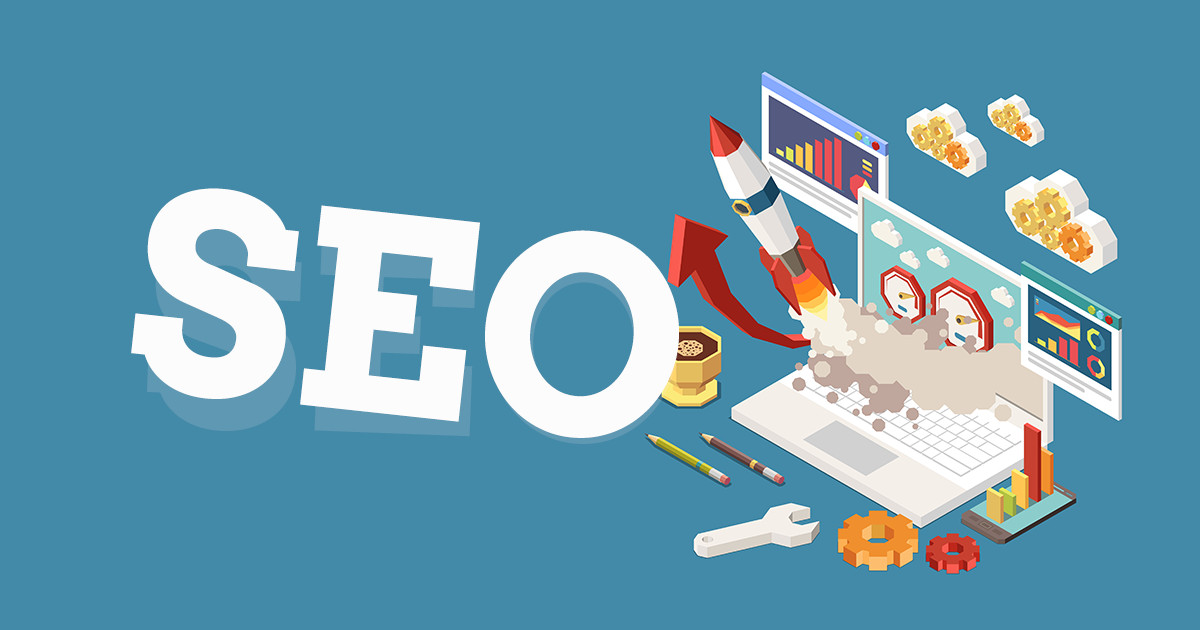 11 MIN READ
Search engine optimization is never a one-and-done thing.
SEO strategies require consistent tweaking, maintenance, and adjustments based on current best practices.
What are those best practices exactly?
Well, it depends!
No really. Google could have updated its algorithms by the time you read this.
Not only do you have to appease Google but you also have to create an ideal experience for your visitors and customers. Here's the good news: Improving your website experience for visitors also improves your SEO in the process.
Think of it this way: Google's job is to answer search queries with the best websites on the internet for every search. Your job is to answer search queries, too.
The SEO strategies below outline a few (timeless) best practices for helping Google understand your content, making your site a better place for visitors, and boosting your search engine rankings in the process.
With These 14 SEO Strategies, You Can Rank for Anything

Look, there's no "secret" to winning first-page rankings overnight. Any Austin SEO consultant who promises you otherwise is either lying or using black hat SEO strategies. Black hat strategies are a dangerous game. Sure, you might get a negligible boost in rankings, but trust me, it won't be sustainable.
These SEO strategies below are the real deal. If there was ever a winning formula to SEO, these are it.
When employed consistently, you can eventually rank for any keyword you please. (Yes, even that one!)
1. Research Keywords for Your SEO Strategies Meticulously
If you want to rank in Google search results, you must first figure out what people are typing into that little white search bar.
Keyword research is truly an art. You must understand your audience thoroughly and know how to find "high value" keywords.
It's tempting to shoot your shot at those broad high-volume keywords but it's smarter to go for the longer ones (three words or more). Think "water bottle" vs. "buy glow-in-the-dark water bottle."
Here's why:
Long-tail keywords put you up against less competition.
They tell you more about the searcher's intent.
People who search for long-tails are closer to making a purchase decision.
They're more specific.
As you build rankings with long-tails, you'll improve your chances of earning those high-volume broad keyword results too.
Tip: Finding long-tail keywords for your SEO strategy.
Use Google Suggest. This awesome yet simple process is a great resource of long-tail keyword variations. Type your primary keyword into Google search box and see what variations Google suggests.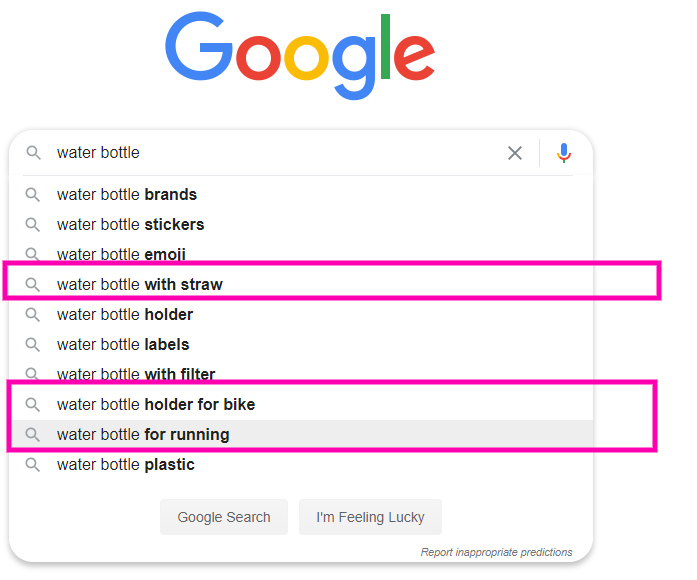 Use Google's Related Searches. While you're at it, scroll to the bottom of your search page in organic results and review the suggested related searches from Google.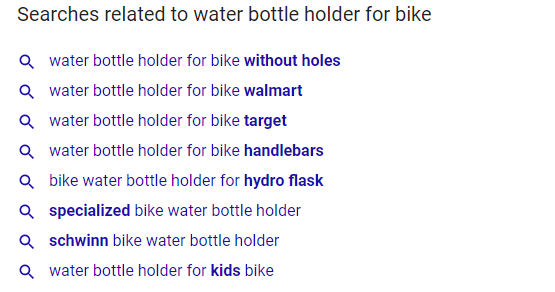 2. Build a Comprehensive Content Marketing Strategy
Did you know websites that publish consistent blogs enjoy 434% more indexed URLs than those that don't? By feeding Google more content to scan, its bots can learn more about your site.
Quality content trumps quantity every single time. Your SEO strategy is far better off if you publish two in-depth/well-researched blog posts a month compared to two short and general posts every week.
Use those awesome long-tail keywords to answer queries and tell Google why your site is amazing.
Tip: Develop the right content strategy
Define your goal. Understand the primary objective behind producing content.
Know your buyer persona. By really knowing your target audience, your content becomes more relevant and valuable to the market you serve.
Brainstorm content ideas. Use tools like BuzzSumo, AnswerThePublic, and SEMRush to brainstorm general ideas, develop ideas, and ultimately create great content. Make sure your content is trendy and up-to-date.
3. Take Local SEO Strategies Seriously
Any business with a physical location must perfect their local SEO. It will both improve your overall visibility while supporting your broader SEO strategies.
First, nail your location-centric keyword clusters – like "Coffee bar near me" or "Coffee shop in Austin." Next, put effort into optimizing your local business pages on relevant sites like:
Google Maps
Yelp
Facebook
TripAdvisor
Apple Maps
Your profiles on these sites will include links to your domain which will push traffic to your domain's URLs and improve your overall SEO.
Tip: Take Advantage of Online Business Directories.
Create Online Directories. Online directories are all great, and mostly free resources for building visibility. Create listings among popular directories like Yelp, Foursquare, MapQuest, and YellowPages. Make certain all listings are consistent with the following basic information:
Business name, address, and phone number
A thorough description of your business
A link to your website
4. Create Link Building SEO Strategies
When another domain points to your site with a link, that tells Google it contains valuable content and deserves more attention. When lots of websites link to your page, that's even better! Each link to your website is considered a 'vote' by Google.
Consistent and valuable content comes in handy for building links to your blog and webpages. These boost SEO across your whole site and drive more traffic.
Likewise, you'll also want to include internal links (from your other pages or posts) because Google pays attention to this too as it scans your website's structure and page importance.
Tip: Try broken link building
The process is simple:
Find a broken link on a website that is related to your industry.
Create similar content that related to the broken resource you found.
Ask the site owner to link their dead resource to your post instead.
While link building is a time-consuming process, it can be very rewarding for building search positioning.
5. Get Rid of Your Bad Backlinks
Not all backlinks are equal. When domains with a low trust score point to your website, this can damage your SEO. A few won't hurt you but too many can make a serious impact.
SEO tools like SEMrush and KWFinder can help you run a backlink audit. If you find too many backlinks, you can either ask the website owner to remove them or use Google's disavow tool.
An Austin SEO consultant can help you sort, audit, and disavow your bad backlinks too.
6. Grow an Engaged Social Media Audience
Increasing traffic and links to your site are always good for boosting SEO strategies across the board. Your content marketing is useful for engaging your social media audience on relevant channels.
Again, quality is better than quantity. Publishing an awesome Pinterest post once a week is better than pumping out three posts each day.
7. Use Keywords in the Right Places to Boost SEO Strategies
Your keywords shouldn't be obvious. They should flow naturally with the rest of your awesome writing. Nevertheless, you do need to stick them in a few key places to help Google scan your site:
Meta title
Headings and subheadings
ALT descriptions on images
Meta description
1x in your copy for every 100 words
An expert Austin SEO content writer can help you develop user-friendly content around your keywords.
Tip: Optimize images for SEO when publishing content.
Image SEO is often overlooked. When publishing new content, optimize your images by using the following methods:
Choose the right scale and format. Try to match image size to image display.
Pick a good file name for the image. If by default your image is _img345.jpg. Be descriptive instead. For example, crossfit-box.jpg
Use responsive images
Reduce file size for faster loading. I love using tools like Shortpixel or Imagify
Use image alt text
Add structured data to your images
Create an Image XML Sitemap
8. Schema Aka. Structured Data
Schema aka. "structured data" or "microdata" is another tool to help organize your website pages, categories, and posts to help algorithms understand the content and what's important.

If you run a WordPress site, you can find some free plugins to help with this. Keep in mind you do need a little technical coding knowledge to avoid screwing up your theme. An expert Austin SEO consultant can help you add schema markup to your website code.
Tip: Use Schema Pro to develop structured data for your WordPress website
Schema Pro offers a paid plugin and is by far one of my favorite solutions for adding structured data to your WordPress website.
9. Boost Your Website Speed to Improve All SEO Strategies
Did you know website speed is one of THE most important ranking factors in 2020? Back in 2018, Google announced that mobile speed would play a critical role in how it ranks pages from on out.
Ideally, your site should load in less than three seconds. You can use a tool like Pingdom to see where you stand. Technical stuff like Google advertisements and HTTP requests seriously weigh your site down and they're hard to fix without help from an expert Austin SEO consultant.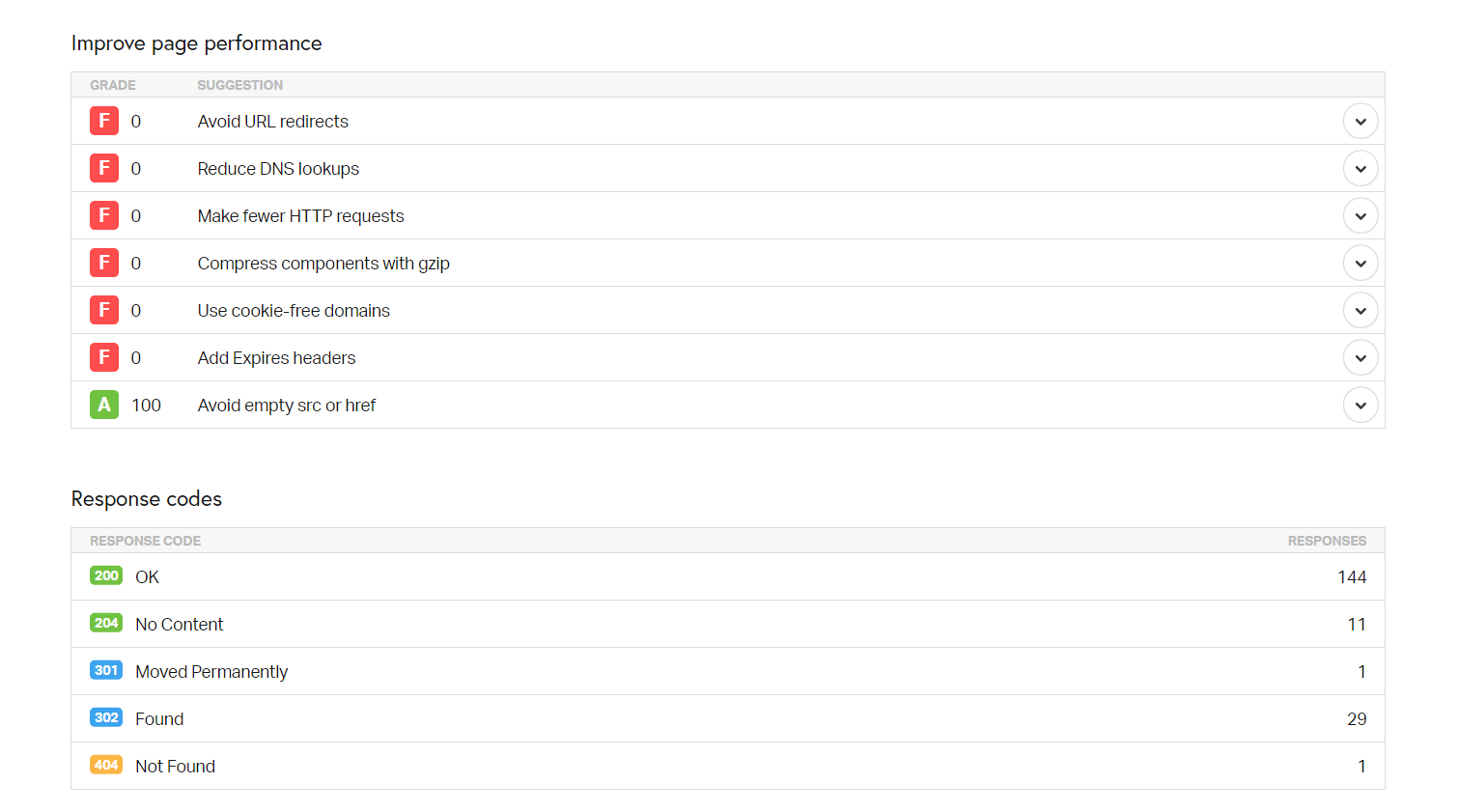 Pingdom
10. Keep Your Website Mobile-Friendly
Google's 2018 update also announced it would rank sites on a mobile-first basis. In other words, your website must look and feel perfect on every smartphone.
Little details like side-scrolling, small fonts, and hyperlinks too close together can all bite you.
Luckily, Google offers a free tool to scan your site and make sure every page is 100% optimized for mobile browsers.
11. Optimize Your Core Web Vitals
Your core web vitals are expected to play a bigger role in your search engine rankings in 2021.
With your core vitals, Google assigns a UX score to your pages based on factors like load speed, mobile-friendliness, intrusive pop-ups, and malicious content.

You can access a free tool through Google Search Console to check your current core web vitals. If you notice any discrepancies that don't make sense, our SEO consultants can help you get everything straightened out well before 2021.
12. Launch a New User-First Web Design
A new web design theme can work wonders for improving your overall SEO strategies. Put yourself in the mind of your visitors to consider things like:
High-quality graphics
Easy to navigate and understand menus
Clean and crisp fonts and colors
Scannable headings
Concise copy with lots of whitespaces
Buttons instead of hyperlinks
Consistent brand logos, colors, and voice across your site
A lightweight theme
WordPress is awesome because you can easily update your entire web design just by swapping out a theme and tweaking the details to fit your branding. It's best, however, to invest in a custom-coded web design unique to your brand.
13. Run a Deep Competitor Analysis
You never want to copy your competitors' SEO strategies, but you should study them to see what's working and what's not.
Which keywords do they use?
Which top terms are they ranking for?
Can you beat their rankings for any top keywords?
What kind of keywords produce a high volume of traffic and clicks?
How competitive are the keywords or terms?
What blog topics do they publish?
Which social media platforms do they use?
Where are their backlinks coming from?
As you run competitor research, focus on their organic traffic. There's no use studying their PPC ads unless you plan to run the same ones.
Tip: Use SEMRush or a reputable tool for a competitor analysis
SEMrush is packed with insightful data on your top competitors. With a paid account you can simply enter the competitors URL to gather
Where rivals concentrate most of their marketing efforts
Discover a competitors' website traffic audience and lead gen sources
Get details on competitors' most successful SEO practices
Explores competitor backlinks and referring domains and much more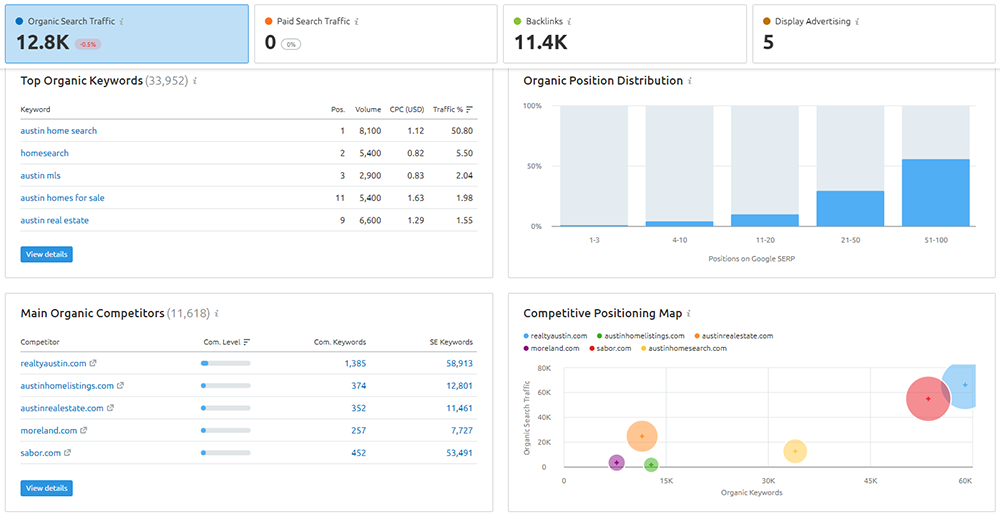 Other popular tools include ahrefs, Spyfu and UberSuggest.
14. Use a Secure HTTPS Domain
As of 2018, over half of the world's website domains had switched to HTTPS. What does this mean? Well, nothing for regular visitors but to Google, it means a lot (and will mean a lot more in 2021).
HTTPS is more secure than HTTP. It requires you to "sign" a virtual certificate that verifies who you are and your intentions. In other words, it creates a safer browsing experience that Google doesn't take lightly.
You can manage your HTTPS protocol through your backend server.
To determine whether or not your website is secure, simply go to the address bar. Look to the very top-left corner of the browser window. Your website is not secure when it read like this:

Whereas a secure browser is indicated by a paddle lock icon next to the websites' URL and looks like this:

Need Austin SEO Services?
JS-Interactive employs an award-winning team of Austin SEO consultants, content creators, marketers and web designers. Our experts take time to listen to your business's unique needs and audience segments so they can craft stunning and effective digital marketing materials. With our help both behind the scenes and on the front stage, we can get your website ranking and boost local visibility in no time!
Got a burning SEO question or challenge? Schedule a free 30-minute call with JS-Interactive to discuss it!