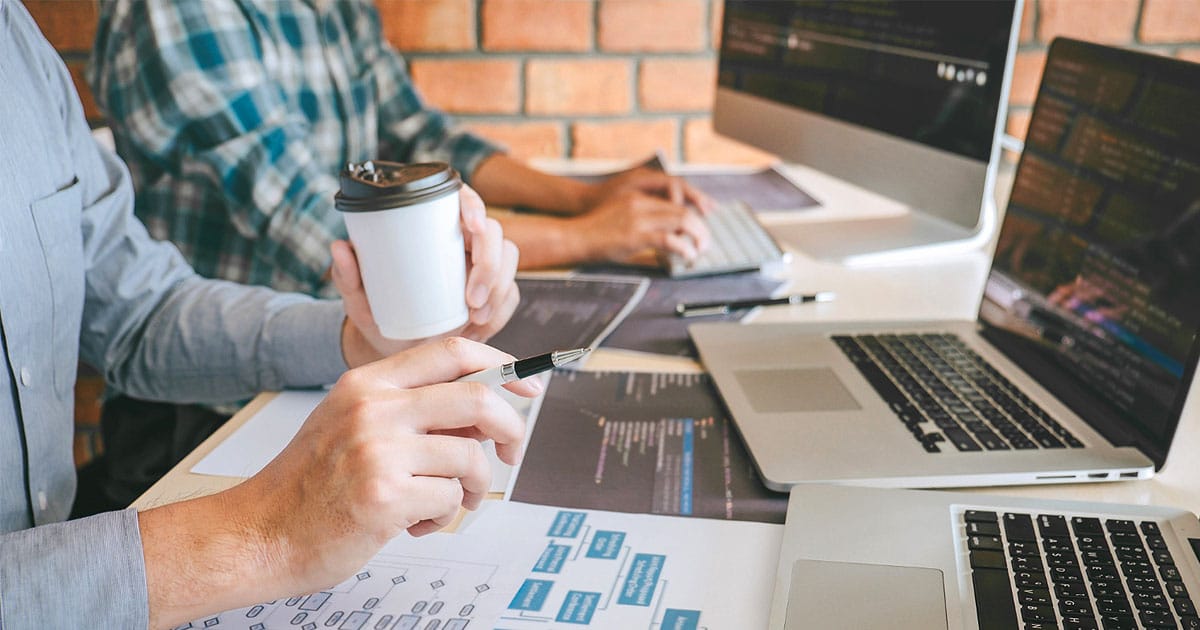 12 MIN READ
How many decisions do you think you've made so far today?
Take a guess.
According to Eva Krockow's research with Psychology Today, the average person makes 35,000.
Every.
Single.
Day.
If you sleep for eight hours a night, you are probably "making roughly 2,000 decisions per hour or one decision every two seconds."
Some decisions matter more than others. Choosing between oatmeal or eggs for breakfast won't shape your future as much as whether you invest in your 401K.
Still, all of these choices lead to a phenomenon known as "decision fatigue." In the post-pandemic age, decisions have become even more complicated.
The internet offers seemingly infinite choices and making critical decisions can feel paralyzing.
When you're a business' key decision maker, some of the most important choices you need to make revolve around your web design.
These decisions carry a weight that impacts the company's brand, messaging, growth potential, and more. Most importantly, your company's web design directly impacts employees and clients – people.
The primary web design choice in front of you is this: complete custom-built web design – or – a prebuilt WordPress Theme?
This ought not to be your 3,487th decision of the day. And it is not a decision you have to make alone.
We're here to help.
With over 15 years of experience in web design in Milwaukee, Austin and beyond, we want to help you process this vital decision.
What are Your Company's Goals?
Before determining what web design is best for your business, you must be clear on your company's goals.
Not every small business wants to become a "medium-size business." Some medium-sized businesses may aim to become a Fortune 500 company. But not all.
Some startups want to dominate a niche segment of a larger market to be acquired by an established company.
What are your goals for your business? How dependent is your company on e-commerce? Today and tomorrow? How unique does your brand's voice need to be?
These questions, and more, are critical for you to answer at the beginning of the web design process.
You must have a clear understanding of the scope of the project, as a whole, before determining the direction of the design and build of your website.
As we move on to the benefits and challenges of prebuilt and custom WordPress web design processes, you'll see why.
The Benefits and Weaknesses of a Prebuilt WordPress Theme
While I lean heavily toward recommending complete custom-built web design, there are some meaningful benefits to utilizing prebuilt WordPress themes for businesses in Austin.
Turnaround Time For Prebuilt WordPress Themes
The first is time. Prebuilt WordPress themes are efficient. You don't need to expend the same amount of creative energy in determining site structure, font headers, image placement, or bold CTA's.
Prebuilt WordPress themes are developed by authors who have already done that for you.
But this also presents a weakness. Without complete control of your site's content and design, your brand's unique ethos may be muted, costing you a competitive edge.
You may also find yourself limited to the prebuilt functionality of your chosen theme.
The functionality of Prebuilt WordPress Websites
You need to be highly selective if you utilize a prebuilt WordPress theme. Like any other business tool, your website should solve a defined problem.
The entire web design process must revolve around your business goals and requirements.
First, define your goals, then research which prebuilt WordPress theme will best meet your needs.
Here are a few prebuilt WordPress themes I have found to be most beneficial for a number of reasons.
The above page builders make creating new pages simple and efficient. They come built with clean code which supports an SEO-friendly website.
When you utilize a prebuilt WordPress theme, you can typically incorporate plugins to fill the functional gaps in the theme.
WordPress boasts that by adding plugins, you can incorporate nearly any feature into your website.
But the plugin solution has some weaknesses you should be aware of.
Website Performance is a Challenge With Prebuilt WordPress Themes
The first is bloat. Code from a lousy theme or excessive use of plugins can add additional load to your website.
These overload your server, become cumbersome to work with, and make your website more challenging to maintain.
Prebuilt WordPress themes and plugins are loaded with features and functions you may never use.
WordPress connects to your database, loads the core software, then loads the theme and all active plugins. Regardless of what you intend to utilize.
Each plugin loads additional assets and scripts to your server before being sent to the user's browser.
Some themes and plugins can slow down your website's loading time due to excessive code, while not adding value to the frontend user.
This impacts the user experience and SEO.
Maintenance is Constant With Prebuilt WordPress Themes
WordPress is open-source software with a large community of developers who are committed to improving the site's core functionality and features.
With this many cooks in the kitchen, WordPress is constantly evolving and requires routine maintenance.
If you utilize a plugin or theme from a developer that is not keeping pace with the ever-evolving updates to WordPress, it will result in compatibility issues and a compromised website.
I have seen entire websites become unusable because of plugins and themes that were abandoned by their developers.
That's why we offer website maintenance plans. We want to help reduce your business's risk of a compromised website by managing your software and recommending plugins developed by more reliable and reputable authors.
Pro Tip: Take note of the plugin updates before installing it. If the latest update to a plugin has been within the last two years, you're most likely safe.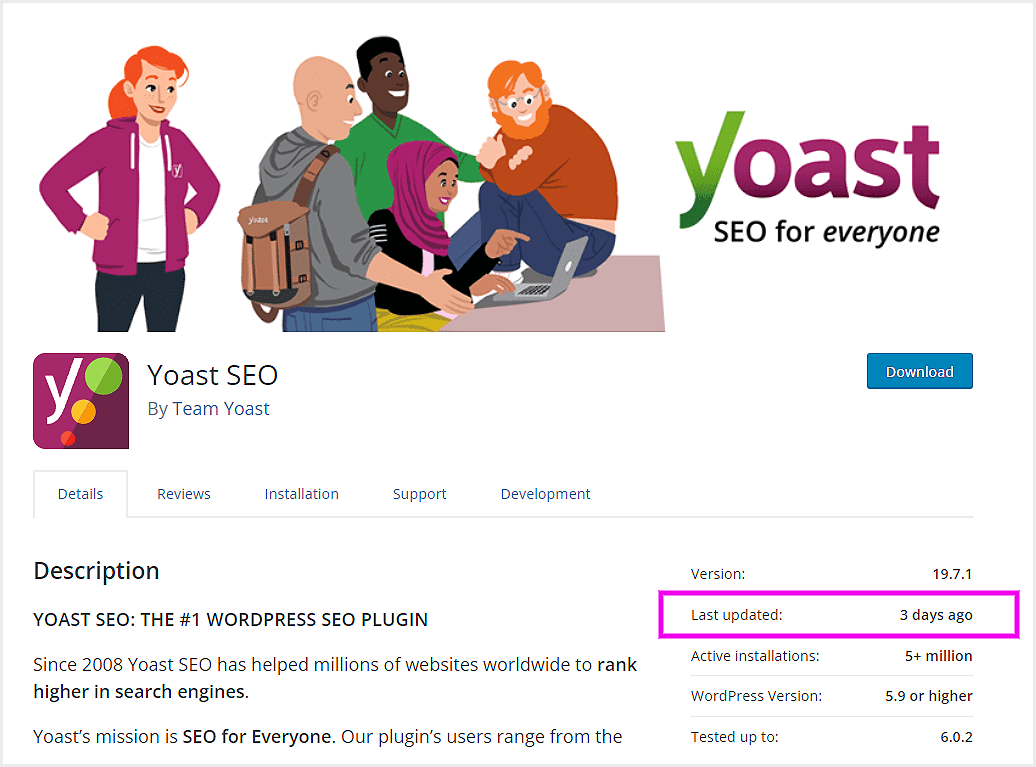 Security Can be a Significant Issue with Prebuilt WordPress Themes
If your prebuilt WordPress-theme and plugins aren't properly maintained, you leave yourself vulnerable to cyber security threats.
Dated, unmanaged software is the leading cause of hacking.
Getting hacked may not only shut your website down, but it may also result in the loss of sensitive data, a breach of consumer trust, and add a mountain of stress and anxiety that could have been prevented.
Making Prebuilt WordPress Themes Work for Your Austin Business
Now, not all plugins are bad or will result in these issues. On the contrary, plugins sourced by respected authors with a solid reputation are usually secure.
You can also improve performance by:
Narrowing down the functionality of your website to its core requirements
Adopting an SEO-friendly theme with the flexibility to answer most of those requirements out of the box
Limiting the number of plugins needed for functionality. As a general rule, I recommend using no more than 20.
Depending on your business's lifecycle, a prebuilt WordPress theme may be the right choice for you. However, be aware that prebuilt WordPress themes have some inherent drawbacks.
Nevertheless, with proper website development and maintenance, you can still have a website that is secure and works for you.
Benefits and Drawbacks of a Complete Custom WordPress Website
While I highly recommend custom WordPress web design for businesses, I understand that this isn't a silver bullet.
Every web design decision comes with potential drawbacks. Two legitimate questions need to be considered for the custom-built web design process.
These questions are foundational to business 101: Time and Money.
How much will a custom-built WordPress website cost?
How long will it take to create?
As you might expect, there isn't one answer to these questions. It's like asking, how long will it take and how much will it cost to build a house from scratch?
Many variables need to be considered. Let's think through some of them.
Designing a Custom WordPress Website Takes Time
No way around this one. Writing custom code will require more time to build a website from the ground up than utilizing prebuilt pages from a theme.
If you need an immediate turnaround on a new website, you must consider the time required to build a custom website.
There is a process to follow to create a custom website that meets all your needs.
From determining your website's goals and your business's target audience – all the way to marketing, local SEO needs, and more – every line of code will be tailor-made to meet your functional needs.
This takes time on the front end. For everyone involved. Including you.
However – if you have not already taken these steps, you are likely costing yourself more time and missing potential leads.
Custom-Built WordPress Web Development Can Save Time Over the Long Haul
A fully custom-built web design empowers every aspect of your website to represent your brand voice faithfully.
Every content region is designed with laser focus and deliberate functionality. No wasted space. No bloat. No added scripts from plugins that will weigh your website down.
This allows your target audience to see you for who you are.
A custom-built theme can be planned with expansion in mind. When you're ready to grow or even make a shift, custom-built web design enables you to make the jump without starting the web design process all over again. And without depending completely on plugins to produce additional functionality.
WordPress Web Development Support
Needing support is inevitable for every WordPress website owner. Plugins and themes need to keep up with the dynamic, ever-evolving world of WordPress.
You can expand a prebuilt WordPress website, the process is often more rigid. You may not always have direct access to theme or plugin developer support.
And that's problematic, especially for fast-paced industries producing time-sensitive content. If you're in need of immediate support, you may find yourself feeling stranded as you search through forums to find your solution.
Time unwillingly away from your business.
Growth delayed.
Customers missed.
When you rely on a trusted partner like JS-interactive, this is an issue you won't have to face. Since every line of code is written by us personally, the entire site is sturdy and reliable.
We understand every aspect of the business, and our support when needed is just a call away. Clients, like Ihsan Atta, tell the story.
When you inevitably run into an urgent situation, you don't want to be dependent on review forums. You need a partner you can trust.
We're here for you.
Custom-Built WordPress Web Development Costs and Saves Money
The time required to build a WordPress website from scratch is real. So is the benefit.
Very few plugins are required. A vast majority of the functionality you need will be coded into your site. No extra features that you won't use.
This limits your maintenance needs. And that lowers your overall costs over the long haul.
It also significantly lowers your security risks. And that can massively reduce your costs.
A prebuilt WordPress theme will be less expensive on the front end. But over the long haul, it may cost more. And as your business scales, you may need a custom-built WordPress website.
Shine in Austin With a Custom WordPress Website
Austin is one of the fastest-growing cities in the country.
In 2021, a record 5.4 million new business applications were filed in America.
If you want your business to thrive in Austin, you must take advantage of every opportunity to differentiate yourself from the competition.
A fully custom-built WordPress website will give you the edge you need.
Search engines – and users – love custom-built WordPress websites.
Slow and steady don't win the SEO race! Fast and steady do. Custom-built WordPress web design gives you both.
A custom-built WordPress website gives you the exact framework, features, functionality, and design you need.
Nothing more.
Nothing less.
The structure and aesthetics can be designed to reinforce the message you need to get across, giving the user a seamless, immersive experience.
A Custom WordPress Website Can Give You Peace of Mind
How much value do you place on eliminating stress, worry, and anxiety from your life?
With a custom-built WordPress website, you won't have to worry about your beautiful site becoming a trainwreck because a plugin developer ghosted you.
The potential of expanding your business is exciting – and stressful. With a custom-built WordPress website, the stress of expanding your site can be minimized.
We can plan for that on the front end so you'll be prepared when the time is right.
Still Not Sure What's Best for Your WordPress Website in Austin? Expert Guidance is Just a Click or Call Away
This is a lot to take in. And we're only scratching the surface.
A high-functioning website that captures your brand's voice and communicates clearly to your target audience is essential for your business to thrive in Austin.
Thankfully, you don't have to go it alone. Or become an SEO expert.
We've humbly accepted countless awards for our dedication and hard work, and we're here for you. Reach out for a free 30-minute consultation. Cruise through our blog for helpful tips and tricks. Connecting with us is one decision that shouldn't tire you out! The team at JS-Interactive is eager to provide the expertise your business needs to thrive in Austin.