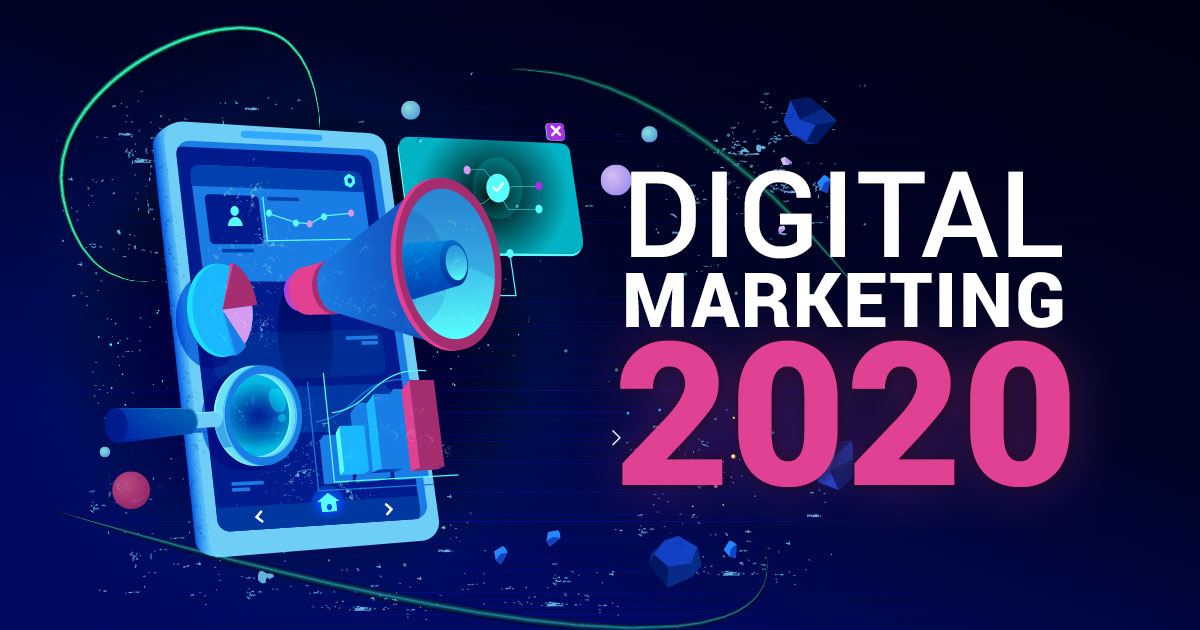 7 MIN READ
2020 isn't just a new year and a new quarter – it's an entirely new decade.
Now is as good of a time as any to re-evaluate your digital marketing strategy.
Maybe you're not the kind of person who cares much for trends. Fair enough. But let's clear something up: In marketing, trends DO matter.
They matter to your target audience, competitors, and marketing channels.
In other words, you need to care about them too. Maybe not all of them and maybe not immediately, but you should at least consider adding some of these to your marketing strategy this year.
14 Digital Marketing Trends You Won't Be Able to Ignore in 2020
In 2020, expect to see a heavy focus on
Personalization
Conversations
Instant gratification
Clean data
User experiences
So those are the broad trends, but what do they look like in practice? Let's take a closer look…
1. Monetizing Voice Search Digital Marketing
If you've read any blogs about digital marketing trends in the past five years, then you already know that half of all searches are voice searches and 25% of all US adults own a smart speaker.
Okay, that's cool and all but how can you use that statistic to boost your bottom line?
Depending on your industry, capitalizing on voice search may involve
Writing voice-friendly blogs with long-tail keywords that answer questions.
Adding a voice search or ordering feature to your website.
Creating a branded app that incorporates voice ordering or search.
Optimizing your Google My Business listing for "near me" voice searches.
2. Seamless Social Shopping
Facebook might immediately come to mind, but Instagram and Pinterest are really where it's at for shoppers.
77% of weekly Pinners have discovered a new brand or product on Pinterest and 83% have made a purchase based on the content they saw from brands on the platform. Meanwhile, 60% of people say they discover new products on Instagram.
Both Pinterest and Instagram make it easy for people to shop directly through the platform.
Like so: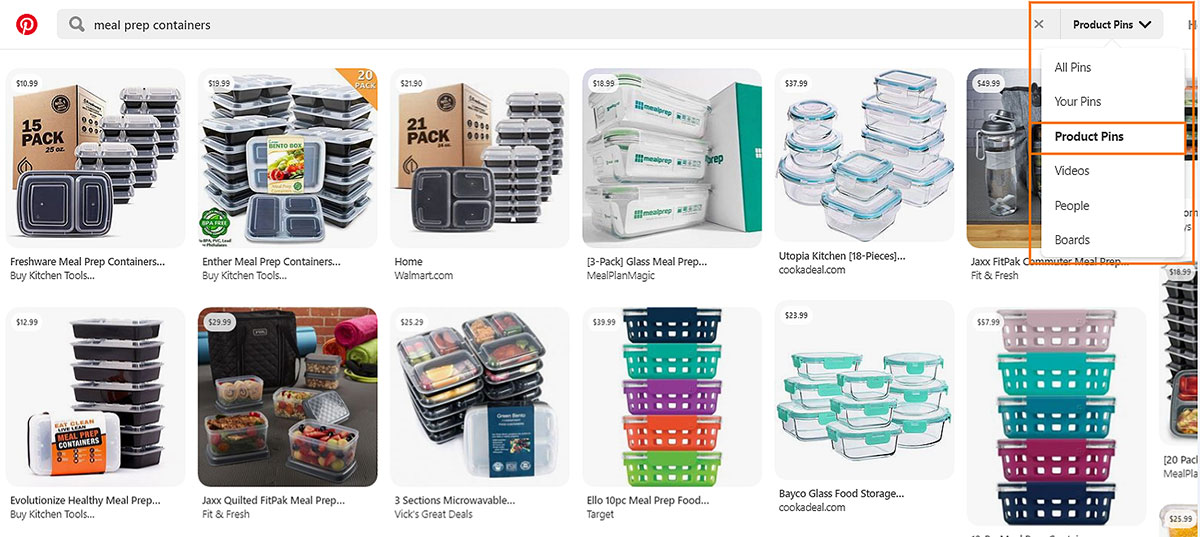 3. Interactive Digital Marketing Content
Interactive content can span multiple platforms and include several types of content.
Gamification
Quizzes
360° videos
Polls
Virtual reality
Email, social media, and landing pages are all awesome channels for highlighting interactive content.
4. Virtual Reality Digital Marketing Features
Virtual reality deserves a dedicated section because it's really THAT important.
Anytime major brands like Amazon, Airbus, and GE start adapting – and sticking – with a digital marketing trend, it's time to pay attention. Why not let the guys with the massive budgets experiment first to see if it works, right?
Well, VR does.
Virtual reality sounds tacky on paper but, in practice, it's actually pretty awesome. Amazon lets you test a new couch in your home before you buy – no tape measure needed!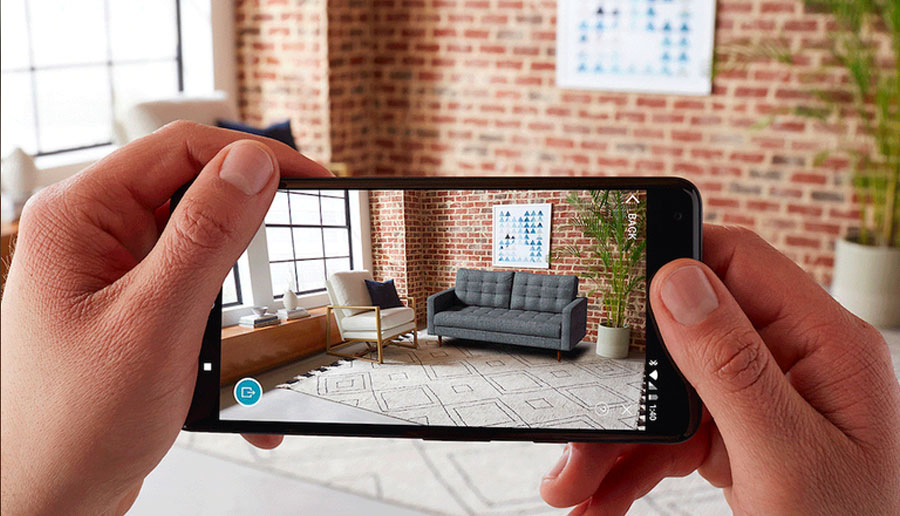 5. Optimizing Every Drop in the Bucket
Remember when small businesses could use organic Facebook traffic to drive all their website traffic?
Sorry, but those days are long gone.
In 2020, you'll need to be satisfied with marginal gains from several marketing channels.
To stretch your budget, you'll need to spend time figuring out which channels your target audience uses and focus your efforts there. Of course, this will involve SEO, but you'll also need to consider
Which social media: Instagram, Pinterest, Facebook, Twitter, Snapchat, LinkedIn, etc.
YouTube (the second largest search engine)
Automated email customer journeys
6.  Rethinking Digital Marketing for BERT
You can't optimize for Google's biggest algorithm update since 2015, but you CAN focus on creating high-quality content (like you already should be doing).
BERT uses natural language processing to better understand search queries like a human being. While you shouldn't optimize for stop words like "to" or "from," the Google algorithms are now better at understanding what people mean when they include them in their searches.
For marketers, this means creating conversational personalized content. Use keyword research to gain a deeper understanding of your target audience so you can learn about their problems and needs.
7. Consumer-Style Marketing in B2B
Companies like Amazon and Spotify have spoiled us. We all expect hand-curated content based on our past browsing and shopping behavior.
85% of buyers said in a recent Seismic survey that they would potentially dismiss a seller who didn't attempt to personalize the very first interaction. That's a ton of pressure.
B2B buyers are getting younger and as this happens, the lines are blurring between B2B and B2C.
Expect to see a lot more conversational, personalized, and interactive content in the B2B sector this year.
8. Hail Mary Data Reform
62% of businesses are working with data that's up to 40% incorrect. That's a big problem because data is the backbone of your personalization strategy.
The numbers make sense too: only about 20% of businesses are driving results from their personalization efforts.
In B2C, data doesn't decay quite as fast. If someone is a parent, you can reasonably assume they'll still be a parent in 6 months. In B2B, however, data gets outdated in a manner of weeks in some cases.
In 2020, we'll see both B2C and B2B find new ways to organize, manage, and update their data systems.
9. A Digital Marketing Focus on Instant Channels
In 2020, leverage different messaging channels to connect with your audience instantly. Plus, most of them are super easy to set up and maintain.
WhatsApp
Facebook Messenger
Instagram Messenger
Telegram
Live chats
SMS
For customer service and boosting loyalty, messengers are digital GOLD. Consider how messaging can fit into your strategy and which channels your audience prefers. When in doubt, run a survey and just ask!
10. Minimalist Web Design
70% of all B2B searches will happen on mobile devices in 2020. Meanwhile, over half of all web traffic happens on a smartphone.
Minimalist web design naturally creates a mobile-friendly experience. For consumer shopping, you'll want to remove all hurdles between completing a purchase like required registrations, confusing form fields, and too many clicks.
11. Ungated Landing Pages
To create a truly mobile-first experience, lead magnet forms need to go.
In 2020, we'll see more brands across B2B and B2C reducing their fully gated content (except maybe for publishers).
Instead, provide a sample and ask for an email to get the full piece of content.
12. Dynamic Digital Marketing Content
When done right, dynamic content is extremely subtle in practice but makes a MASSIVE impact on your audience.
Something as simple as automatically calculating the shipping cost based on a visitor's IP address can push a few leads over the edge into customers. You could also include a popup that offers a special coupon for Austin residents (or wherever the visitor's IP is found).
Since it's super easy to implement, expect to see a lot more dynamic content in 2020.
13. Unconventional SERP Results
You already know to optimize your SEO for text results – but what about Google's other features?
Maps
Images
Snippets
Video
Shopping
News
Books
Flights
Finance
Obviously, not all of these are perfect choices for your business, so you'll want to get in where you fit in.
Even if your basic Local Austin SEO rankings could use some work, you could still show up in the first row of results for hot image keywords, for example.
14. Intent-Driven Digital Marketing
Intent data tells you why someone is visiting your website and where they're at in the sales process. It's the data crème de la crème in B2B marketing right now and a vital part of building a successful account-based marketing strategy.
You'll see a lot more marketers across both consumer and business industries leveraging this type of data to drive effective personalization campaigns.
Start 2020 Right with a Data-Driven Strategy for Your Austin SEO
An effective digital marketing strategy involves plenty of moving parts. It should adapt as trends and your target audience's interests change.
For over 14 years, JS-Interactive has helped both B2Bs and B2Cs create engaging online experiences through data-driven web design, SEO, video, social media, PPC, and much more. Plus, we'll never make you commit to a long-term contract. That's why we're one of the most trusted marketing agencies in Austin.
Let's figure out which 2020 trends are best for engaging YOUR target audience. Schedule a free 30-minute consultation so we can talk it over.