4 Critical Focus Areas for Every Digital Marketing Strategy in 2020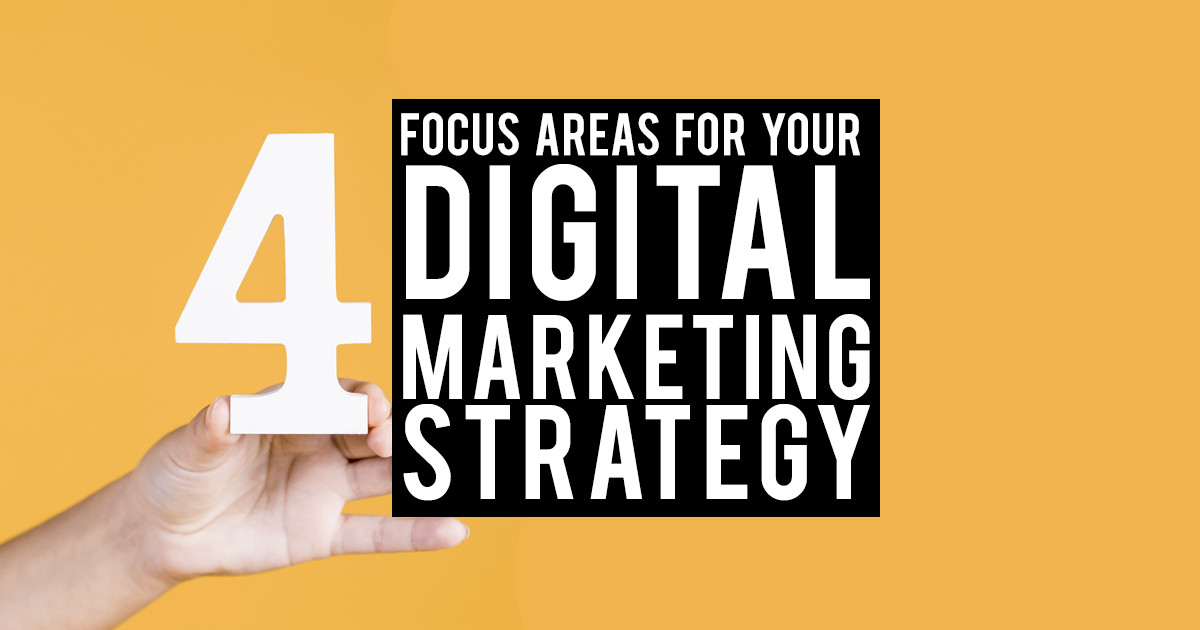 We've all gone through so much this year – and it's not over yet.
2020 has changed our lives in many ways, collectively and individually.
However, one thing is certain: the pandemic has accelerated digital transformation across all industries and sectors.
We were already moving towards more online sales and business, but that's skyrocketed over the past few months, and it shows no sign of slowing down.
Whether B2B or B2C, a comprehensive digital marketing strategy is critical in 2020 and with moving forward. There are four key components: a content strategy, search visibility, optimized user experience, and thoughtful automation.
Why is a Comprehensive Digital Marketing Strategy So Important in 2020 and Beyond?
It hasn't been a fun year for brick and mortar retailers. Over a dozen major brands have declared bankruptcy since lockdowns began:
However, online sales have skyrocketed. E-commerce sales have steadily climbed over the last few years, and they've only accelerated since the pandemic began.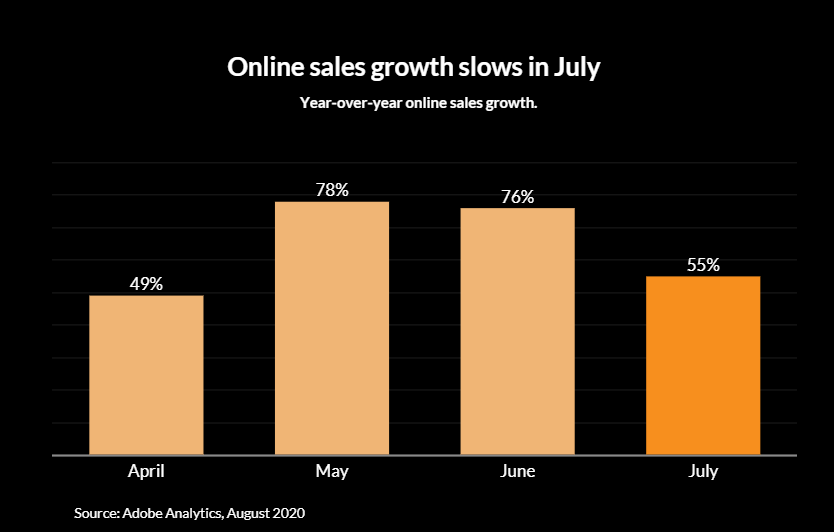 In fact, not a single region has dropped back down to its pre-pandemic e-commerce level yet:
That tells us when people feel safe enough to visit physical stores, they still choose to keep shopping online.
A thorough digital marketing strategy is critical for reaching your audience and sustaining business – no matter your industry.
Too many businesses, especially local ones, have the attitude of "Well, I have a website – isn't that enough?"
They've been told for years: "you need a website" and "you gotta have a website" without anyone explaining why it's so necessary.
That's why I've always implored businesses to develop a comprehensive digital marketing strategy. It takes more than a website. You need a solid online presence and consistent content.
Companies who followed through with my recommendations understand the value of online visibility and what it takes to build a strong brand today.
A website is your digital storefront.
Your website doesn't exist just so you can print the URL on business cards and point to it when people ask. You need a website to function as an independent marketing tool. To do that, you need a digital marketing strategy.
The primary reasons a website and digital marketing strategy are critical are because they:
Demonstrate your industry authority via content
Build brand awareness
Reach new audiences through organic search traffic
Share links on social media
Show up in local apps like Google maps
Critical Focus 1: Content Strategy
Content strategy is first on this list for good reason. You need regular high-quality content to show search engines your expertise, increase rankings, build genuine backlinks, and, most importantly, earn the trust of your audience.
Nailing Down Your Personas and Audience Segments
Think back to middle school composition: who are you writing for, and what do you want to teach them?
Use forums like Reddit to see what your audience segments are talking about and what they've already read. You want to add nuance to the discussion – not repeat the same thing they've heard 30 times.
Conducting Keyword Research
Keywords tell Google and potential readers what your content is about. They also give you guidance for structuring your topics and brainstorming ideas.
Use tools like SEMrush or KWFinder to figure out what your audience is searching for.
Creating an Editorial Calendar
Once you get some keywords, put them together in a calendar with:
A catchy headline
Notes on the topic
Format for the content (blog, video, eBook, podcast, etc.)
Date to publish
Plan your content a month or two in advance, so you always have something in the works.
Developing Authoritative Content
A blog you just threw together for the sake of publishing something isn't worth creating.
Content needs some meat on its bones. It must answer every question thoroughly and accurately. Use tools like SEMrush to conduct your keyword research and figure out what people are typing into Google.
With BuzzSumo, you can search for topics to see what's already been read so your content will always stand out.
Ideally, shoot for blogs over 1,000 words. Make sure to write on topics you understand at an expert level.
Promoting Your Content in the Right Places
It's so important to understand your audience because you want to share your content places you know your target audience will see it.
For some brands, that's YouTube, Facebook, and Pinterest. For others, it's Facebook, Instagram, and email.
You can also use guest blogging as a way to promote your content while earning quality backlinks to your website.
Critical Focus 2: Search Visibility
A lot of local brands think if they're showing up on the first page of results for their branded keywords, their work is done. Really, that defeats the purpose of search engine optimization.
Sure, branded keywords are important – but those visitors already know who you are. That's why they typed your name into the search bar.
You must also rank for keywords that aren't specific to your brand but somewhat related to your business. That's how you reach new audiences and earn new loyal customers.
Organic Traffic Search Engine Optimization
Optimizing your website for branded keywords AND related keywords is important for securing your online real estate and driving free organic traffic. Choose long-tail keywords as much as possible. They suggest a searcher is farther along in the buying process. Plus, they're more specific, so you can create the most relevant content.
Optimize Local Searches
If you haven't claimed your Google My Business listing yet, now's the time.
If you have, don't think of it as a one-and-done deal. People will want to know if your hours or information change.
Pay special attention to your business description. This is your chance to hook customers and grab attention. You also want to choose the right categories – get specific. If you run a bookstore with a café, for example, you'd choose bookstore and create a second listing for the café.
You can upload pictures of your business/products regularly and encourage customers to do the same.
Reviews are especially important for local search optimization. 91% of people read reviews. I'm almost certain Google considers reviews as a ranking factor in local searches.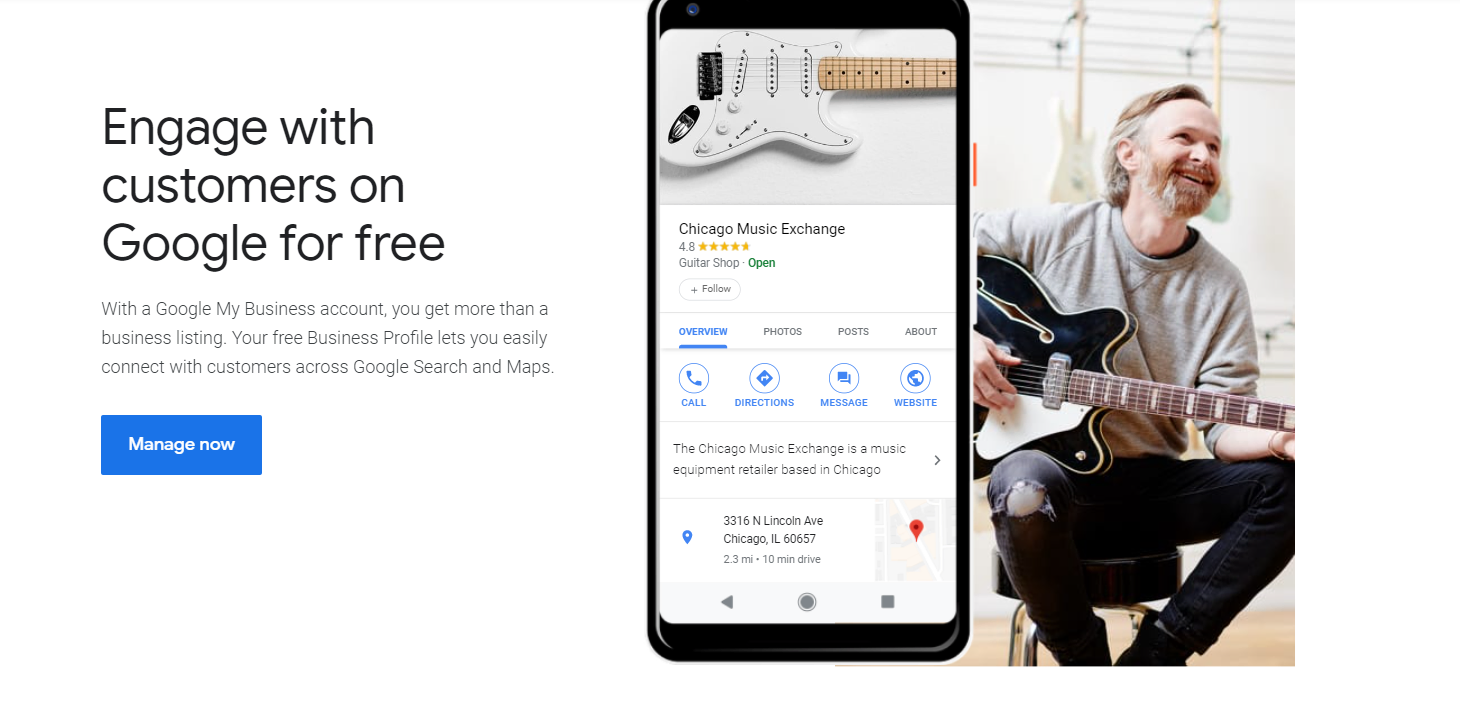 The Importance of Bing
Don't count Bing out of the race! Bing integrates with tons of apps like Yelp, TripAdvisor, and Fandango.
Plus, Bing's local app, Bing Places, prioritizes local small businesses.
Look what happens when we Bing "Asheville coffee:"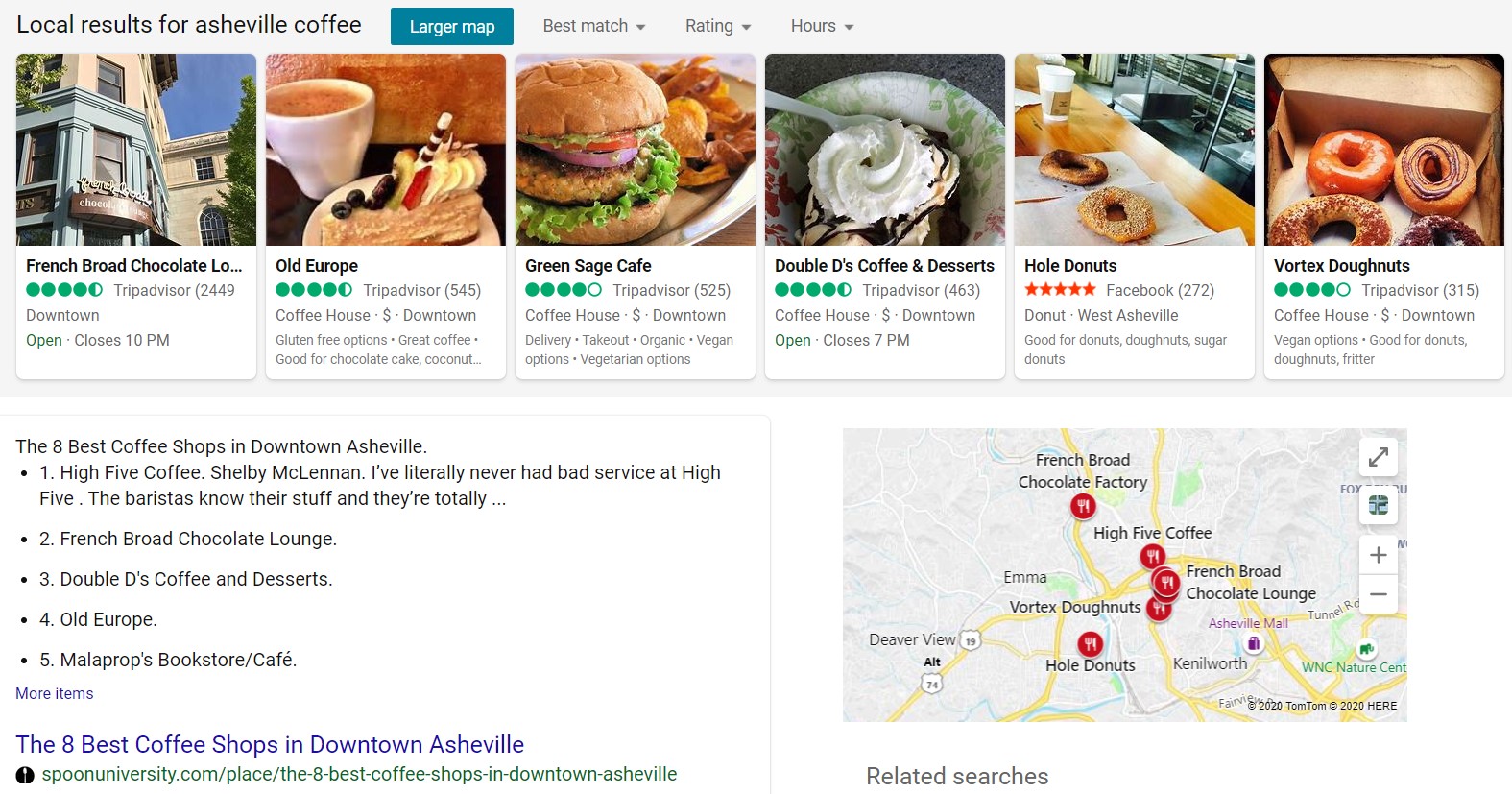 There's no Starbucks, Dunkin, or Caribou shown – it's all local coffee shops!
Critical Focus 3: User Experience and User Interface
This point could have gone in the first spot because it's that important.
If you don't have a user-first experience and design, it doesn't matter how wonderful your content is: no one will stick around to read it.
Focus on Functional Web Design
The word "offensive" comes to mind with bad web design. Offensively bright colors, strange graphics, artsy fonts, and unique navigation can all push people away.
Don't design a website to impress designers. Design a website to impress visitors.
It should be easy for visitors to find exactly what they need when they get to your site.
Speed is also a top priority. Websites should load in less than three seconds. As more people switch to 5G, websites will need to load even faster. Not only is a slow website bad for visitors, but Google's algorithms don't like slow sites either.
Don't Forget a Mobile-Friendly Interface
Mobile-friendliness is so important that Google switched to mobile-first indexing a few years ago. Your rankings could suffer if your website isn't fully optimized for smartphones.
Plus, mobile-first design is just the smart thing to do. It demands a concise and clear layout. Some tips include:
Using large buttons instead of hyperlinks
Making sure links and buttons aren't too close together
Using a responsive design, so users don't have to scroll horizontally to read your copy
Critical Focus 4: Automation
You can automate plenty of processes on-site and off with the right tools. Not only does this free up time for you and your team, but it also creates a better experience for your visitors.
A Seamless User Experience
Automation can help visitors find what they need on your website – even if they aren't sure what they're looking for.
For example, take your website search. Top brands like Urban Outfitters use AI-driven smart searches to suggest popular and trending items: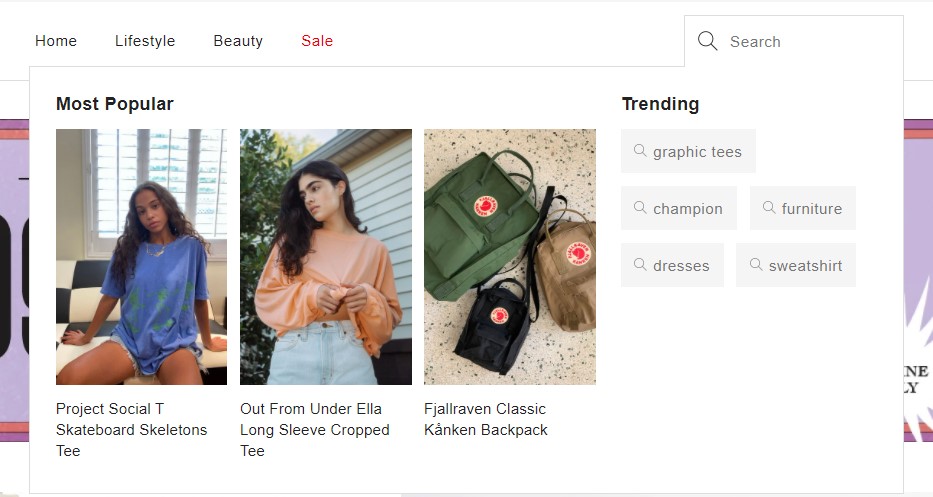 It also suggests related terms when we start typing 'hoodie" into the search bar.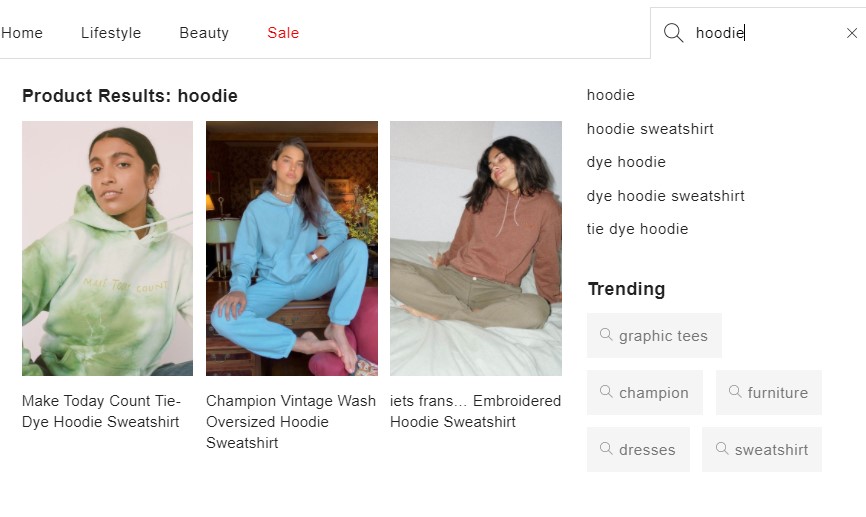 It's all about making your experience easier and better for visitors.
Effortless Email Marketing
Email marketing is the easiest place to dip your toes in the water if you're new to automation.
You can set up triggered emails and plan everything with full control before sending them out.
Email automation lets you design customer journey campaigns with welcome messages, thank you's, information about your brand values, and transactional emails.
Building a connection with your audience is important because email can be so personal. It can also help you win back abandoned carts and optimize your transactional emails for upselling.
Easy Analytics and Backend Processes
Technology makes it seamless to integrate all your marketing processes from one location – even if you're no expert.
WordPress, for example, lets you install plugins and connect APIs from tools like Mailchimp, Salesforce, Twitter, Hootsuite, Medium, Google Analytics, and any tool you can imagine.
Don't aim to automate everything. Just look for your biggest time wasters and seek out tools to let a computer handle it.
Need Some Help Creating a Growth-Driven Digital Marketing Strategy?
Digital marketing isn't an overnight hack. It takes time to prove your value to search engines and leads. An effective digital marketing strategy also demands consistency and quality. Slacking and publishing content just to publish won't get you anywhere with visibility or leads.
At JS-Interactive, we understand it's overwhelming trying to manage a digital marketing strategy on your own. Schedule a free 30-minute call so we can talk about your goals – no strings attached.
Get Marketing Insights to your Inbox
Boost visibility, outshine your competitors and attract more customers