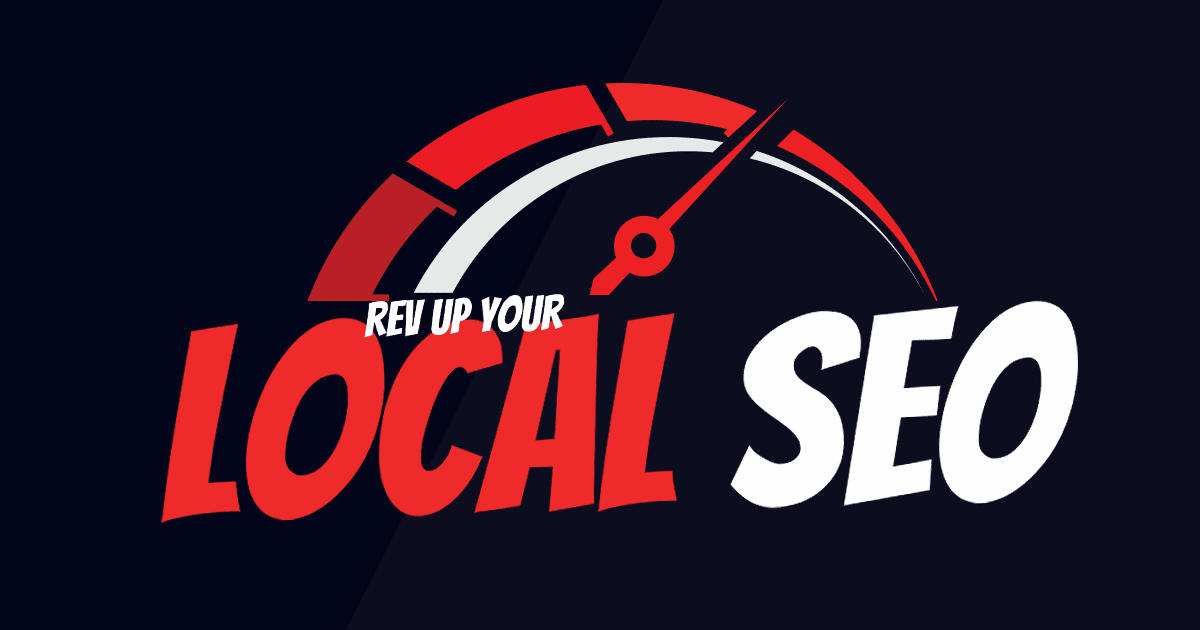 22 MIN READ
When you're looking to buy a new laptop, where do you start?
If you're like 80% of Americans, you shop online. Of those online experiences, you're probably like the 68% of people that begin with a search engine.
If you own or operate a local brick and mortar store, then local SEO can be your best friend.
With local SEO, you can boost visibility through higher search engine rankings that help connect you to area shoppers, and increase the possibility (and likelihood) of conversions.
Learn how to rev up your local SEO in 2022 to stand out from competitors, drive qualified leads to your store, and generate more revenue.
Why is Local SEO So Important for Your Business?
About 46% of today's online searches include location, revealing that people are looking for businesses in their local area or within a specific service area.
Optimizing for local SEO provides search engines with the information they need to refer your business to shoppers in your surrounding area.
Local SEO helps to deliver a more targeted list of relevant businesses to consumers looking for solutions your business provides.
The 3 Core Pillars of Local SEO: Relevance, Prominence, and Proximity.
While algorithms change constantly, the success of Local SEO focuses on these three core pillars:
1. Relevance
How well does the business match the searcher's query? If you search for a restaurant, you want Google to only show you restaurants, not grocery stores or something similar. For example, if you run a pizza restaurant in Austin, you'd want to be certain that Google relates your business to keywords like "pizza Austin".

2. Prominence
This is your business's authority. Google rewards businesses that are well-known and talked about.
You can increase prominence by getting mentions of your business around the web through citations, links, press, and social media.
Consistent online activity (replying to reviews, posting regularly on GBP with new photos and videos, and creating new website content) also increases prominence over time.
3. Proximity
This is the most influential factor. Google determines rankings relative to the searcher's location or from the user-defined city or town.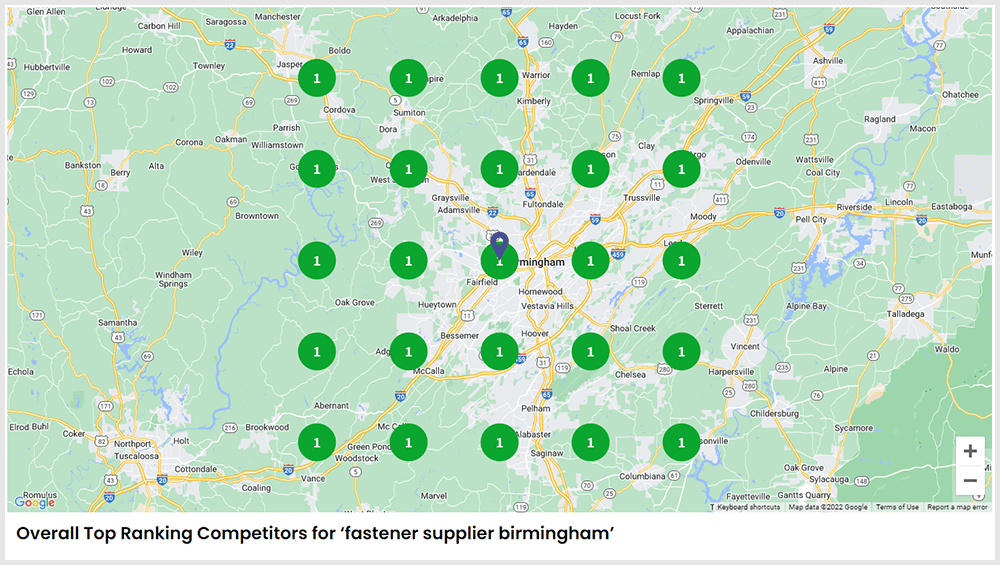 By showing Google where your business is, it helps your business surface in nearby search queries. There are three ways a user can perform a local search:
Non-Geo Modified Searches. The user is typically looking for something in their surrounding area. It's relevant to their location. An example of such a search could be "steak restaurant'.
Geo-Modified Searches. While not always the case, users are performing local searches within cities they are looking to visit or travel to. So, their search query is slightly modified to 'steak restaurant in Austin". In searches like these, they rely on relevance and prominence to produce listings closest to the city's central location.
"Near Me" Searches. While this trend is on the decline with 'near me' already implying a local search, it remains relevant. An example of a query would simply be "steak restaurant near me",
Increasing proximity, relevance, and prominence help boost your rankings, which in turn helps you:
Gain visibility
Drive more foot traffic
Capitalize on trends
Boost qualified leads
By implementing local SEO into your digital marketing strategy, you're able to target the right people with relevant and useful information.
This increases the chances of attracting them to your business and converting them to customers, generating more revenue and sales growth for continued success.
What Factors Impact Local SEO Ranking?
With more than 3.5 billion Google searches conducted each day, local businesses have to find ways to compete in local search results to increase visibility and drive more traffic to their location.
Local ranking factors include:
Local Listing signals
Bing Places, Google Business Profile (GBP), Yahoo Local listing should have a consistent NAP (Name, Address, Phone). Other important components to local listings include:
Your primary business category and secondary categories. Only select categories that are relevant to your business. across all local listings. Here is a full list of business categories for Google and Bing.
Adding a business description helps communicate exactly what your business does to users (and search engines). This description should not be "salesy". The idea here is not to market your business but to provide users with the relevant info needed based on the searcher's intent.
Maintain your media library with high-quality, carefully curated, and optimized images. Upload a wide assortment of visuals with the intent of capturing the brand, culture, products, and the very essence of who you are as a business.
On-page signals
Optimize your web pages and include a consistent NAP (name, address, phone number), as well as relevant keywords in titles to help you align page-level elements with local listings and specific searches. Factors that play a role in optimizing your on-page signals include:
Keyword Research
Comprehensive keyword research is an important method of on-page SEO. It helps to drive relevant traffic and gain qualified leads for your site. When doing your research, think both broad and longtail in its strategy.
Quality Content
Useful and relevant information increases the chances of being listed by Local algorithms.

With Google algorithms like E.A.T. and the recent release of "Helpful Content Update" in August of 2022, Google now rewards and promotes websites that provide a people-first approach to their website content and user experience.

Put people at the forefront of your content strategy and don't underestimate the power of search intent when creating a keyword strategy.

Small changes within a search query can lead to entirely different results. Conversely, a few minor changes to your categories/webpage content can lead to rank changes.
Meta Titles
Create keyword-focused meta titles that are consistent with page titles or page topics. Doing so, helps Google to interpret what your page content is about.
Meta Descriptions
Meta descriptions leave room to get creative by adding more context to what your page is about. A good meta description can assist with improving your website's CTR in search engine results.
Header Tags (H1, H2, H3, etc.)
Surprisingly, I have come across many websites that overlook headings within their page content.

Consider how you read content online. Most of us skim from headline to headline. We don't dive in unless a word, headline, or graphic grabs our attention.

Furthermore, descriptive headings not only explain the content they precede, but they should assist Google with interpreting the topical subject matter of your content.

Your H1 tag is the most important, where Google prioritizes them depending on what they contain.
Image Alt Tags
Adding descriptive alt text to images is a great way of helping search engines like Google and Bing crawl your site and have a better understanding of what your media is.

This helps improve Image SEO, expands reach to more users, and is an important aspect of accessibility for users.
Internal Link Building
Linking from one page to another page within your site's content, helps Google find, index, and understand all the pages within your site directory.

It also helps demonstrate your competence to the user. Internal links help to position you as a knowledgeable guide for the customer in their journey.

If done strategically, internal links can send page authority to specific pages on your website that you'd like to rank.
External Links or Outbound Links
Linking to external websites helps to support your content and can assist search engines in determining the usefulness of your page.

Some Marketers have said that outbound links are an important source for passing 'link equity' to search engines. Relevant external links can improve the overall ranking power of your site within your niche.

Outbound links help to build trust with the user as well. Since helpful links serve the purpose of adding value to users, rather than just trying to sell them.
Schema and Structured Data
Schema data is a form of microdata that helps Google interpret the content of your pages and displays enhanced descriptions of your content in search results.

Recipes in search results are a prime example of this. You've seen the star ratings, the image, and descriptive text about the recipe. That's schema and structured data doing work!
Or take another example, our client at Full Sail Leadership Academy. When you search for 'steward leadership', we see rich results for the search in the People also ask section of the SERPs.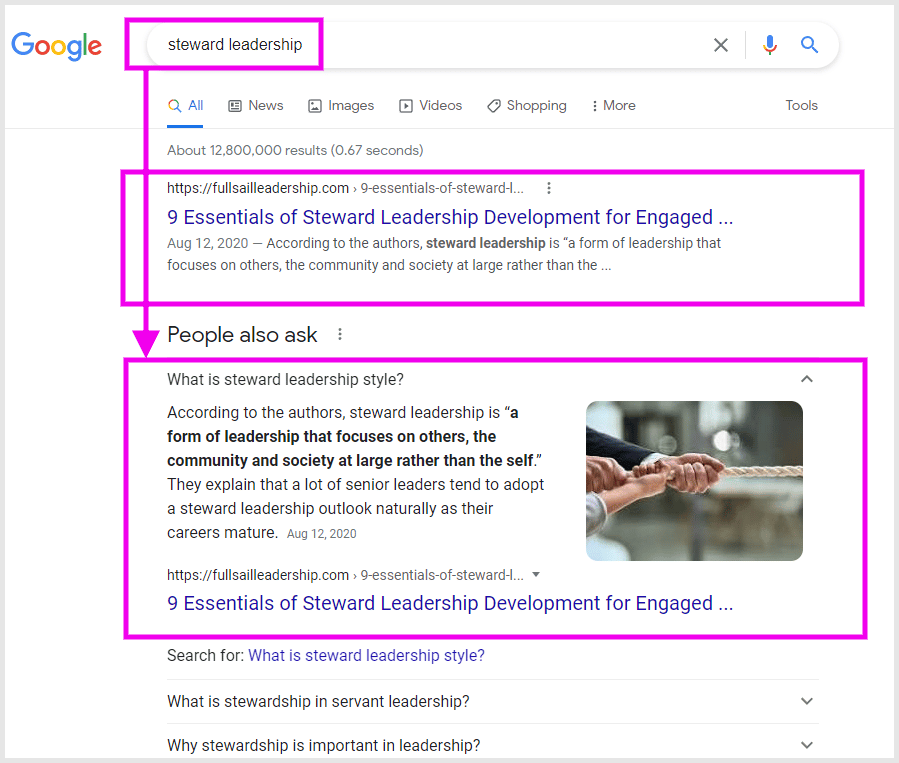 Reviews
Reviews are an important role in how search engines rate your relevance and value.

Ensure that if you have a product or service on a given page, the reviews are relevant to that specific product or service.
URL Structure.
Your URL structure is an important aspect of UX design. It's also essential for telling search engine algorithms how they should prioritize and crawl your website.

Keep your most critical pages accessible to users where they can obtain the information they need in no more than 3 clicks.

Make sure that your URL slug is consistent with your meta title and page title. Keep the URL clean, shorter, and relevant to your page content. When it makes sense to do so, use focused keywords in your URL slug.

Off-page Signals
Off-Page SEO or off-site SEO refers to all activity taken outside of your website that helps to build online trust and credibility for your business.
Off-page signals are external links or backlinks from one website that points to yours. However, not all backlinks are the same.
Google algorithms care about quality backlinks and take into consideration the following key factors:
The trustworthiness and authority of the domain linking to your site. Take note of the site's domain or page authority of the website.
The anchor text was chosen to hyperlink your website.
Whether the content on the linking page is relevant.
How the backlinks got onto the page.
Backlinks are one of the most exploited methods of SEO, where so-called experts attempt to game that ranking system using Black Hat tactics to obtain short-term gains. If you want your Off-Page SEO to work for you, here are a few additional practices to implement into your strategy:
Guest Posting
Find opportunities to create and share your own content, and expertise on industry-related websites. These opportunities help to build online authority and relevance in search engines.
Social Media Engagement
Social signals that keep an audience engaged matter to Google. Brand mentions can count as links, shares, and likes that assist with brand prominence.

Creating fresh, meaningful content within your social community is always a win
Content Marketing
But not just any long-form content, but 10x content. Content that is unique, has great insight, solves problems, and delivers in a unique and exceptional way.

It's 10x content that involuntarily gets shared and it's where you find experts relevant to your industry linking to your site.
Review Signals
57% of online shoppers find reviews helpful, and 9 out of 10 customers read reviews before purchasing a product.

Quantity, velocity (frequency in a certain amount of time), and diversity of reviews can provide search engines with more information about your company and increase a brand's online prominence in search results.

When you've received a review (good or bad), make it a point to respond courteously and professionally to the reviewer.
Podcasts
57% of Americans have listened to a podcast at least once, and to date, most businesses still aren't using podcasts as part of their marketing strategy.
Citation Signals
A citation is an online reference to your business's name, address, and phone number (NAP). Mentions of your business's NAP on third-party websites confirm your information and help to build prominence with search engines. A consistent NAP and citation volume play an important role in rankings.
Behavioral Signals
Consumer engagement also impacts local search rankings. The more CTR, mobile clicks to call, and check-ins you receive, the more useful your site appears to Google and the higher SERPs you'll earn.
Personalization
Area-specific targeting ensures your proximity and relevance, thus providing a more meaningful experience and delivering the most useful information to your audience.
By understanding what local ranking signals are most effective for higher SERPs, you can optimize your site and your content to ensure the best possible outcome for local SEO.
10 Ways to Rev Up Your Local SEO
Now that I have covered the overall basis of Local SEO, here are nine practical ways to earn higher SERPs for your local business.
1. Use Google Business Profile Manager (GBP)
Google Business Profile Manager (previously Google My Business) is a useful online marketing tool that enables searchers to find local results that meet their needs.
Because of your free profile links to Google Maps, people can find your company details and directions to your physical location.
Brands create a free online listing that includes accurate, current details about their company. Published information like NAP, business hours, and product photos help Google's algorithm match your business listing to relevant queries.
GBP has made recent updates, and new features include:
Managing your profile directly on Google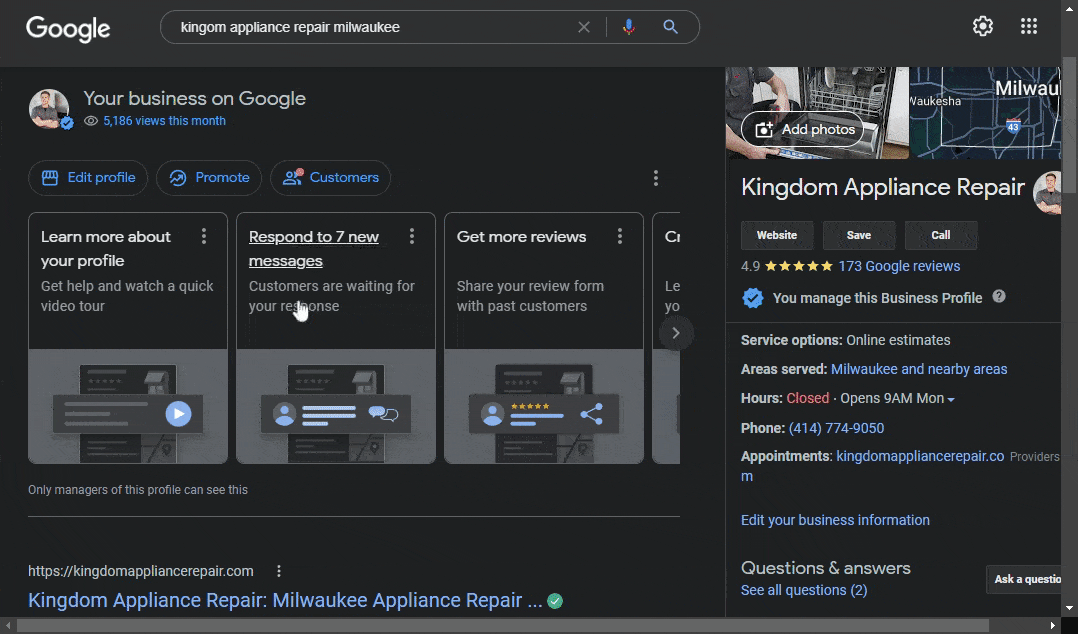 You can now find and update your profile in Google Search and Maps, making management from a desktop far more accessible. With this new feature, access to relevant data about your listing is right at your fingertips.
Latest reviews and ratings
Quick responses to reviews are available to you
An overview of the last 7 days of activity with your listing. This includes clicks, impressions, and avg. position.
You can create offers, new posts, and updates with the click of a button.
Accessing messaging from the desktop
When messsaging is enabled, customers can chat with you through Google Maps and connect with you as soon as they find you.
This is a great feature for businesses that spend a lot of time behind a computer. Answering questions couldn't be easier and faster than having this chat feature open on your browser.
Now easier and more effective for businesses to manage their account and connect with customers, GBP is a powerful tool for local SEO.
2. Use Schema Markup
Schema markup is microdata added to the code of your website. It helps search engines find certain pieces of information (like NAP) so they can more effectively crawl, understand, and rank your content to better align results with queries.
To incorporate schema markup on your website, first, identify your business category, then determine which tags to use for best results.
Some effective markups to consider include:
Service Area
Reviews
FAQs
Schema markup is an effective tool for local businesses because it enables you to hone in on a more specific target market.
Details like where to order and directions can help local shoppers find relevant, nearby solutions that drive foot traffic to physical stores.
3. Strategically Pursue Positive Reviews
Customer reviews are a major influencer when it comes to conversions. In 2022, 97% of consumers read online reviews when researching area businesses.
Today's shoppers trust the experiences and feedback of other consumers, and that input can sway or deter someone from buying a product.
Positive reviews help to build confidence, earn trust, and encourage prospective shoppers to try a brand. Search engines use online reviews as an indicator that your site is delivering a meaningful user experience.
The more value your site provides, the better it will rank in search listings.
Since reviews are typically user-generated content (UGC), we have little control over what people will say about their experience. That's why it's important to strategically pursue positive reviews.
Send post-purchase emails to satisfied shoppers. Provide incentives for in-store customers to provide feedback before they leave.
4. Develop Area-Specific Content
Content plays a major role in a successful digital marketing strategy. It helps you connect with your consumers and provide targeted resources that answer their specific questions and solve their unique problems.
Consistent, useful content serves people well. It can build customer loyalty and keep visitors returning to your information for even further reach.
Content also impacts search engine rankings. Content that specifically caters to a particular area or region attracts attention and secures higher rankings.
Write blog posts that highlight local events. Publish videos showcasing area organizations that are important to your audience. Use local landmarks in your content marketing.
If your business serves several regions, build a page on your website for each area you serve.
All of this provides quality information for search engines to scan and rank. It can also earn you rankings for each area you serve, which broadens your reach and allows you to connect with an even larger target audience.
Most importantly, it demonstrates to people who care about their community that you do as well.
Helpful tip: As you develop area-specific content, boost relevance with H1 headlines and on-page content that matches or includes a GBP category.
Choose from Google's extensive category list to help narrow the scope of online search.
5. Create Location Pages
Location pages on your website specifically help people connect with your business. Location, hours of operation, and a map all direct consumers to your store.
Photos of your building help shoppers find your location in person. Contact information and links to social media pages provide ways for prospects to reach you with questions.
Customer reviews and testimonials help you gain credibility, confidence, and loyalty.
The ancient Proverb still rings true, "Let another praise you, and not your own mouth; a stranger, and not your own lips."
Using area-specific keywords and providing accurate, updated information signals your usefulness to search engines, and they'll be more likely to reward you with higher placement.
Helpful tip: Use Google Search Console (GSC) to find new keywords that can boost your search results.
Follow these steps to complete this process:
Add a filter for the last three months.
Click on the pages below the graph and activate impressions and rankings.
Sort the impressions column in descending order so you can see the pages with the highest impressions.
Click on the pages that deliver several impressions.
Click on the Queries tab and sort the ranking column in ascending order.
Search for keywords that earn you 10+ ranking positions, and ensure they have a decent search volume.
Choose keywords that best satisfy search intent and create a new page around those words.
The GSC tool is an impactful way to optimize your content and help you more effectively connect with your target audience.
6. Maximize Local Citations
Citations typically refer to business listings on another website. Valuable sources include:
Yelp: Shoppers can read user reviews to make informed purchase decisions.
Local.yahoo.com. Build a local presence within Yahoo's search engines.
Foursquare. Power up apps with location data and special offers. Drive consumer traffic to your business.
MapQuest: Consumers can learn how to get to your location.
Trustpilot: This review platform influences your prospects.
NextDoor: Neighbors can share local information through this community email platform.
Thumbtack: This online directory helps shoppers find, rate, and hire local service providers.
ShowMeLocal: Shoppers use this online business directory (like the yellow pages) to find nearby businesses that provide solutions to their problems.
Take note of citation directories that support your industry and niche. Partner with sites that provide tracking so you can measure your listing's efficacy and help reduce duplicate listings that could work against your SEO rankings.
7. Interact on Social Media
Nearly 45% of the world's population interacts on social media. These platforms enable people to connect online, both personally and professionally, and get instant feedback and responses.
People use this tool to express their own ideas and content, and also to share information with their network.
Brands who interact on social media increase engagement, build a strong rapport and develop deeper relationships with their customer base.
Social media posts are highly targetable, so businesses can send tailored messages to a specific subset of their audience.
This is especially useful for local SEO because you can select an audience within a certain geographic radius and deliver relevant information that resonates.
8. Ensure Content is Mobile Friendly
Today, 64% of online searches occur on a mobile device. People have the freedom to access information at their convenience, whether it's shopping online while lying in bed or reading emails while on the bus.
Since 30% of mobile searches involve location, you must ensure your content is mobile-friendly.
When people are running errands around town, they may conduct a mobile search to find the closest supplier of the product they need.
If you've optimized for mobile, you can attract their attention and direct them straight to your location. Through geotargeting, you can deliver ads based on their location while they're currently in a buyer mindset and ready to convert.
Someone accessing your website from their mobile device should have the same positive experience that they would expect on their desktop.
Make sure to format content correctly so text blocks aren't cut off. Images should be scalable, yet embedded so they don't bog down load times.
Use responsive design to create a smooth, positive user experience. All of these things can help you stand apart from the competition when consumers are looking for your solutions on their mobile devices.
9. Optimize for Voice Search
Voice search has become a powerful tool for mobile searchers, with more than 135 million Americans using it regularly.
It's convenient and fast, allowing users to free their hands for other tasks. Voice search is more conversational, allowing people to ask questions as though they were talking to a live person.
Your site must be optimized to align with these sorts of questions.
People commonly use voice search to find:
NAP
Directions and distance to a location
Hours of operation
Ensuring your content uses long-tail keywords to match these kinds of searches will help earn you higher search rankings and enable you to connect with mobile shoppers looking to buy.
10. Get Listed on Bing Places
While Google remains the primary focus when optimizing for SEO, it should not be your only focus. As a secondary search engine, Bing attracts millions of users, but often gets overlooked because of its low market share.
Adding your business to Bing places opens your business to 10% of the market share, and while they might seem low, it represents millions of search queries that are largely ignored by marketers.
Claiming and verifying your Bing listing follows a similar process as GBP. You'll want to ensure all your business details are accurate, that your NAP is consistent with GBP other local directories – and that you choose the most relevant categories for your business.
3 Tools We Recommend for Local SEO
Here are three tools that we recommend to help you achieve successful local SEO.
1. BrightLocal
The team at BrightLocal are SEO experts who are in tune with the constant evolution of today's local marketing.
Their local SEO software delivers solutions ranging from local rank and citation tracking to GBP and local search audits.
All of this helps you to know where you rank and why, and how you can improve your performance.
2. Local Viking
This GBP software enables businesses to schedule GBP posts, upload photos, manage reviews, and track local rankings from a single dashboard.
Their GeoGrid Rank Tracker allows you to see GBP keyword rankings in detail so you can access more accurate tracking insights.
Bulk schedule your GBP posts and protect your information with attribute locking, so competitors can't hijack or sabotage your listing.
3. Semrush
Semrush provides SEO software that helps marketers create, manage, and track campaigns across multiple channels.
Use their tool suite to discover effective keywords, perform local SEO audits, and track your daily search engine ranking placements.
Semrush helps you create effective GBP listings, delivers new ideas for on-page SEO, and maximizes citations. Their tools are powerful in helping you achieve local SEO success.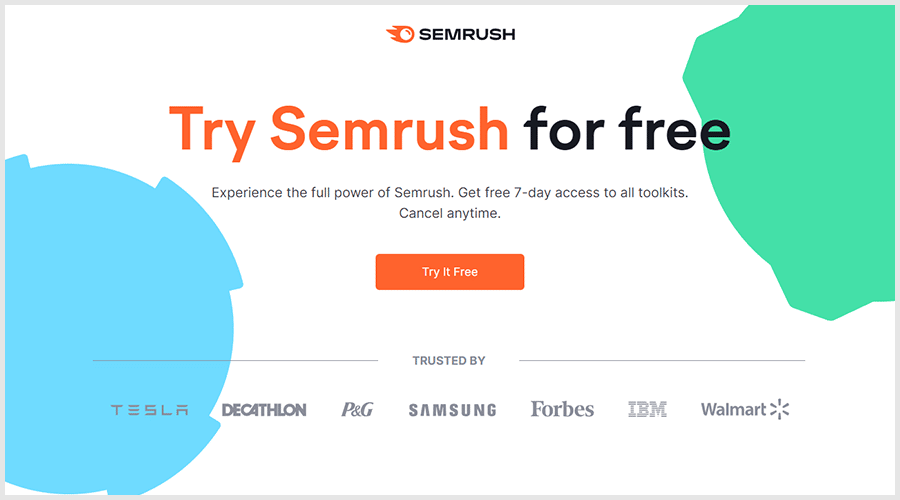 Give Semrush a try with a 7-day free trial.
Why Trust JS Interactive with Your Local SEO?
JS Interactive is an Austin SEO and digital marketing company that helps businesses nationwide develop effective digital marketing strategies.
We know there's no one-size-fits-all approach to SEO, so we create impactful marketing strategies that meet your unique needs. Here's how we've been able to help businesses like yours boost their local SEO.
Birmingham Fastener
Birmingham Fastener is a leading producer and distributor of fasteners for manufacturing and industrial companies.
With several locations nationwide, this client needed a way to capture market share in a range of cities.
Our local SEO services have helped them target consumers in their local areas who need a very specific solution.
Location pages, keyword optimization, and business listings drive traffic to their facilities for sales growth and success.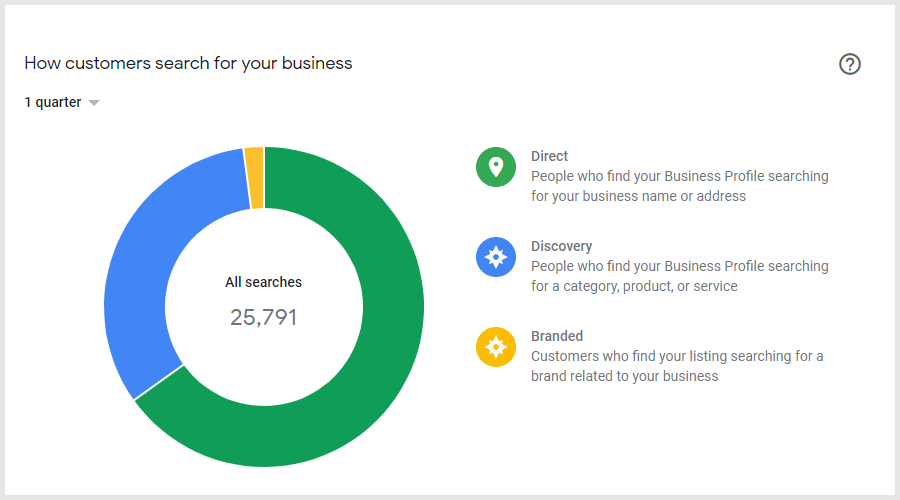 Kingdom Appliance Repair
This Milwaukee-based repairman needed to set himself apart from local competition. JS Interactive revamped his website to include Google and Yelp reviews for social proof that instills customer confidence to hire him for projects.
His digital content includes prominent contact information, clear service areas, and location-specific keywords.
Through a concentrated local SEO digital marketing strategy, we've helped Kingdom Appliance Repair earn the top SERP ranking for both organic and local searches.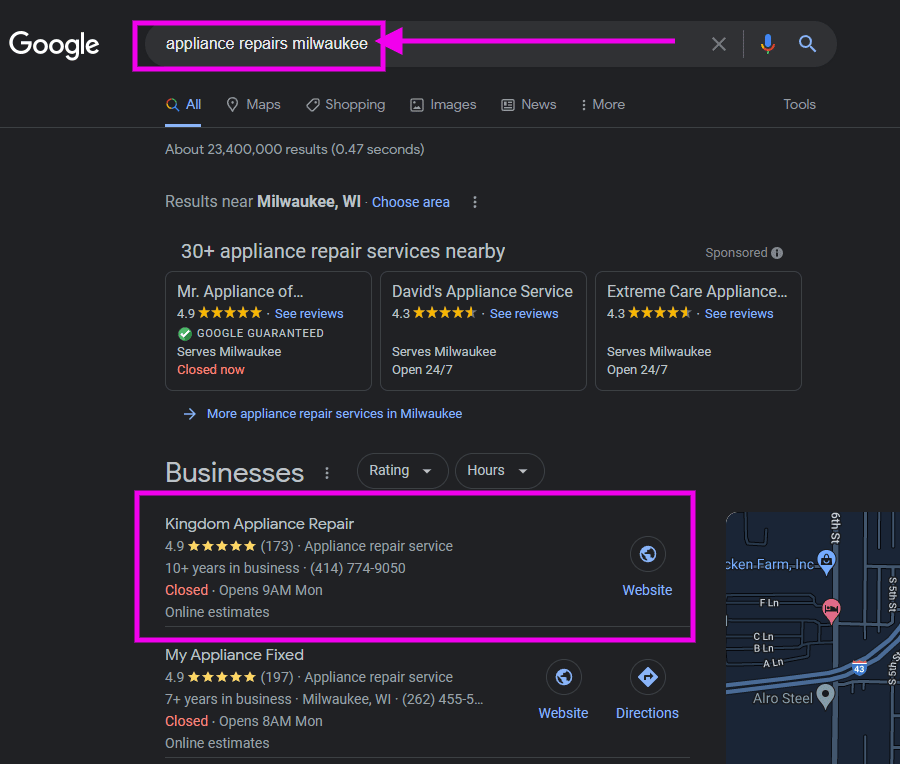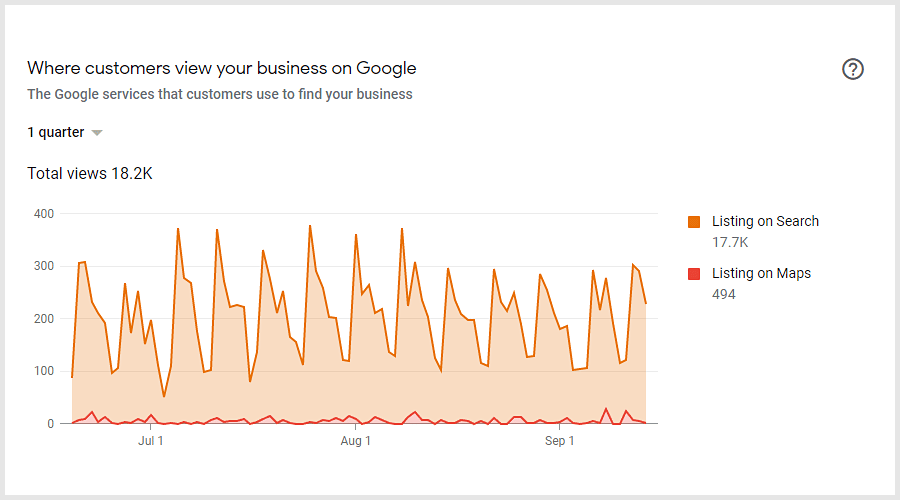 Interested in learning how JS Interactive can help you rev up your local SEO for continued growth and success?
Contact us today for a free consultation.