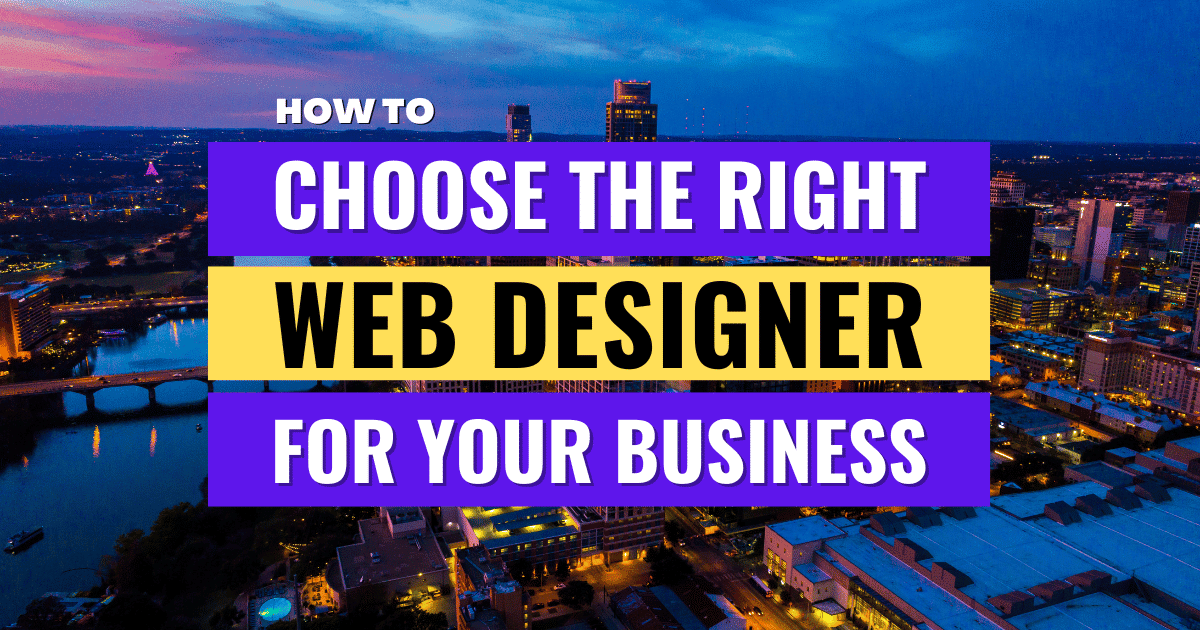 14 MIN READ
John Smith had always dreamed of becoming an entrepreneur. After months of planning and hard work, he was finally ready to take the plunge and launch his own business in Austin, Texas, one of the fastest-growing metro areas in the U.S. Unfortunately, he had no idea where to begin when it came to creating a website for his new venture.
Smith knows it's essential to have an online presence to reach potential customers, but he was overwhelmed by the task ahead of him. With nearly two billion websites online today, standing out from the competition is a fierce game of cat and mouse. What works for some brands may not work for others.
After a few days of research and contemplation, he decided to take the plunge and seek out the help of a freelance web designer. One who knew the ins and outs of website design and the latest technologies and trends to help him stand out.
Like John, when choosing a web design contractor, you have to take the time to research your options and understand what it is they can do. From their pricing to their experience, there are many things to consider. Once you clearly understand the role of a web designer, you can choose the right Austin web designer for your business needs.
Let's get started.
Table of Contents:
What is a Web Designer?
A web designer is an individual or team of professionals specializing in creating and maintaining websites. Web design contractors are accountable for the complete website design and front-end development process.
Web designers provide various services, including graphic design, coding, SEO best practices, content creation, and more. Working with a freelance web designer (or web design contractor) can benefit small to mid-sized businesses in Austin looking to enhance their online presence and reach a wider audience.
Key Takeaway:
A web designer is an individual or company that builds, designs, and maintains websites for businesses.
The Core Responsibilities of a Web Design Contractor
The demand for professional web design services is rising as more businesses shift their operations online. Web design extends far beyond a pretty image. It requires technical skills and creative expertise to design a website that looks good and meets the needs of your growing business and target audience.
If you're looking to hire a web designer in Austin, it's essential to understand their unique job responsibilities. Each contractor brings their own expertise to the table, so knowing what to look for is vital to finding the right fit for your business needs.
Understands the Client's Needs and Business Objectives
There is no way to create a successful website without clearly understanding what the client wants to achieve. The old business adage goes, "you can't sell to everyone," which rings true for the web design process.
Without a clear sense of what the client wants to achieve, the web designer will create a website that doesn't effectively communicate the client's message or help them reach their target audience.
Part of the initial consultations between you and your web design contractor should include identifying the following:
Short-term and long-term goals
Your industry/niche
Your target audience
Your ideal buyer persona
Your customer's pain points
How do your services/products address industry needs
Your Unique Selling Proposition
Once complete, your web design contractor will create a custom plan that details all steps and functional components required to create a professional website. A website that reflects your brand image and value propositions. To ensure that everyone involved in the project has a clear understanding of what to expect, these steps should also include:
Project's scope and statement of work
Deliverables that need to be created
The necessary milestones that need to be hit and
Your budget and timeline
Understands the Value of a Brand Style Guide
A style guide ensures that the client's brand is represented consistently and accurately across all platforms and printable materials. Web designers and content creators consider brand style guides a form of meta-level marketing because they guide any digital asset's design and development.
A style guide should include the brand's voice, color/font preferences, design preferences, and other elements that help create a cohesive and recognizable brand identity. With a style guide, web designers can easily create designs that align with the client's vision and goals.
Not only is this style guide beneficial for the client and designer, but it can also play a significant role in how your audience perceives your brand. For instance, research shows that roughly 94% of brand first impressions are visual – meaning that your brand's visual representation is essential to how your audience perceives your brand.
Creating a consistent brand identity can help build trust and recognition with your audience, which is key to converting visitors into loyal customers.
Of course, if you already have a brand style guide, you can skip this step and go straight to the next!
Creates Effective Website Layouts and User Experiences
Web design compositions and visual layouts are crucial steps for any business that wants to make an impact online. You want your website to be visually appealing, easy to navigate, provide second-to-none content, and ultimately convert visitors into customers.
Your website user interface (UI) should be designed with the audience in mind, considering their needs and preferences. To do this, the designer needs to prioritize the user, and ensure that all website content is easily accessible.
For example, online shoppers are notoriously known to be impatient when looking for information fast. The harder it is for them to navigate your website, the more frustrated they will become and leave. Studies show that roughly 38% of website users will immediately stop using a poorly designed website, while 88% of online shoppers won't return to a site after a single poor user experience.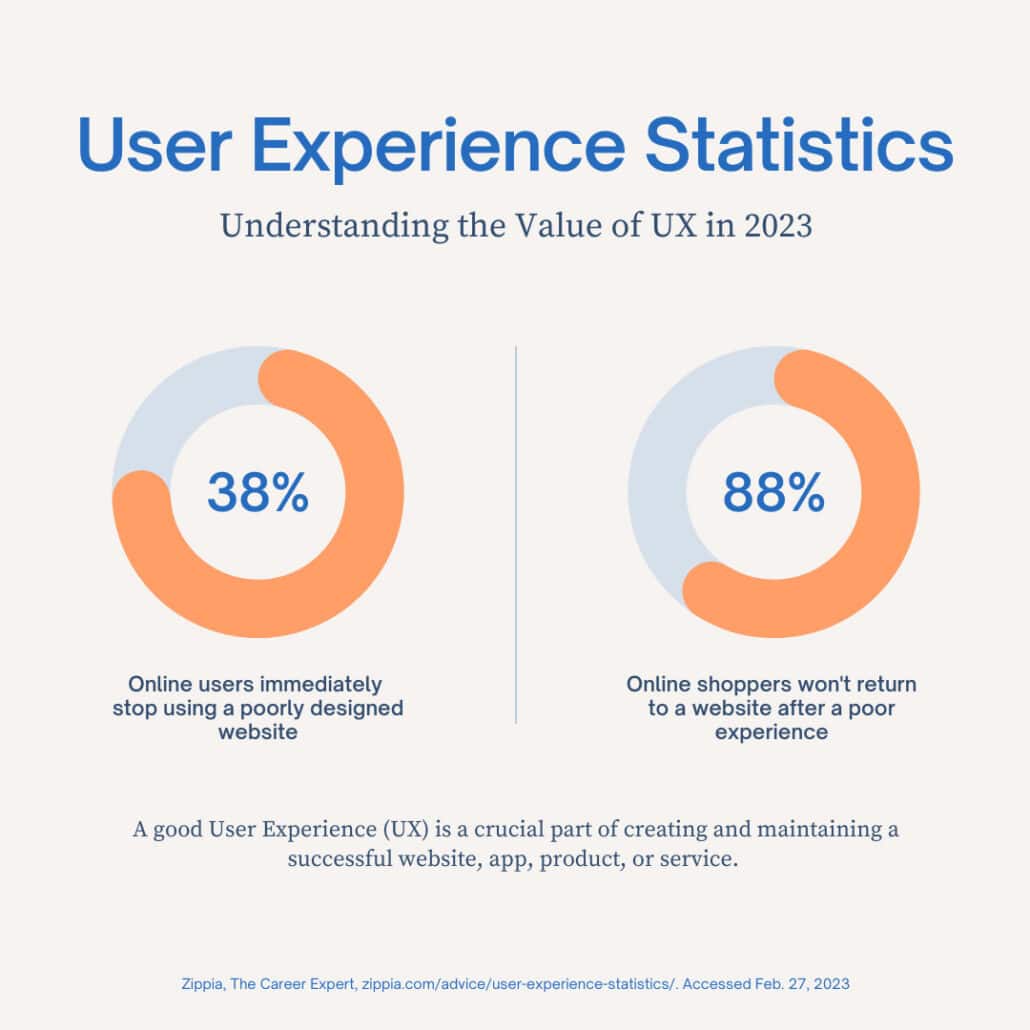 When creating a website layout, it's essential to consider the user's journey. What do they need to do on the website? How can you make it easier for them to find what they want?
A few of the most important elements include:
Visual Design: Colors, fonts, images, and other visual elements that help create an aesthetic and engaging experience.
User Interface: Layout, navigation, and other elements that make the product easy to use and understand.
Content: Text, videos, and other relevant and engaging content to the user.
Accessibility: Ensuring the product is usable by people with disabilities.
With careful planning and thoughtful execution, you can create a website that looks great and provides an exceptional user experience to all.
Ensures Responsive and Mobile Compatibility
Responsive design allows your website to be viewed on any device, regardless of size or orientation. Mobile compatibility ensures that your website looks and functions correctly on mobile devices. By providing both responsive and mobile compatibility, you can ensure that your website is accessible to all users, regardless of their device.
Takes Website Security Seriously
Security is paramount when working with a web design contractor. SMBs must make sure their website is guarded against malicious intruders, data violations, and other potential risks. When selecting an Austin web design contractor, SMBs should consider the following security measures:
SSL Certificates & Encryption Protocols
A secure sockets layer (SSL) certificate encrypts data between two points over the internet. This ensures that third parties do not intercept sensitive information such as passwords or credit card numbers while in transit. Transport layer security (TLS) can also be employed to bolster the safety of data sent via email or kept on servers.
Firewalls safeguard internal networks from external threats. Intrusion detection systems identify anomalous activities that could indicate a security breach or malware installation by hackers. They can also detect suspicious activity and alert administrators if any malicious traffic is detected entering the network.
Access Control & User Authentication
Access control helps restrict access to certain areas of a website or server. Limiting access and using multiple verification methods can add layers of security to your website or network.
To safeguard your company against potential disasters like power outages, hardware malfunctions, and natural disasters, it's important to have regular backups in place. Without proper backup procedures and disaster recovery plans in place, critical data may be lost forever.
Collaborates with Content Writers
Collaboration between web designers and content creators is essential for a successful online business. Content writers focus on messaging that is compelling, engaging, and informative for readers. Web designers work with content writers to successfully deliver the composition and user experience that readers seek.
A content-driven web design incorporates all aspects of content creation into the design process, rather than trying to plug content into the design. Why is this important? Because content directs design decisions in ways you may not have considered.
Design elements need to be built around your website's subject matter and audience.
By working together, web designers and content writers can produce amazing, visually appealing, and compositionally sound projects.
Collaborates with SEO Specialists
By working with an SEO specialist, a freelance web designer can ensure their website is visually appealing while optimized for search. This is especially important for new businesses looking to create an SEO-friendly web design.
Steve Jobs stated, "Design is not just what it looks and feels like. Design is how it works."
By having a basic knowledge of how technical SEO works, a web designer can collaborate with an SEO specialist to create a website that Google crawls efficiently, interprets effectively, and indexes instantly in their database.
A few SEO factors a good web designer considers in the process include:
Good web hosting
Meta data which includes a title tag, and meta description
Image alt tags
Image resizing and compression
Header tags
URL structure
Internal links
Working with both a web designer and an SEO specialist gives you the best chance of creating a successful website that the right people see at the right time — all while conveying the right message to encourage visitors to take action.
Testing and Maintenance
Testing the site ensures that it functions properly and identifies any errors or bugs that may be present, post-launch. While regular maintenance helps prevent security vulnerabilities frequently found within open-source software soluitons by ensuring systems are kept and up-to-date with the latest software and technologies.
Regular website maintenance also monitors your website's uptime, and ensures that the site is accessible, user-friendly and easy to navigate. This includes updating content regularly, ensuring that the code is optimized for performance..
Key Takeaway:
When searching for a web design contractor, make sure they have the experience and skills to create a website that meets your business's needs.
5 Important Factors to Consider When Choosing an Austin Web Designer
Choosing the right web design contractor can be a daunting task. With so many options available, here are five essential factors to consider when choosing a web design business to work with:
1. Portfolio and Experience
When searching for "Austin web designer" or "web design near me," you'll be faced with a slew of results. So, how do you wade through the noise and find the perfect contractor? You:
Once you start collecting potential contractor names, you'll want to be sure they have a portfolio of work that showcases their unique abilities. If they don't have a portfolio of work, ask for references from previous clients.
You need proof that you're working with a professional that can deliver on their promises. The stronger the portfolio, the more confidence you'll have in your final decision.
2. Cost Breakdown
Another factor you'll want to look at when choosing a web design contractor in the Austin, TX, area is whether or not they have a clear cost breakdown of what you can expect to pay for their services.
A cost breakdown helps you to know exactly what you're paying for and how much of your budget you can expect to spend. Without a clear cost breakdown, you risk spending more than anticipated and running into unexpected expenses.
It's crucial to realize that many web design contractors don't display upfront cost breakdowns on their websites without an indepth consultation. Professioanl web design typically requires an assessment of your specific needs and business requirements. However, if they work with you to develop a detailed project scope with a statement of work (SOW), then a fairly accurate timeline and cost breakdown can be provided upfront.
3. Communication and Collaboration
Communication and availability are vital when working with a web design contractor, especially if you need assistance after launch or during ongoing maintenance projects. Make certain the web design contractor is accessible. whether by telephone, email, chat, etc., to obtain quick answers for any queries or issues that may occur during your project.
4. Project Management and Delivery
When looking for a web design contractor, it is important to make sure they have a proven history of project management and on-time delivery. This will usually be clearly documented on their website and be backed up by their portfolio of completed projects and any client feedback.
5. Client Reviews and Testimonials
Finding the right web designer is a critical process that requires careful research and consideration. Feedback from previous clients is an essential aspect of this, as it provides valuable insights into the contractor's work, customer service, and ability to deliver on their promises.

Key Takeaway:
Having a list of factors to consider at the ready will make finding an Austin web design contractor straightforward.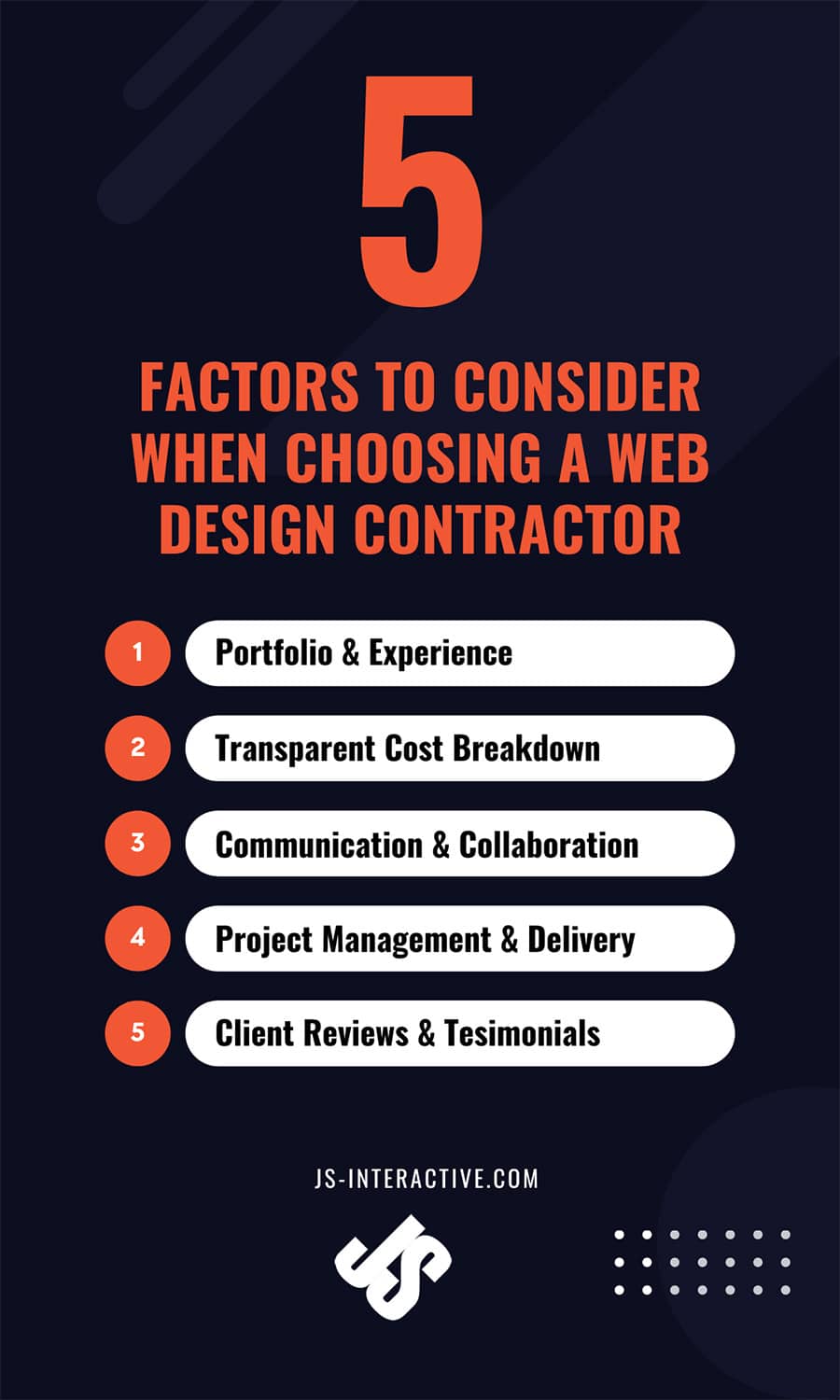 Advice From an Austin Web Design Contractor
In today's competitive digital landscape, it may be tempting to go with the cheapest web designer you come across. But that's not the wisest decision, as choosing a designer solely based on their low rates could end up costing more in the long run, both in terms of time and money.
Don't shop based on price-point. Evaluate the quality of service you are getting. By doing due diligence with getting recommendations from past clients – you can learn a bit more about the web designer you are looking to potentially hire.
Various components contribute to the success of a project, apart from the final product. Some of the most important include:
Good communication which includes a lot of questions
Accessibility
The ability to comprehend YOUR vision
Attention to detail
A genuine desire to learn about your product or service
When hiring a designer, consider someone who you see investing in your success, rather than just looking for a paycheck. The old saying "you get what you pay for" holds true in my experience. So don't let financial constraints prevent you from achieving business growth. Take risks where you see opportunity, and invest in yourself.
Work with an Web Designer in Austin You Can Trust
Working with an Austin web designer like JS Interactive is a great way to get your website up and running quickly. Different designers will offer varying services, from custom design to content creation, that can help you reach your goals.
JS Interactive makes it easy to create a website that looks great and functions well. The team has over 15 years of proven experience working with businesses to helpbuild engaging websites that reach their goals.
Let us help you increase visibility and reach more customers through content-focused web design that attracts the right audience and drives conversions. Contact us today!