Your Guide to Digital PR for High Quality Link Acquisition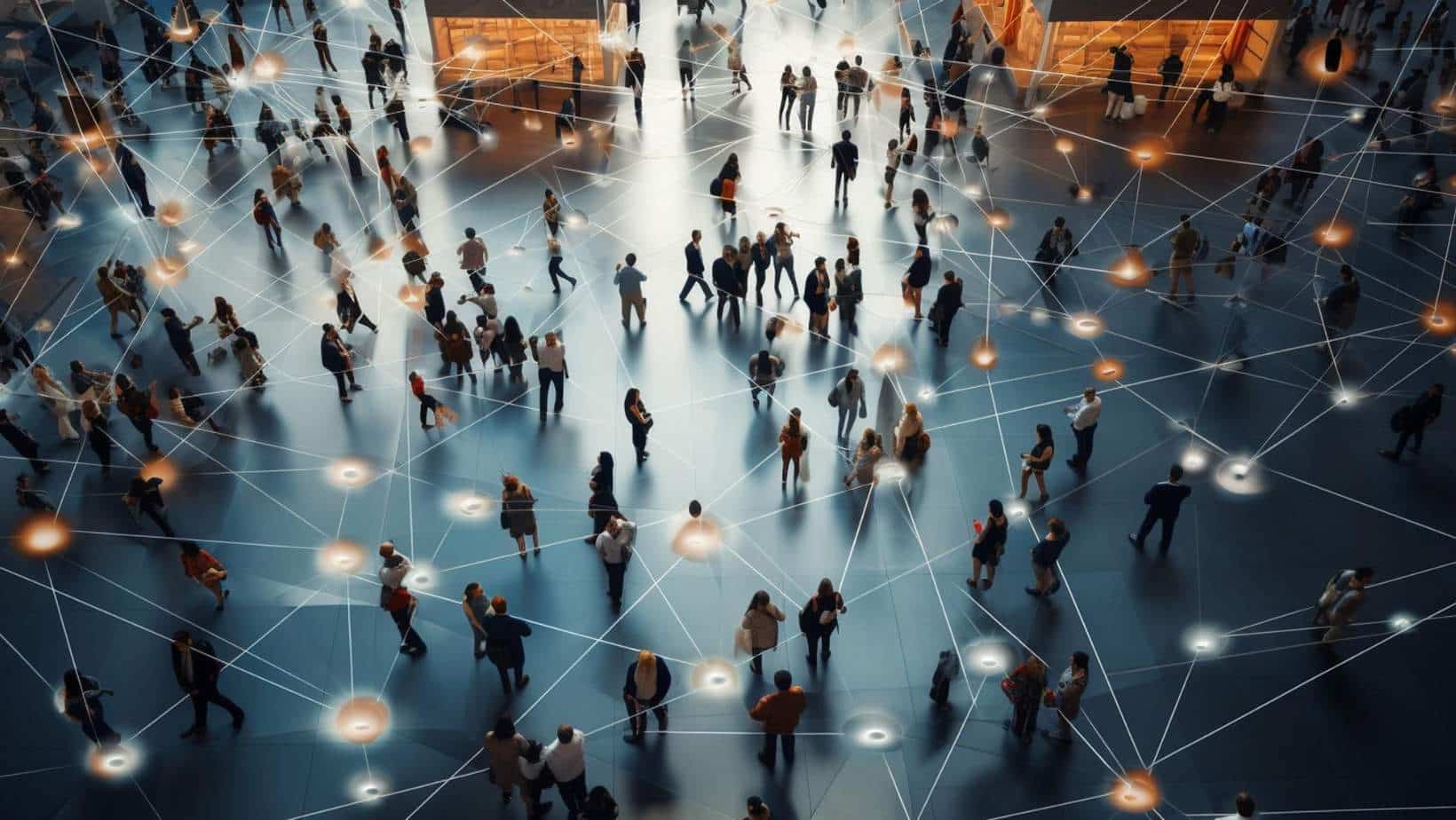 Trick or treating can be a magical experience for children. Kids walk up to a door and ask for candy. The person on the other side gives them candy, no questions asked!
The kiddos then return home with a bucket full of candy.
If only link building worked just as efficiently. Just imagine being able to approach random businesses and get backlinks simply because you asked.
In reality, link acquisition is far from a simple game of link trick or treating. It feels more like being a door-to-door salesman who receives more closed doors than listening ears.
That doesn't have to be your experience.
Explore seven link-building best practices for your digital PR to turn closed doors into SEO opportunities.
What Is a Link Building Strategy?
Link building adds links to your website from outside sites. We call those links "backlinks."
We can't (legally) force or bribe third-party sites to link back to ours. Instead, white hat link building encourages them to add links by creating share-worthy content and introducing other sites to your company website.
Links are the bridges of the internet, tying websites together. Those bridges are passageways that guide internet users from website to website so they can find related content from their favorite sites.
Those bridges are also passageways for Google's "crawlers." Crawlers scan internet copy and index it by topic and relevancy. Link bridges help crawlers:
Make connections between related content
Index content more appropriately
Rank content higher
Why Is Link Building Important for SEO?
Those link bridges are a crucial component of SEO and significantly impact your ranking. If you run a site audit through SEMrush or another SEO tool, you'll notice sites with more backlinks have higher "authority scores" than those without backlinks.
Therefore, pages with more quality backlinks tend to rank highest in Google. A 2023 SEMrush study found that 92.3% of the top 100 ranking domains had one or more backlinks.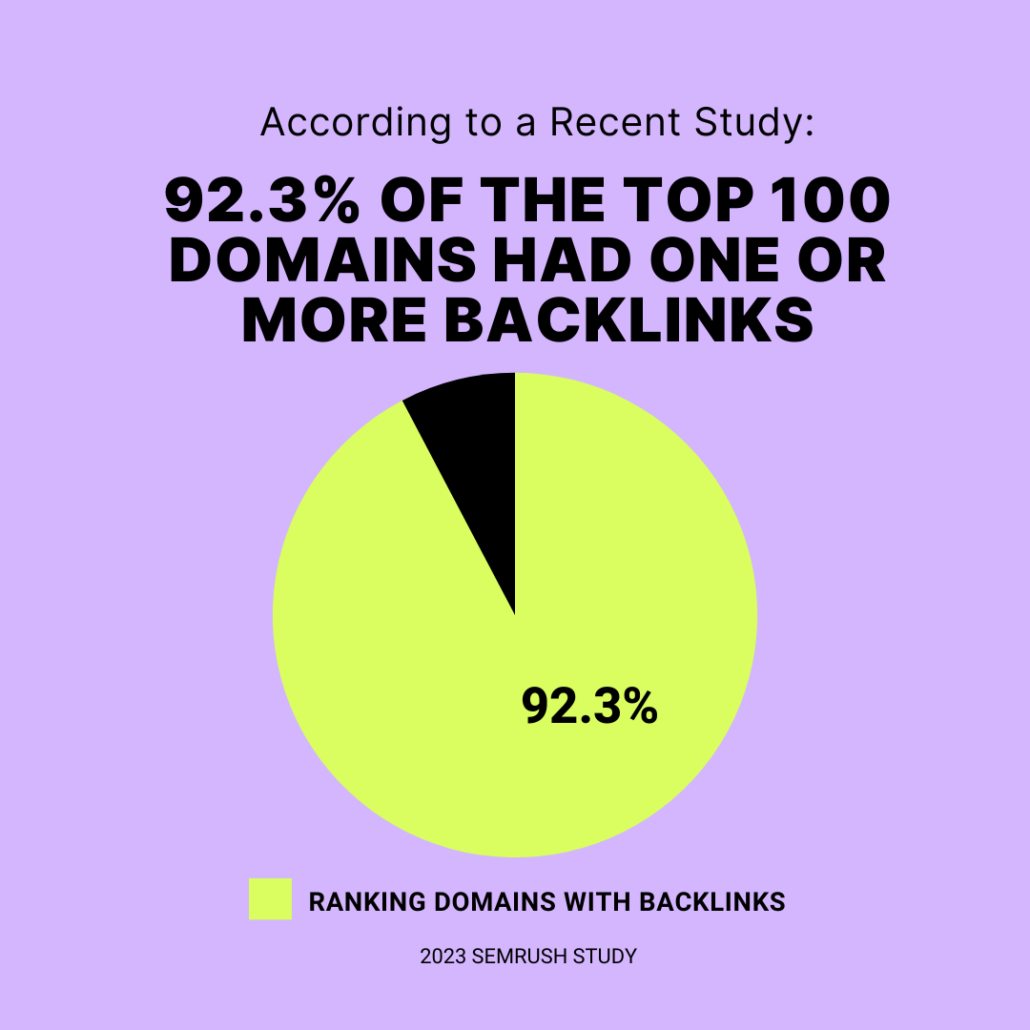 The authority score reflects how reliable Google might see your site. When multiple third-party sites link back to your content, you're proving your authority in your industry, prompting Google to highlight your content above other less authoritative content.
What Type of Backlinks Are Most Valuable?
Not all backlinks are equal. For example, a backlink from a highly recognized authority site like Forbes or The New York Times will go much further in proving your authority than receiving a backlink from a small, personal blog.
Linking to and building relationships with smaller websites can be advantageous. They may even give a slight boost to your website's SEO, so it's not advisable to disregard them completely.
However, it's important to note that smaller websites don't contribute the same level of SEO value as larger websites, so you'll need to acquire more of these types of links to achieve the same impact as links to larger, more well-known sites. But never compromise quality backlinks with quantity.
In contrast, spam links and bought links hurt your site authority.
A best practice for choosing beneficial backlinks is looking at the linking site's AUTHORITY and RELEVANCY.
You can identify a site's authority using an authority checker, like the popular Ahref tool.
Keep in mind that backlinks not only boost your authority but also drive traffic. Consider whether you want the traffic from a site before deciding whether a site is worth pursuing for backlinks.
Quality links are far more valuable than quantity. If a website checks those two boxes, they are worth the time and resource investment to connect with and potentially encourage a backlink.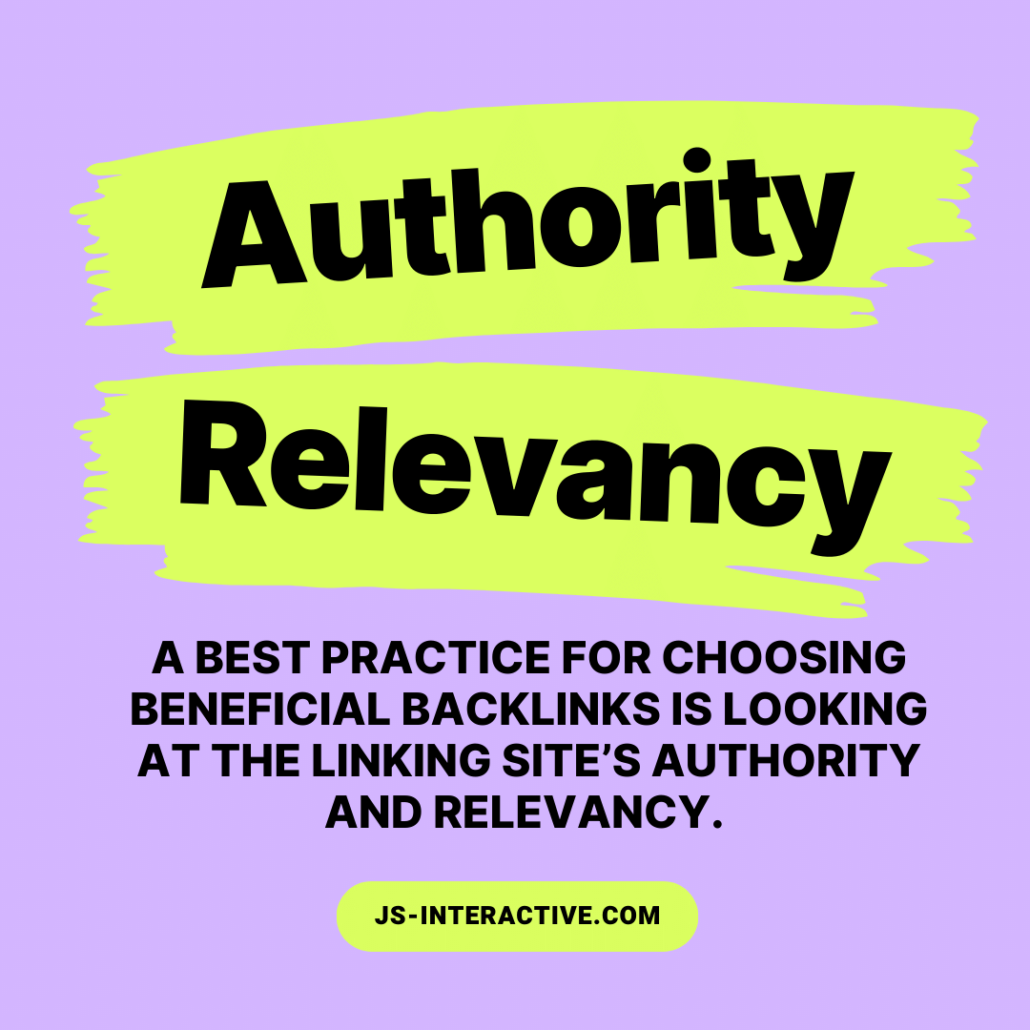 How Digital PR Improves Your Link Acquisition
Digital PR builds online brand awareness and improves public opinion.
What is digital PR?
It is the strategy for building online brand awareness and positive public opinion, usually through third-party content like publications in journals and online magazines.
Some common strategies for digital PR for backlinks include:
Press releases with links back to your site
Media pitches for your latest surveys and content for a backlink to the content's source
Guest posts on authority niche publications
Strong SEO content that organically generates backlinks
7 Digital PR Best Practices for Link Acquisition
Use these seven digital PR best practices to increase your odds of link acquisition and improve the quality of your backlinks from your link building outreach.
1. Create Link-Worthy Assets
You can also encourage backlinks by creating high-quality content that publications will want to share. Shareworthy content is original ideas, data, and news.
Some ideas for share-worthy content include:
Surveys in your niche you sent out and compiled into a shareable graphic or blog post
Industry studies you wrote into a report
A visually appealing collection of information
Original thoughts or ideas from a fresh angle on trending news
You can publish this content on your site, and the backlinks will come in. However, that strategy can take months to generate backlinks. You can also share that content with top publications to encourage links to the content.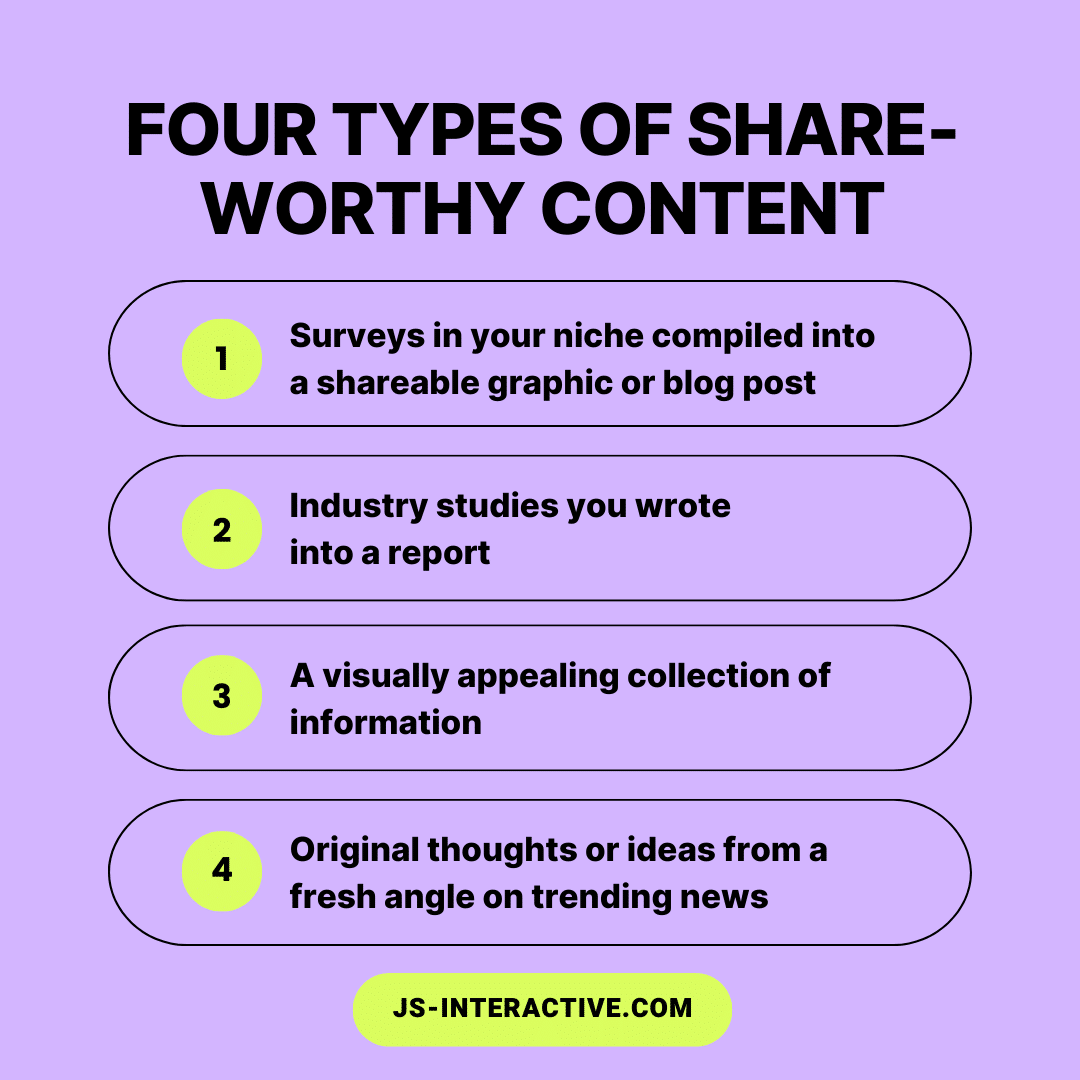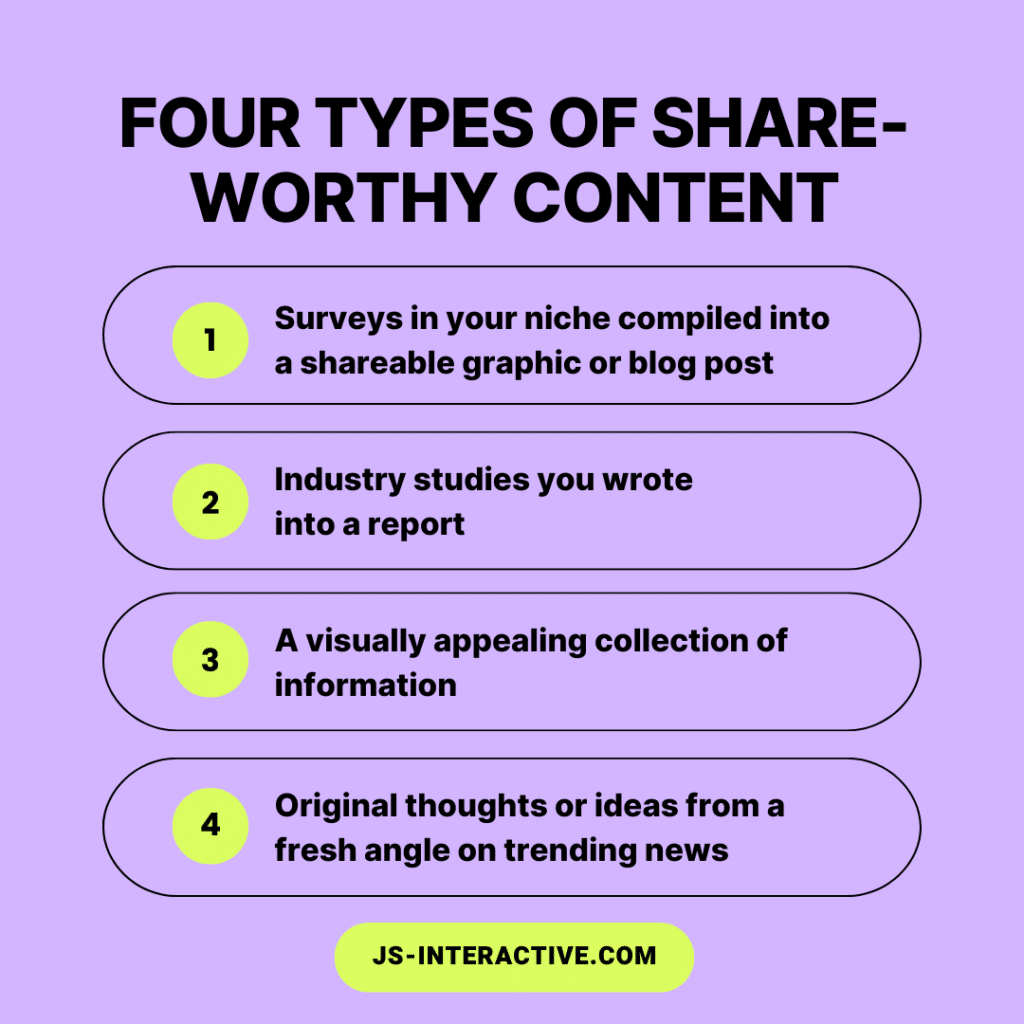 2. Personalize Your Approach
Personalize your PR outreach by targeting niche publications that match your tone and style.
Instead of mass marketing techniques and generic link building tools, partner with an SEO and link building agency that selects potential partners based on relevancy and quality.
SEO agencies understand the connection between a site's reputation and the impact of the backlink on search engine ranking.
Once you have your niche down, personalize your pitches and outreach emails. Your pitch email impacts your backlink potential even more than the content you share because it's your first impression. Your content builds on that impression.
Use names, showcase your authority, and personalize your pitch around what their readers value most and how your content and brand fit that value.
3. Share Guest Posts on Niche Publications
Guest posts give you more control over what a website says about your brand. For a guest post, you write the content, and a publication shares it.
Just be sure to check the rules about backlinks, as some sites like Forbes limit the number of backlinks you can have in a guest post article.
While you can share content you created as a guest post, many sites prefer you make 100% unique content. Creating unique content also allows you to customize the content for the site's tone, increasing your chances of the site publishing your guest post.
4. Publish Quality Press Releases
You can generate backlinks from press releases that share important information about your company to media outlets.
To publish press releases, begin by building a strong distribution list with quality niche news outlets that will reach your audience. Then, send out pitches to those contacts.
Because news outlets are often flooded with pitches, you can spend less time and see a better return by using tools that find and distribute press releases for you. One of the most popular press release services is Newswire.
For your press release to be published on a media site such as Newswire, it should contain information that is of public interest. Some topics you can use for your press release include:
Product launches or updates
Mergers
Grand openings
Upcoming company events
New awards
New hires or position changes
Rebranding and company changes
Responses to crisis that directly connect to your brand or personal passion (avoid press releases about events that don't directly impact you as that can come across as virtue signaling)
As you write your press release, ask yourself why the public should care. Your press release should make a connection between your news and the readers' lives.
If you can make that connection, media outlets are likelier to publish it because it will resonate with their audience.
The ideal press release is 300 to 400 words, so every word matters.
Your press release should make a connection between your news and the readers' lives.



5. Track Brand Mentions
If you already have a name for yourself, there's a good chance people are already talking about you. Even if you're still building your brand, you can use your existing content to get the ball rolling by sharing it on social media and other platforms.
Tracking brand mentions allows you to look for your name across the web. Tools like Awario and Social Mention help keep track of mentions without backlinks. When you see those mentions, reach out and thank them for those mentions, encouraging them to link to your site or page to help readers find you from their post.
6. Link to Niche Publications
If you want others to link to your site, start by linking to theirs. On average, 73.6% of the highest-ranking pages have reciprocal links.
For example, give your favorite publications a shoutout on your social media or website. That backlink will show up on their radar, catching their attention.
There is no guarantee that they will link back to your site. That's OK. You're not aiming to objectify another brand for links.
Rather, you're looking to build strategic, albeit distant, relationships with other brands to empower everyone to succeed.
7. Carefully Select Your Anchor Text
Did you know the words used in your link impact SEO?
The anchor text you highlight tells Google (and readers) what the link leads to. When creating press releases, guest posts, and other share-worthy content, choose anchor text that supports your SEO.
Avoid linking to too many of the same keywords in your content, as that looks spammy. You also want to avoid generic phrases like "read more." The best anchor text is more than three characters but fewer than five words.
Here are several words that make the best backlinks for SEO:
Link your brand name
Link to brand keywords (for example, a digital marketing agency might put their backlink on the keywords "digital marketing")
Link to a statistic
Revamp Your Digital PR Link Acquisition Strategies for SEO Success
Exchange your mass outreach strategies and low ROI techniques with targeted, optimized SEO backlink strategies. JS Interactive elevates your backlink strategies so your efforts go further.
We can help you create content for your niche that stands out from the crowd and boosts your authority so you can improve your search engine ranking.
Contact us to learn more about our SEO link building services.
Get Marketing Insights to your Inbox
Boost visibility, outshine your competitors and attract more customers