5 Ways to Boost Your Online Visibility With Help From a Leading SEO Agency in Austin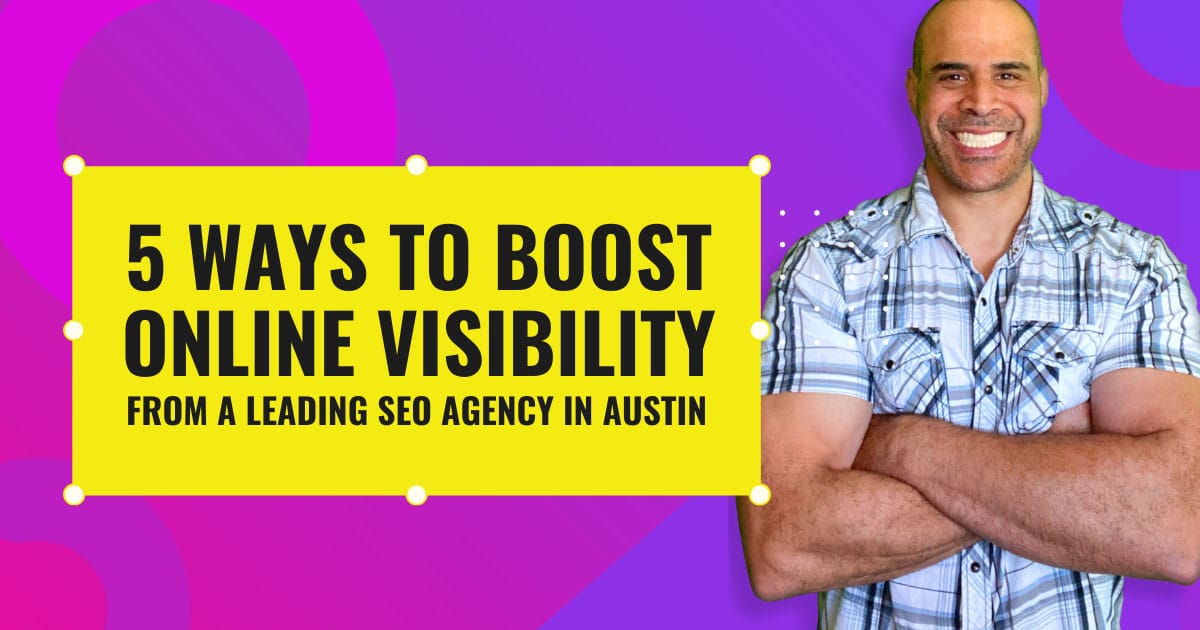 In today's fast-paced digital world, getting caught up in the latest marketing news and trends is but a click away. Many businesses are quick to jump on the bandwagon of the latest social media craze or the hottest new app.
For example, with the recent release of GPT-4 and other AI writing tools, many companies are looking for ways to automate every aspect of their content creation in an effort to stand out in an increasingly saturated market.
While these AI tools are extremely useful in generating content, they come with limitations when optimizing generated content for search engines. For businesses looking to improve their online visibility and reach more customers, engaging an experienced SEO agency can be a great way to enhance brand presence on the web.
With the help of an experienced SEO with website design know-how and technical proficiency, your enterprise can soar to a new level of brand positioning. In today's post, we'll explore what makes a leading SEO agency unique, who should consider investing in these services, and five ways they can help quickly improve your online visibility.
So if you're ready to get serious about controlling how people find you online – read on.
Table of Contents:
What is an SEO Agency?
An SEO agency is a firm that specializes in utilizing search engine optimization (SEO) and other digital marketing tactics to help businesses increase their online visibility. An SEO agency aims to drive more organic traffic to the client's website while increasing brand awareness and customer engagement. A professional SEO agency helps companies to boost their web presence by optimizing websites, content, and other digital resources for higher search engine rankings on Google, Bing, and Yahoo.
By teaming up with experienced SEO services, companies have the potential to increase their bottom line and ultimately grow their business. Professional SEO marketers have the expertise to optimize a website effectively and understand the intricacies of search engine optimization. With a comprehensive SEO strategy, companies remain relevant to search and reach their intended audience more effectively.
Key Takeaway: An SEO company can work wonders for your small business. They can help you increase your online presence, drive more website traffic, and increase brand recognition. If you want to take your SMB to the next level, working with an SEO company is the way to go.
Who Should Invest in SEO?
Investing in SEO can be a game-changer for businesses looking to improve their online presence and attract more customers. Many business owners are concerned about the cost of SEO and wonder if it's worth the investment. However, SEO is recognized as one of the most cost-effective marketing strategies, is highly scalable, and can be tailored to fit any budget. By working with experienced SEO professionals, businesses can develop a customized strategy that fits their unique needs and goals.
From startups to enterprises, here are a few reasons companies should consider hiring an SEO specialist:
Startups
Startups have limited resources and fierce competition, so standing out from the crowd can be challenging. One cost-efficient and effective way to gain visibility and attract potential customers is through search engine optimization. Investing in SEO can help startups can:
Clearly define buyer persona and market segments
Increase brand awareness and credibility among their audience.
Reach a wider audience and increase its chances of attracting potential investors and partners.
Attract high-quality traffic and increase their chances of converting leads into customers.
Reduce dependency on paid advertising, which leads to cost savings and sustainable growth.
Small Businesses
Small businesses need to be strategic with their marketing budget, and SEO can be a cost-effective way to improve online visibility and attract new business. However, without expertise, SEO can be complex. An experienced SEO agency can:
Help identify growth opportunities within the business's budget
Forensically analyze a website with technical SEO
Provide a content audit and strategy for attracting new business
Create a tailored SEO strategy using advanced tools and resources
Established Brands
With the constant evolution of consumer behaviors, established brands need to stay up-to-date with the latest SEO techniques and technologies to stay competitive. By partnering with an experienced SEO agency, they can:
Reach new audiences and maintain relationships with existing ones by optimizing content across multiple channels.
Improve website performance metrics like page load speed and mobile responsiveness for a better user experience and higher search engine rankings.
Gain insights into industry trends and consumer behavior to tailor marketing strategies and stay ahead of the competition.
Utilize advanced tools and resources for in-depth keyword research and competitor analysis, targeting high-value keywords.
E-commerce Sites
In the competitive world of e-commerce, generating organic traffic is essential for driving sales and growth. This is why many e-commerce sites invest in search engine optimization to improve their search engine ranking positions (SERPs). Here are some benefits of working with an experienced SEO team to optimize your e-commerce site:
Improve SERP rankings by optimizing product descriptions, meta-information, and image alt-tags.
Build high-quality backlinks that boost your site's authority and improve its visibility in search results.
Create internal links between related pages to help search engines understand the structure and hierarchy of your site.
Leverage local searches to drive traffic to your physical store locations and improve your local search visibility.
Utilize schema markup to provide search engines with structured data about your products, making them more visible and appealing to users.
Keep up with ever-changing search engine algorithms and industry trends to maintain and improve your search rankings over time.
Key Takeaway: For businesses looking to boost their online presence, investing in search engine optimization can be an excellent way to gain an edge over competitors. While it takes hard work and expertise, it can provide lasting benefits if done right.
Technical Aspects of SEO and Web Design
Search engine optimization and web design are the perfect duo that works seamlessly together to improve a business's online presence.
Without one, the other wouldn't be as effective. Proper SEO techniques examine a website's content and technical elements and consistently seek ways to better optimize and improve performance. Alternatively, web design and UX ensure that the website looks visually appealing, is accessible, and functions seamlessly.
SEO web design brings together the strengths of search engine optimization and web design to create a website that is not only optimized for search engines but is user-friendly and looks great.
What good is driving thousands of relevant visitors to a website if they leave due to poor design or lack of user-friendliness?
By focusing on both SEO and web design, businesses can create a website that attracts new visits, engages customers, and turns visitors into loyal customers.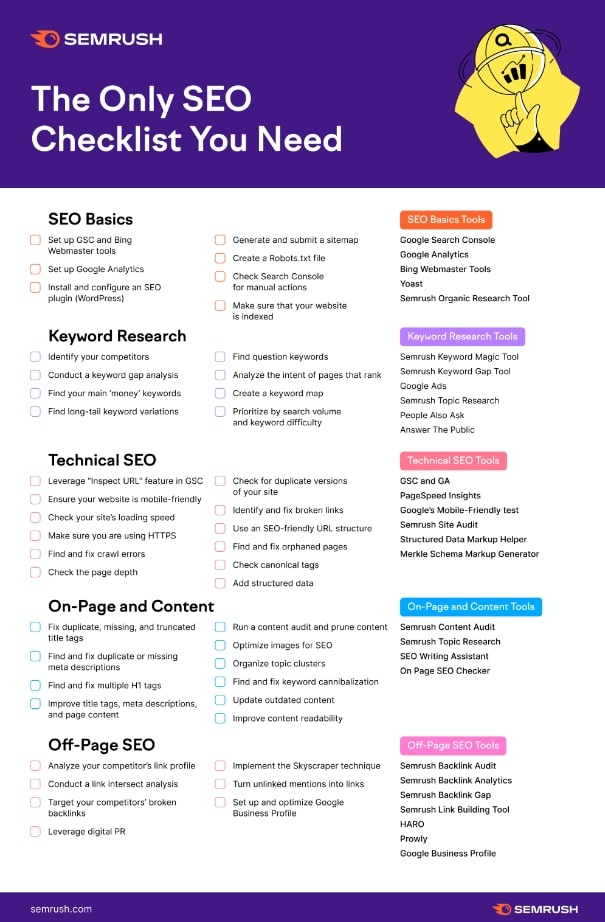 Core Principles of SEO
To maximize your website's visibility on SERPs, it is essential to be aware of the core principles of SEO and how it relates to web design. Below are just a handful of the many key principles of SEO that can help you get the most out of your web design:
Market research: SEO and web design require a deep understanding of the target audience, including demographics, preferences, and behaviors.
Buyer Persona: Creating a buyer persona is a crucial step in both SEO and web design, as it helps to tailor content and design to the specific needs and interests of the target audience.
Keywords: SEO relies heavily on targeted keywords, and web design should also incorporate keywords in strategic places such as headlines, image alt tags, and page titles.
Site crawlability: SEO involves ensuring that search engines can easily crawl and index a website and web design can impact crawlability through factors such as site structure, internal linking, and sitemaps.
Site speed: Both SEO and web design benefit from fast loading times, as this can improve user experience, reduce bounce rates, and contribute to better search engine rankings.
By keeping these core SEO principles in mind during the web design process, businesses can create a website that is visually appealing, optimized for search engines, and designed to attract and retain targeted traffic.
Web Design
A well-designed website should be aesthetically pleasing and easy to navigate so that visitors stay longer, explore more pages, and increase dwell time while reducing bounce rates. Key elements to keep in mind include the following:
Easy-to-use navigation: A website's navigation should be intuitive and straightforward, allowing users to easily explore the site and find what they are looking for in a few clicks.
Clear Call To Action: CTAs should be prominent and clearly visible throughout the site by using relevant colors and contrasting text while also using relevant keywords to encourage users to take action and convert.
Good structure and layout: Your site must balance images and text to maintain engagement and avoid overwhelming users.
Metadata: Optimized title tags and descriptions that include relevant keywords.
Header tags: Proper use of H1, H2, H3, etc. tags that incorporate relevant keywords.
Site architecture: A well-organized site structure that allows search engines to easily crawl and index pages.
URL structure: User-friendly URLs that include relevant keywords.
Mobile-friendliness: A responsive design that works well on mobile devices.
Accessibility and UX: Incorporating features that make the site easy to use for people with disabilities or impairments, and creating a positive user experience to encourage engagement and reduce bounce rates.
Image optimization: Proper use of image alt tags, resizing, and compression to ensure fast loading times.
By prioritizing these design elements, businesses can improve their SEO and drive more traffic to their site while creating a positive user experience that keeps visitors engaged.
Content Creation
Effective content creation is crucial to SEO and web design strategies. By crafting content that speaks to your target audience and is optimized for search engines, you can help boost your online visibility and attract more traffic to your website. Here are some important points to keep in mind when creating content that can help improve your SEO and web design efforts:
Target Messaging:
Craft content that is focused and relevant to your target audience
Ensure that your messaging addresses the interests and needs of your audience
Use language and tone that resonates with your target audience
Client-first Content:
Address your customers' pain points and provide helpful solutions
Provide content that is useful and valuable to your audience
Build trust and establish your business as a thought leader in your industry
Structure (Readability):
Use headings, subheadings, and bullet points to break up content and improve readability
Keep paragraphs short, concise, and to the point
Use visual elements like images and videos to complement your content and improve engagement
Implementing these best practices in your content creation can improve your website's SEO performance and overall user engagement.
Local Search Strategies
Local SEO and web design are closely intertwined, as the design of your website can impact its visibility in local search results. A well-designed website can help search engines understand your business's location and services, making it easier for local customers to find you online. However, a website alone is not enough to rank high in local search results. Optimizing your online presence with local SEO strategies is crucial for driving traffic and leads to your website. Below are a few ways to optimize your local SEO both on your website and other platforms:
Google Business Profile: Optimize your business listing with address, phone number, website, and hours of operation for better local SEO.
NAP Citations: Ensure Name, Address, and Phone number consistency across all online directories and listings.
Local Keyword Research: Research and target local keywords relevant to your business for better SEO results.
Online Reviews: Encourage positive reviews on Google, Yelp, and Facebook to boost local SEO efforts.
Local Content: Create location-specific landing pages, blog posts, and other content to improve visibility in local search results.
Schema Data: Improve your website's local visibility by adding structured data, and local business schema to better categorize your business type and what you do.
Key Takeaway: Both website design and search engine optimization (SEO) are essential for improving your business's online presence.
5 Ways to Boost Your Online Visibility with the Help From a Leading SEO Agency in Austin
Are you looking to increase your online visibility and reach more customers? A leading SEO agency in Austin can help. Here are five tips to get the most out of your SEO efforts with the help of an experienced agency:
1. Conduct a Comprehensive Website Audit
A comprehensive website audit is an in-depth analysis of your website from both a technical and content perspective. It entails a thorough review of your website's structure, performance, content, and SEO. This process helps identify improvement areas and provides actionable insights to help improve your website's visibility and ranking in search engine results.
Website audits are essential because they help ensure your website is optimized for search engine algorithms, allowing you to achieve higher rankings in SERPs and better visibility for your content. Additionally, website audits can help identify any potential issues that may negatively impact your website's performance, allowing you to make the necessary changes to improve your website's overall performance.
2. Utilize On-Page Optimization Techniques
On-page optimization techniques are vital for improving your website's visibility and ranking in search engine results. These techniques involve optimizing the content and structure of your website to make it more attractive to search engine algorithms. This includes:
Optimizing page titles
Optimizing meta descriptions
Creating/optimizing image alt-tags
Using relevant keywords
Creating internal/external links
Ensuring that your website is structured correctly and easy to navigate
By investing in search engine optimization services such as on-page optimization, you're investing in the long-term health of your website. Not only are you trying to appeal to search engines, but you are also focusing on pleasing the human reader and taking the necessary steps to identify any potential issues that may be negatively impacting your website's performance, allowing you to make the changes required to improve your website's overall performance.
3. Implement Visual Elements
Implementing visual elements into your website is critical for engaging visitors and improving your website's performance. Graphic elements such as images, videos, infographics, and illustrations can help to make your website more attractive and user-friendly. Additionally, visual elements can help improve your website's SEO by providing additional content optimized for search engine algorithms.
An SEO agency can help you implement visual elements into your website effectively and efficiently. They can help you select the best visuals for your website, optimize them for search engine algorithms, and ensure they are correctly incorporated into your website's structure.
4. Leverage Off-Page Strategies to Increase Visibility
Off-page optimization strategies involve activities conducted outside of your website to improve your website's visibility and ranking in search engine results. Off-page optimization techniques may include:
Link Building: Creating links from other websites to yours, which helps to increase your website's visibility and ranking in SERPs.
Social Media Marketing: Promoting your website on social media platforms like Facebook, Twitter, and Instagram.
Content Marketing: Creating and promoting content related to your website on other websites.
Influencer Marketing: Working with influencers to promote your website and its content.
Working with an SEO agency can help you implement these strategies in an effective and efficient manner. They can help you identify your website's best off-page optimization strategies, create and implement a link-building strategy, and optimize your website's content for search engine algorithms.
5. Create Quality Content That Engages Audiences
Creating high-quality content that engages your target audience is essential for improving your website's visibility and ranking in SERPs. Content should be well-researched and written engagingly, appealing to your target audience and showcasing your expertise in your given industry/niche.
Quality content that has been appropriately optimized can help to attract more visitors to your website, increase engagement with your website, such as blog shares and commentary, and lead to improved SERPs as the search engines see that your content is not only authoritative and trustworthy but that it's also following Google's updated EEAT guidelines by showcasing your experience and expertise in a manner that's benefitting your audience.
Key Takeaway: An Austin SEO company can optimize your on- and off-page content for increased visibility and engagement. Off-site tactics such as social media, directories, and link-building are also important for improving your search engine ranking. Content quality is crucial, but it must be strategic, or it risks being flagged by a search engine rather than receiving a rank boost.
JS Interactive: A Leading SEO Agency in Austin, TX
The right SEO agency can help make sure that your business stands out from the competition and reaches its full digital marketing potential. JS Interactive is a leading SEO agency in Austin, Texas, that specializes in helping businesses increase their online visibility.
With over 15 years of experience, JS Interactive has become an award-winning leader in the industry and provides clients with comprehensive services to help them succeed. From website design and development to SEO strategies, JS Interactive helps brands stand out.
Ready to see how the team at JS Interactive can help take your online presence to the next level? Contact us today to learn more!
Get Marketing Insights to your Inbox
Boost visibility, outshine your competitors and attract more customers