9 Strategies for Strengthening Your Digital Marketing in Uncertain Times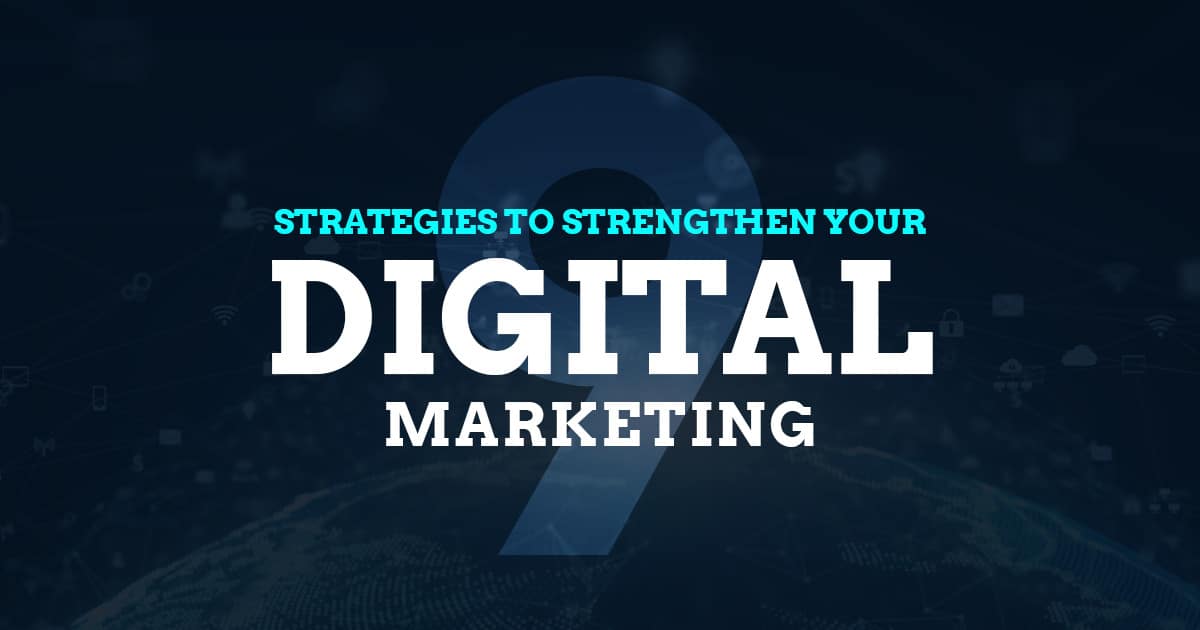 Those of us working in digital marketing have always understood the importance of a holistic online presence.
Back in April, however, countless brands who previously put their website, SEO, and overall digital presence on the back-burner found themselves scrambling to make up for the lost time.
45% of B2B marketers report using digital channels for the first time. Meanwhile, 88% doubled down on digital tactics.
Consumer brands are no different. Major companies like Target and Walmart reevaluated their digital marketing strategies to compete with Amazon—and they've seen much success. Walmart's online sales rose by 97% last quarter while Target's skyrocketed by nearly 200%.
Fortunately, digital strategy helps level the playing field for small and mid-size businesses in all industries. With the right research, SEO, web design, and tactics, you can compete with the big guys.
Now's as good a time as any to rethink your digital approach and hone your arsenal.
How to Strengthen and Focus Your Digital Marketing During Times of Uncertainty
Digital marketing is fluid. It's not something you can just set and forget. Much has changed over the past year, so it's smart to reevaluate your digital marketing strategy and look for ways to improve.
1. Evaluate and Audit Your Current Digital Marketing Strategy
Before making any changes, you first must look at your existing strategy to see what's working and what's not.
Grab a notebook or spreadsheet. Write down everything you're currently doing to maintain your digital presence. Now, look at how your metrics have changed over the past year.
Ask yourself:
Where is your website traffic coming from?
How many backlinks have you gained? Lost?
How many email subscribers and social media followers have you gained?
Which keywords are you ranking for?
2. Rethink Your Audience Personas
The needs of your audience have changed over the past year. The personas you developed when you started your business most likely don't apply to your audience today.
As of June, nearly half the US population was unemployed. Although official figures have improved as unemployment benefits expired, the situation is still dire. For example, between two-thirds and half of Americans are behind on their rent or mortgage as of October and facing eviction.
Some people have become stay-at-home parents balancing homeschooling. Others have turned into caretakers.
Everyone faces a different reality right now. You might even find that you need to target different demographics entirely.
3. Center Empathy in Every Digital Marketing Message
With so many struggling right now, it's especially important to center human empathy in everything you publish. Your website pages, blogs, videos, and social posts should all reassure your audience that you're aware of their problems and here to help.
Don't make any assumptions. Instead, just offer sincerity in your messaging.
Look for fresh opportunities to meet your audience halfway as well. Free shipping, discounts, giveaways, and free returns are all smart ideas, but figure out what your specific audience would appreciate the most.
4. Get Creative and Thorough With Your Digital Marketing Content
People have no time for generic content and Google's algorithms are no different.
Follow Google's EAT in everything you publish: Expertise, Authority, Trustworthiness.
Your content should always aim to solve a specific problem or add value to the reader's life. Google pays attention to this because its job as a search engine is to answer questions and queries with effective, thorough, and nuanced results.
As you evaluate your new audience personas, include research to find creative content ideas. Consider frequent questions you hear from customers in your industry. Can you address these in blog posts or landing pages?
Start with some keyword research. When you find a great keyword to structure a blog, run a Google search for it and study everything on the first page of results.
Aim to outdo everything on the first page in some way:
More thorough content with more details and explanations
Updated statistics, best practices, or trends
A new angle or perspective no one has addressed yet
Don't stick with a single type of content either—diversify!
Not everyone learns best through reading. Plenty of people prefer videos, infographics, and podcasts for audio-visual content.
5. Personalize and Diversify Your E-Commerce Experience
Your website's e-commerce experience should be personalized and seamless. Make it easy for shoppers to find exactly what they need—and then some.
Urban Outfitters provides a smart search with immediate suggestions as you type along with trending items:
Relevant filters and categorization are also important to the experience. WordPress plugins make it easy to personalize your shopping experience without coding knowledge.
It's shrewd to accept the fact that not everyone is going to buy your products through your website. Diversify your e-commerce shop across all relevant shopping platforms where customers can discover you—and be sure to optimize each one for searches.
Consider all the platforms where your shoppers might hang out:
Instagram Shopping
Facebook Shopping
Pinterest product pins
Rakuten
eBay
Etsy
6. Focus on Organic and Sustainable SEO and Reputation
Organic search engine optimization through content is affordable and sustainable if done correctly.
SEO isn't an overnight solution and you shouldn't trust anyone who says otherwise. Black hat SEO tactics can produce quick results but the traffic isn't targeted and you risk getting exiled by Google. It's not worth it.
Instead, play the long game. Focus on your overall reputation.
When you prioritize branding and content, Google notices. Reviews, consistent quality content, genuine and relevant backlinks—these are all part and parcel of sustainable SEO practices.
7. Prioritize Transparency in Your Digital Marketing
Sadly, millions of people facing hardship has also given rise to more scammers and shady fly-by-night e-commerce stores. For every new problem, there are a hundred people looking for ways to exploit the victims.
Transparency is key to earning trust with your digital marketing.
Both Google and your visitors need to know who you are, your background, and what you represent. Run through this checklist to boost your transparency and trustworthiness:
A clear return policy
FAQ pages about your company and products
Legitimate author names attached to every post (don't use names like "news desk")
A thorough "About" page explaining your relevant background and experience
A public address or location listing, especially in Google Maps
8. Ensure Your Web Design is 100% Accessible for Everyone
Everyone deserves the option to shop and conduct business online, no matter their disabilities.
Accessible web design ensures that people of all mental and physical abilities can use your website as intended like anyone else.
Experiences we take for granted online—like scanning image contents and adding things to shopping carts—can take hours for someone with vision impairments or other conditions.
The W3C Web Accessibility Initiative offers detailed guidelines on how to create an accessible web design for people with vision, hearing, intellectual, cognitive, or physical impairments.
It's worth mentioning that ADA lawsuits regarding web design accessibility have increased since lockdowns as well—with many levied against small businesses. Professional web designers with an understanding of the ADA and associated guidelines can help you avoid costly and embarrassing situations like these.
9. Properly Leverage Your Data
With more business and activity happening online, you have more opportunities than ever to track each customer's digital footprint.
Tools like Facebook Pixel help you collect and leverage data on your website visitors across multiple platforms. You can do things like:
Measure cross-device conversions and impressions—great for tracking elusive branding metrics!
Optimize ads for users most likely to convert
Create custom audiences that mirror certain segments of your audience in terms of demographics and browsing behavior
Learn about your customers and their online behavior
Facebook Pixel and related tools give you a deeper understanding of your audience and more digital marketing strategies to target them with relevant content.
Take a Comprehensive and Balanced Approach to Digital Marketing, Web Design, and SEO
Digital marketing is more than a full-time job. Between SEO, content marketing, web design, branding, and social media, you need to manage several moving parts—and you must do it well.
People trust our team at JS-Interactive because we treat their brands like our own. We take all the details of your mission, audience, and goals to heart as we develop your strategies.
Have a look at our diverse portfolio to see how our experts have helped consumer brands, B2Bs, and nonprofits reach their full potential online with remarkable results.
Get Marketing Insights to your Inbox
Boost visibility, outshine your competitors and attract more customers