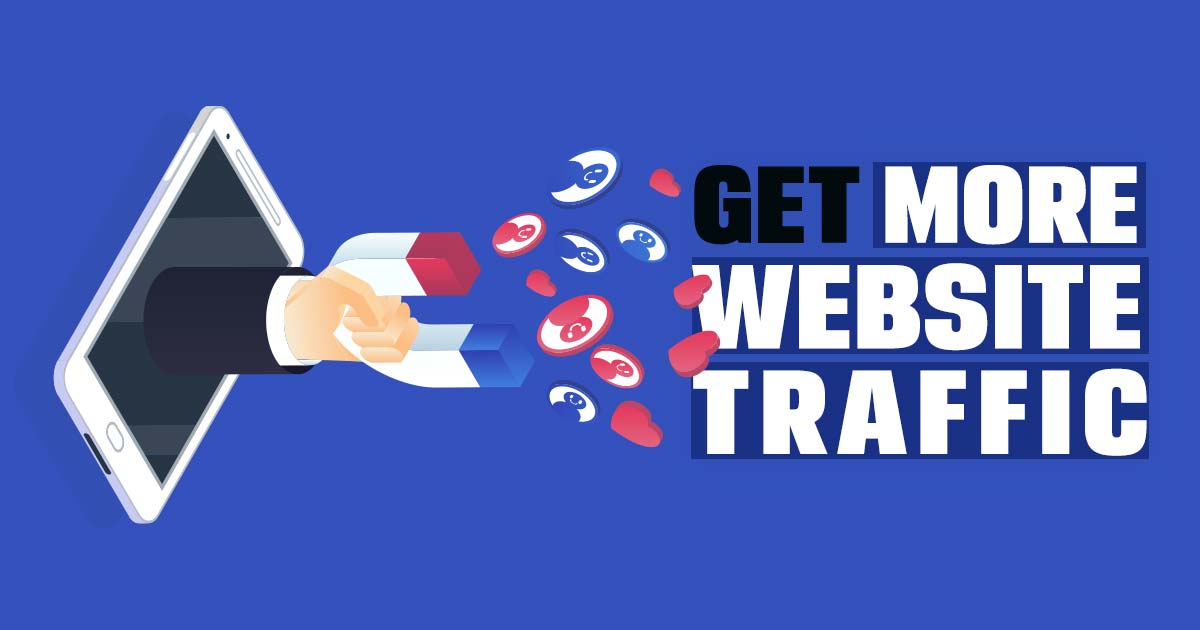 8 MIN READ
Any business owner will tell you that if there was one thing they probably desire most for business, it's to get more customers.  More traffic to a website may not guarantee an immediate return with each visit. However, statistics show that inbound marketing remains one of the most cost-efficient ways for businesses to generate leads, and ultimately new customers.
In today's article, I am going to share several ways you can boost website traffic including many ways that are for FREE!
1. Search Engine Optimization
With 93% of online experiences beginning with a search engine, SEO remains one of the most cost-efficient ways of driving targeted and relevant traffic to your website. In fact, statistics show that the average traffic share generated by sites listed on the first page of Google search results is a whopping 91.5%.  SEO is essential for online success.
If you're a business that has not yet taken advantage of SEO, consider learning my very basics to getting you on the right track today!
2. Guest Blogging
Guest blogging is far from dead! Build relationships naturally with other businesses of similar interest and contribute to their blog. The more authoritative the blog — the better. Guest blogging provides an opportunity to gain exposure,  build authority and direct traffic back to your website. What you're essentially doing is having a business of influence vouch for your business.
3. Communities
An online community is a central place that allows users to subscribe, follow and share common interests & goals. It's a great way to connect people, build fellowship and of course drive traffic to your business. There are lots of paid as well free community platforms available – some of which you're probably already familiar with. Take FaceBook as one simple example. You could setup a FaceBook Group page that drives focused attention and engages users to take action towards your business.
4. Get Social
Social media channels like FaceBook, Linkedin & Instagram are great ways to engage users and share content.  You can take it a step further by actively partaking in discussions within your social community. After all, social media was designed to interact with users and fans.
5. Email Marketing
Yes! The traditional methods of email marketing still work. With engaging subject lines, valuable content and great bargains – email marketing remains a powerful tool for automation and driving profitable action to your website.
6. Join The Conversation
If you frequently visit websites or social platforms related to your business, be certain to share your voice. You can make a name for yourself by simply providing thought-provoking comments and valuable resources to online users. Subsequently, rising interest from engaged users will naturally result in more visits to your website.
7. The "Skyscraper" Technique
What is the Skyscraper Technique? It's a system created by Backlinko's Brian Dean that includes researching existing content developed on popular topics and trends; content already well-received by online users. What you will do is take the existing content and find new, unique ways to communicate your voice in a similar message with more engaging medium, updated statistics and more. Once you've completed the improved piece of content, reach out to blog authors who have referenced articles similarly related to your content. Ask the blog author to consider referencing your content in a link instead. If the author agrees to link your content, it provides an open door for more traffic to visit your website. This strategy of building 'backlinks' is a great way to improve your SEO results as well.
8. Write on Medium
Medium is a great resource that is flexible and easy to create and manage content. With a high volume of daily traffic, Medium provides an opportunity to drive new users to your website. You can posts exclusively for Medium, or you can repurpose existing content from your original blog and repost it on Medium. For SEOs, no worries on duplicating your website content with repurposed blogs. Medium boasts an easy-to-use import tool that automatically creates canonical URLs whenever you import your originally published blog post. With a canonical URL, you retain all your link equity from your original blog post, and reap the benefits of putting your writing before a new audience.
9. Repurpose Content
With so many creative ways for developing content, go beyond traditional blogging in your content marketing efforts. For ex. if you have a noteworthy piece of content, why not repurpose it and present it in different ways. Here are a few ways you can repurpose content:
Turn posts into podcasts. In a recent report, 32% of the US population listens to podcasts each month.
Turn quotes and statistics into graphics. Readers tend to skim articles where bold image graphics can grab attention.
Turn Testimonials into case studies. Support your brand by sharing a perspective that comes from your experience with your client.
Turn blog posts into videos. Stats state that 54% of consumers want to see more video content from brands and businesses they support.
Turn videos into blog posts.
Create infographics from blog posts. Visual content delivers results and is 30 times more likely to be read than a text article.
Combine your best content into a roundup post. Take your cornerstone articles and supporting content and provide readers with new content of the best of the best.
10. Get listed on Directories
Another easy and free way t increase website traffic is getting listed with online directories and review sites. Actively updating these listings and keeping your business details consist not only helps increase your inbound traffic, but it promotes your local SEO efforts as well. A great starting point for building directories include:
Google My Business
Yelp
Bing
Yahoo Local
Superpages
YP
Apple Maps
11. Attend Local Conferences & Meetups
I always recommend getting outside the 4 walls of your office space and getting involved in local meetups and events that are relative to your business. If time commitment is a factor, be selective with your options. Attending events or conferences is always a good idea – leading a meetup event is even better. It's a great way to show influence and build relationships with other business owners.
12. Don't Ignore Your Web Analytics
Google analytics is an extremely valuable tool that surprisingly gets little attention among many small and new businesses. Geoffrey Moore said it best, "without data, you are blind and deaf and in the middle of a freeway".  It's a mistake to ignore analytics.  Pay attention to what pages are proving most popular to your target audience, and learn where your site traffic is coming from. With analytics, you can new and meaningful ways to driving more traffic with your content strategy.
13. Invite others to Contribute to Your Blog
Guest blogging goes both ways. Be open to inviting others who are in your niche to blogging on your own website. It's highly likely the guest author will share your link of their post to their own media channels. This presents your website to a new set of users.  However, emphasize quality over quantity. Be selective with who your guest bloggers are, and keep away from spammy, low-quality content that can negatively impact your results.
14. Be Active on Linkedin
Linkedin is a valuable platform for posting content. By regularly posting and writing articles, you can improve your profile visibility and boost traffic back to your website. I like to mix it up a bit by writing short summaries of featured articles on my website. Avoid repurposing any original blog content from your website in Linkedin articles. Since Linkedin is most likely to have much higher domain authority, Google will credit any SEO value you're hoping to obtain from your website post – to the Linkedin article.
16. Answer Questions on Quora
Quora is a Q&A platform where anyone can ask or answer a question. This means you have an opportunity to establish authority and generate traffic to your business by responding to questions in your niche. Seek out good, user-generated content and be sure to be resourceful when answering the questions.
17. Submit Content to Aggregator Sites (with Caution)
I emphasize the words 'with caution'. Users are far savvier today than they have been in the past. They will sniff out any attempts at being spammy with links. Be a legitimate contributor to communities like Reddit. Occasionally submit a link only if you feel it's a direct and genuinely helpful response to a challenge your audience may be facing.
18. Update Old Content
If you have a piece of resourceful content that's dated, maybe it's time to repay it a visit. All fresh content eventually degrades over time. Take an old blog post and revise it with newer resources, statistics and up-to-date subject matter. Sometimes refreshing old content can be a more useful way of investing your time than trying to write new content to boost your organic visibility and leads.
Conclusion
As an experienced web designer in Austin, I've listed only a few of the many proven ways to boost traffic to your website for FREE. All it takes is a little time and commitment.  If you have strategies of your own for driving more traffic to your business, I would love to hear about it.
Please share your tips in the comments below!