Selected Top Texas Advertising and Marketing Firm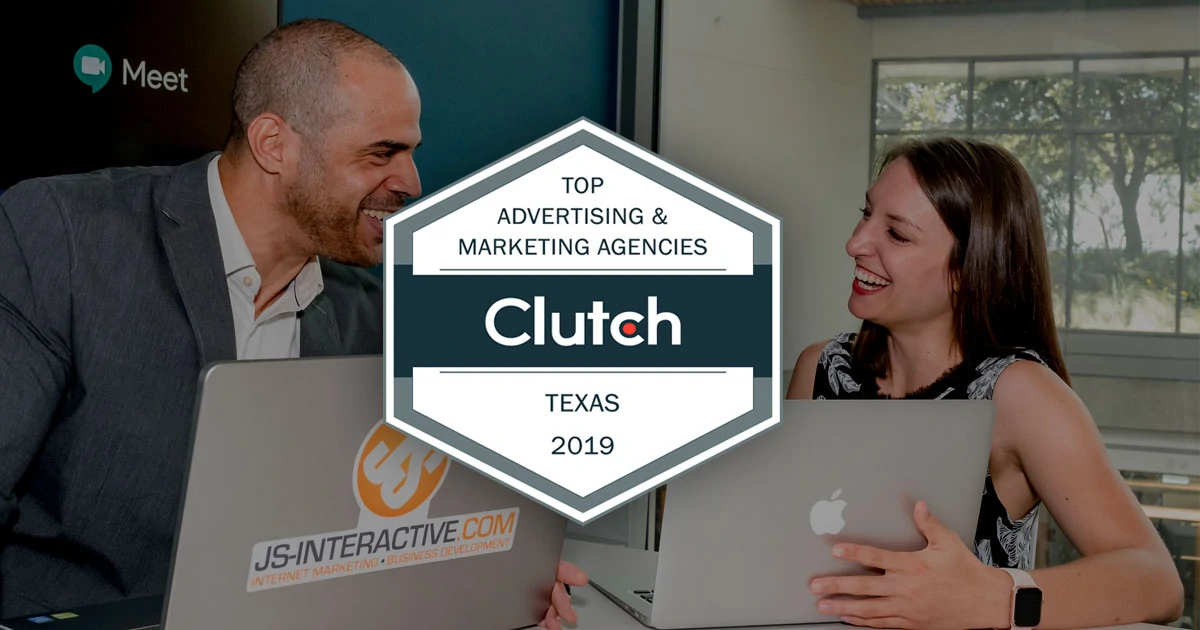 JS-Interactive is not a typical digital marketing firm. Our team combines the experience of expert marketing consultants, content marketers, web developers, and creative writers to implement a client-first mentality. Often, businesses have enough to worry about regarding their core business practices to be occupied with digital marketing services. We're there to help—our team is well-versed in the latest, web design, maintenance, SEO and content strategies that will give your website an edge. As a result, we have been selected by Clutch as a leading advertising and marketing firm in Texas.
Since 2013, Clutch has connected buyers with B2B firms that best suit their needs. We can be found on their list of local agencies in Austin specializing in SEO services. The Clutch analyst team has created a unique methodology for creating these rankings. After carefully reviewing industry data and conducting client interviews, Clutch awarded us with a 5.0 rating! The feedback we received is incredibly valuable.
Below, we have featured an excerpt from a previous review!
They're doing an excellent job. Justin treats his clients' business like it's his own business. He is very responsive and gets back to us immediately–even if it's late at night or early in the morning."

~ Tim Dittloff, Director of Stewardship Innovations for Religious Education Institution.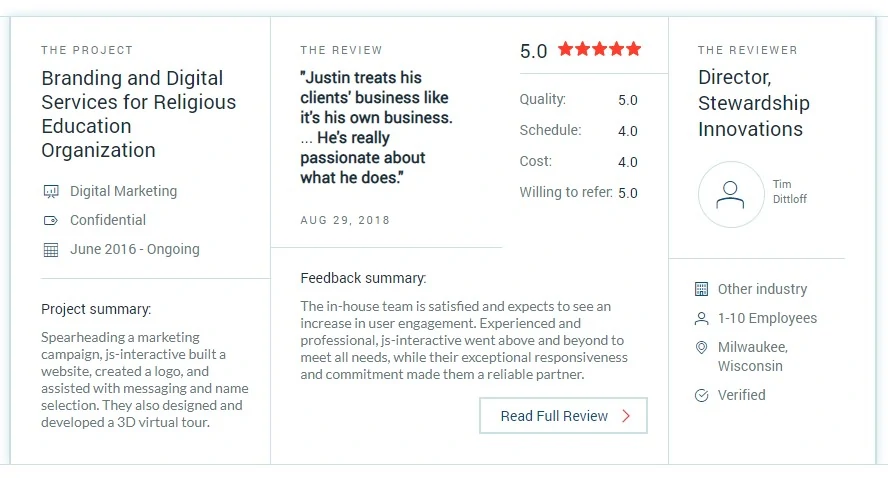 The Manifest and Visual Objects, sister sites of Clutch, also feature vendors like us. The Manifest lists top B2B companies along with business news and how-to guide segments. On Visual Objects, the creative work of firms is recognized with a portfolio of the company's best work.
Thank you to our entire team for their dedication to our clients. All of your hard work led to these recognitions!
JS Interactive is a small business consultant who specializes in web design, SEO, and content development. JS [collaborates] with companies to help strengthen brand, automate business, and create meaningful experiences on the web."

~ Justin Staples, Principal of js-interactive.com
To request a free consult, contact us today, and we'll see if we're a good fit.
Get Marketing Insights to your Inbox
Boost visibility, outshine your competitors and attract more customers