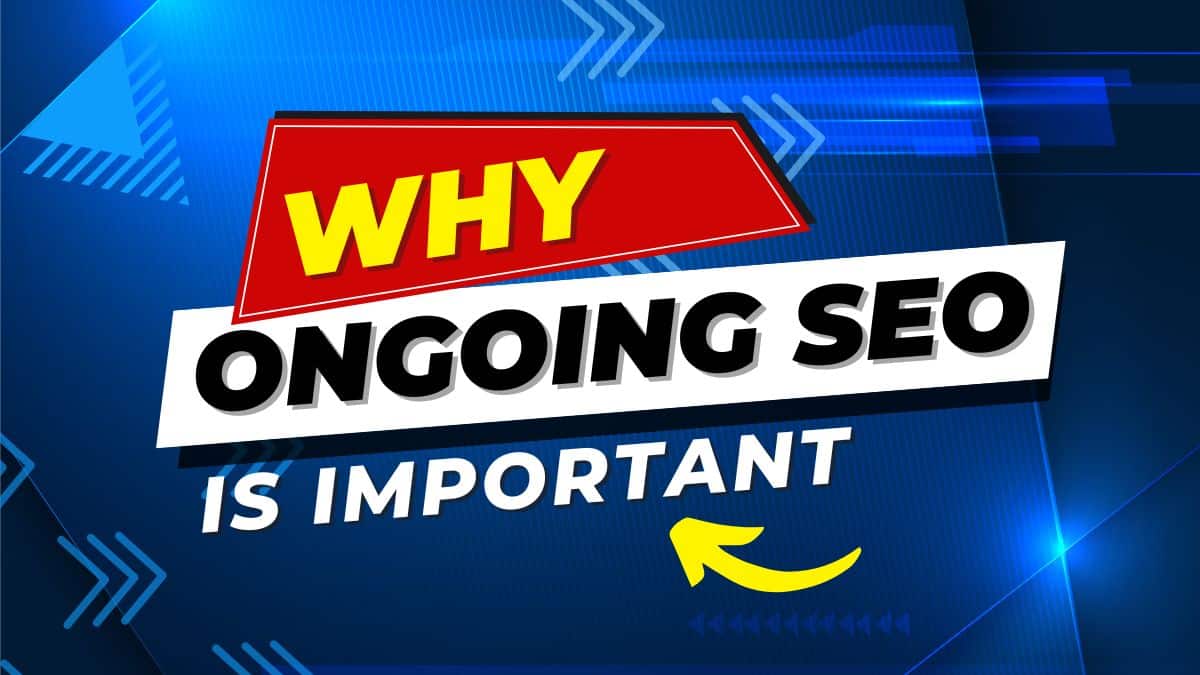 9 MIN READ
A popular bakery in town has a sign saying, "Baked Fresh Daily." If the bakery decided to keep their fresh bread and cakes all month to save money rather than baking new each day, customers would quickly switch to another bakery with fresher products.
Baked goods have an expiration date, so bakers must keep making new goods rather than reusing the goods from previous days.
SEO strategies work in a similar manner, and content can grow stale if SEO specialists don't continually churn out fresh content and update their strategies.
I like the way Henry Ford looks at a similar situation:
"A man who stops advertising to save money is like a man who stops a clock to save time."

~ Henry Ford
Cutting SEO out of your business strategy is like stopping a clock. Time around you keeps passing, but you're left behind, trapped in the past.
In the digital world, time keeps moving, even when you stop (or don't start) SEO. Consumers continue with their digital experience, but if you stop your SEO strategy, you won't be part of that experience.
In the end, you don't save money. You lose money because you miss out on those opportunities that passed by.
However, you can prevent that outcome and surpass your marketing goals. Ensure continued success by investing in an ongoing SEO strategy that ensures all your hard work pays off.
Let's explore the many benefits of staying consistent with your SEO content and how our SEO services in Austin can help your business's online success.
Why Is Ongoing SEO Necessary?
I love fitness but have never become instantaneously and permanently ripped after just one workout.
When I set benchmarks for myself, whether weight loss or muscle gain, I must also establish a consistent gym routine to achieve that goal. Then, I establish another routine to maintain those results.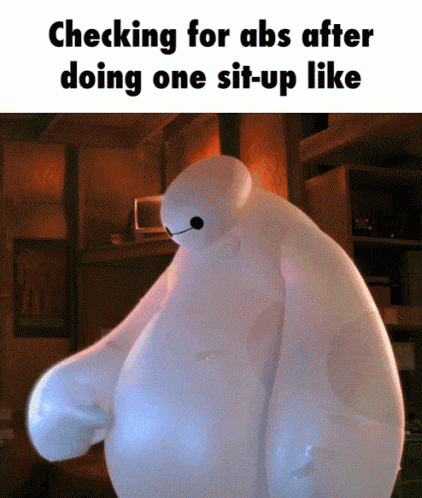 Image from Tenor.com
Quality SEO strategies require the same dedication, a lesson I learned the hard way. Before COVID, I was sitting very comfortably on the first page of Google SERPs.
I felt confident in my business, so I stepped back to focus on higher-demand tasks for my clients and within my company. One area was redesigning my website.
Over the two years that I focused on these other areas (and not on SEO), I saw my website drastically drop in rankings.
Since then, I've had to refocus my priorities, and SEO is again at the top of the list. While I'm still performing damage control on that lost time, I learned a valuable SEO lesson.
I want to pass that lesson on to my clients so you don't see all your hard work unravel similarly, but can maintain results you can count on.
How to Create an Ongoing SEO Strategy
How do you build an SEO strategy that stands the test of time, allows you to achieve consistent results, and fits your company's growth goals?
SEO isn't a checklist. You don't need to check off the steps and then move on to the next part of content creation. Instead, it's a complex, living algorithm that constantly changes and intersects with every area of your marketing.
You impact SEO with the following:
Topic choices
Website design
Content authors (experience and authority matter!)
Location tags
Business profiles
Social media pages
And more!
SEO should be part of your marketing culture to stay on track. Constantly think ahead and the direction you want to go. You must follow trends and predict changes to adjust your strategy accordingly.
Then, keep SEO in mind when making all your marketing decisions so you stay near the top of your target search pages.
10 Reasons You Should Keep Consistent SEO Strategies
In digital marketing, the importance of unwavering SEO strategies cannot be overstated. With that in mind, let's explore the compelling reasons why maintaining consistent SEO practices should be a cornerstone of your online endeavors:
1. Stay Parallel with Google
The Google algorithm changes 13 times a day on average. In 2021 alone, Google made 5,000 search changes.
SEO specialists who want to stay on top of their rankings must change with Google.
As Google updates its algorithms and changes occur, SEO specialists must track those changes and how they impact their rankings. That way, you can adjust your SEO strategies before the changes hurt your ranking.
For example, Google began noting who wrote content instead of just what the content said. This change encouraged content creators to add their names to their content for added authority.
2. Keep Up with Your Competition
Consumers conduct 8.5 billion Google searches per day. They are also most likely to choose results from the first search results page.
If you aren't ranking for keywords, your competition is snatching away those valuable searches and potential customers.
Continuing your SEO strategies prevents your competition from outranking you because your content grew outdated. It instead helps you outrank your competition with fresh content.
To stay above your competition, perform a competitive gap analysis to find what keywords your competition hasn't ranked for or keywords you haven't tapped into yet and incorporate those keywords in your content.
3. Change with Trends
Search trends and behaviors can change rapidly. For example, AI has made searches more interactive so users can hone in on a specific topic and niche.
SEO specialists must adjust accordingly by focusing more time on synonymous keywords and context cues rather than just plugging in exact-match keyword queries. They must also look at search intent since AI is becoming more intelligent in identifying intent in online content.
The strategies and keywords you used last year may not be relevant this year. Staying on top of your SEO helps you change along with consumer search behaviors so you can take advantage of those changes to rank at the top.
4. Introduce New Products and Locations Easier
If you ever played with Legos as a kid, you understand the importance of a strong foundation.
When you tried building a Lego house without a Lego board, you always needed to add extra infrastructure to hold the pieces in place.
However, building a Lego house on a board meant when you wanted to expand, you simply needed to click the additional pieces wherever you wanted them on your foundation.
Think of SEO as your foundation.
If you have a strong SEO presence, your foundation is ready for additions. You can easily introduce a new product or expand into a new location.
You will build on your authority score and high traffic to immediately rank higher in search results for the new product or location.
5. Improve Your Digital User Experience
Part of an SEO strategy is auditing your website. Google prioritizes a positive user experience and is more likely to give the highest-ranking spots to websites with:
Easy navigation
Working links
Limited ads and popups
When you optimize your website for SEO, you also improve your user experience. A positive website user experience, in turn, boosts your conversion rate.
Pages that load in under 3 seconds have a 32% bounce rate probability, compared to a 123% bounce rate probability for pages that take 10 seconds to load.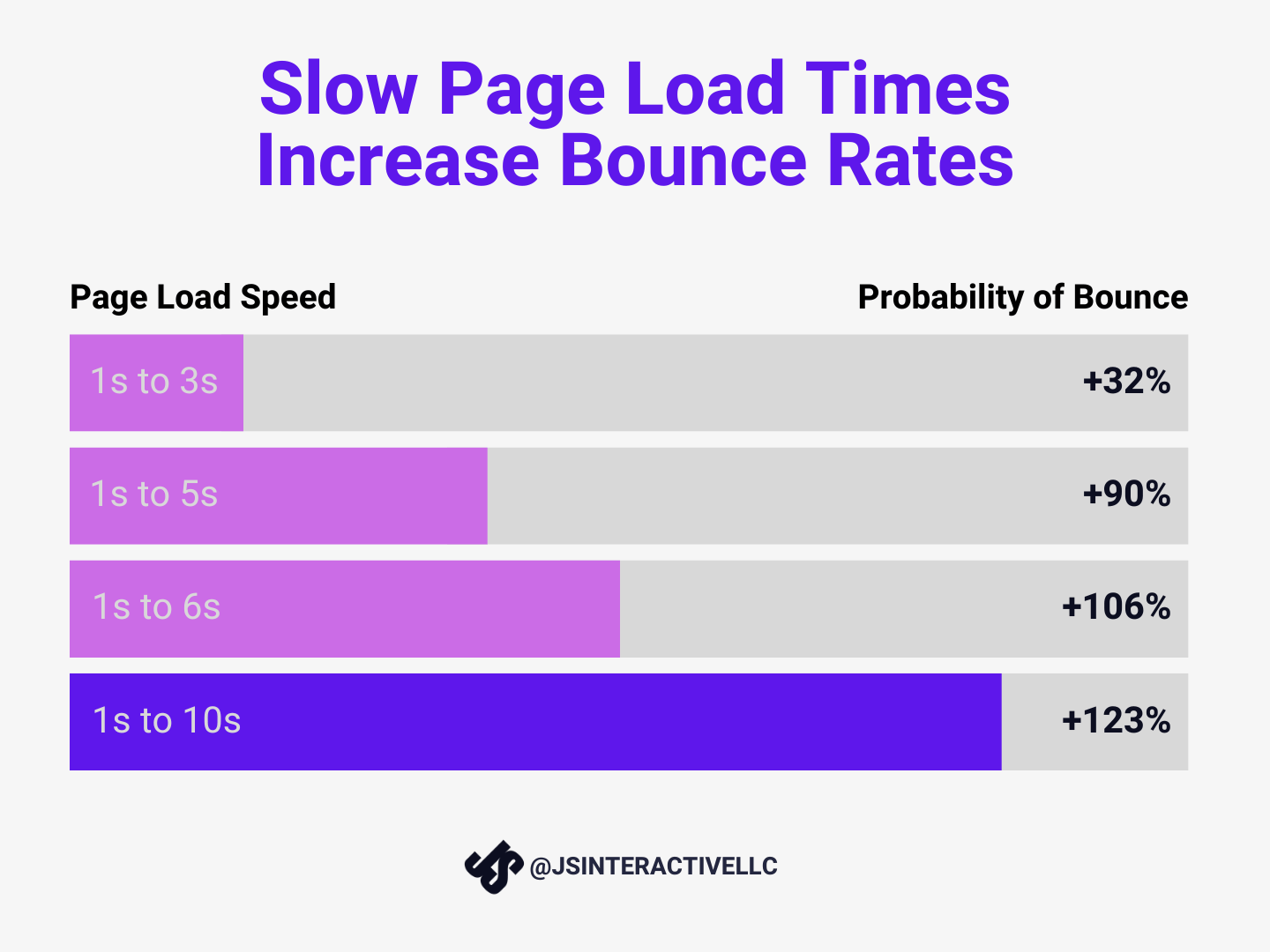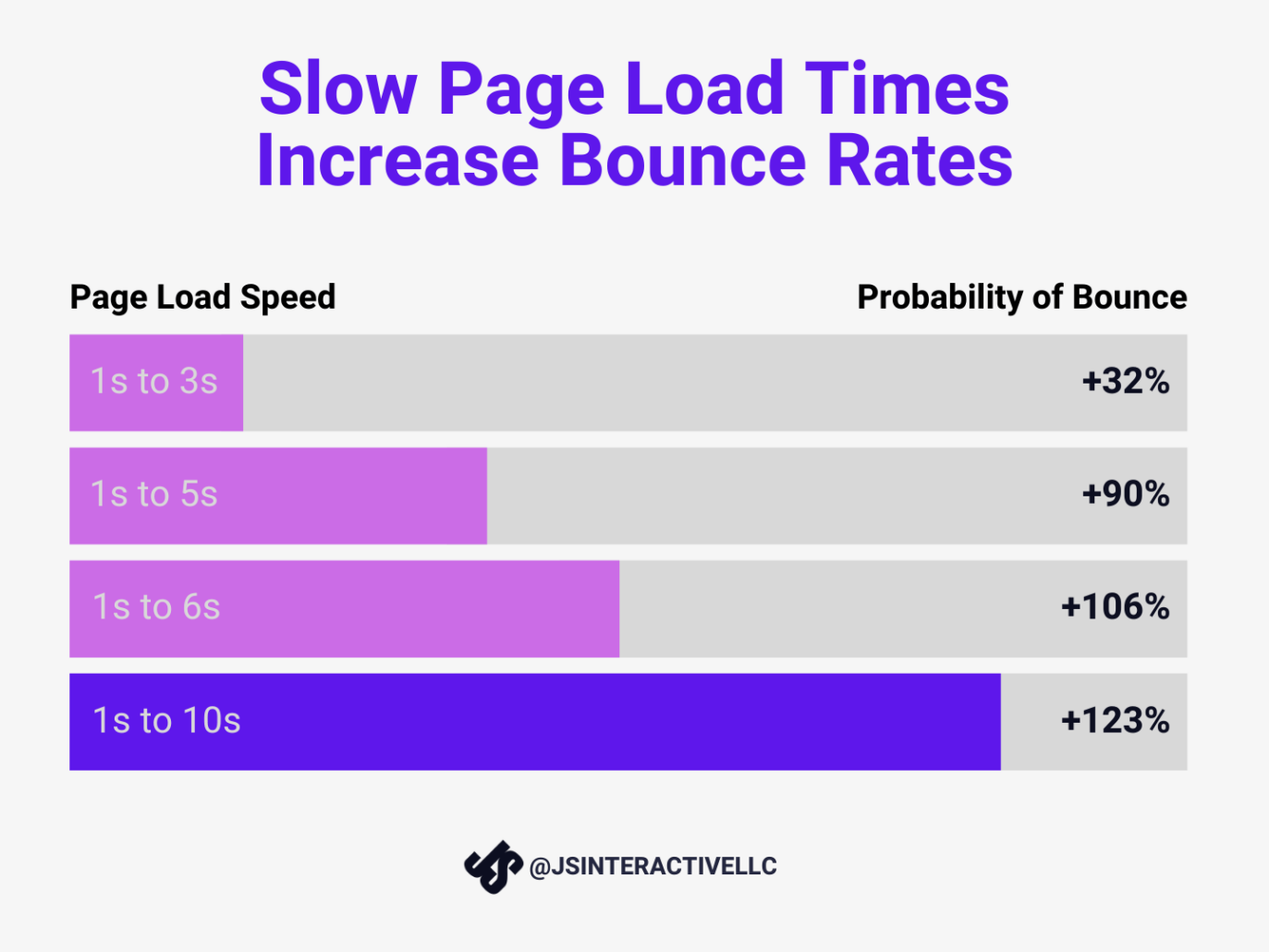 6. Reach a Broader Audience
The more SEO content you have, the more audience you can reach.
For instance, the keyword "search engine optimization" has 14.9K variations and 721 associated questions, according to SEMrush.
While you may be unable to target all those variations in a handful of content pieces, you can begin tackling the list through consistent content.
Over time, you will start being one of the top results for search engine optimization topics.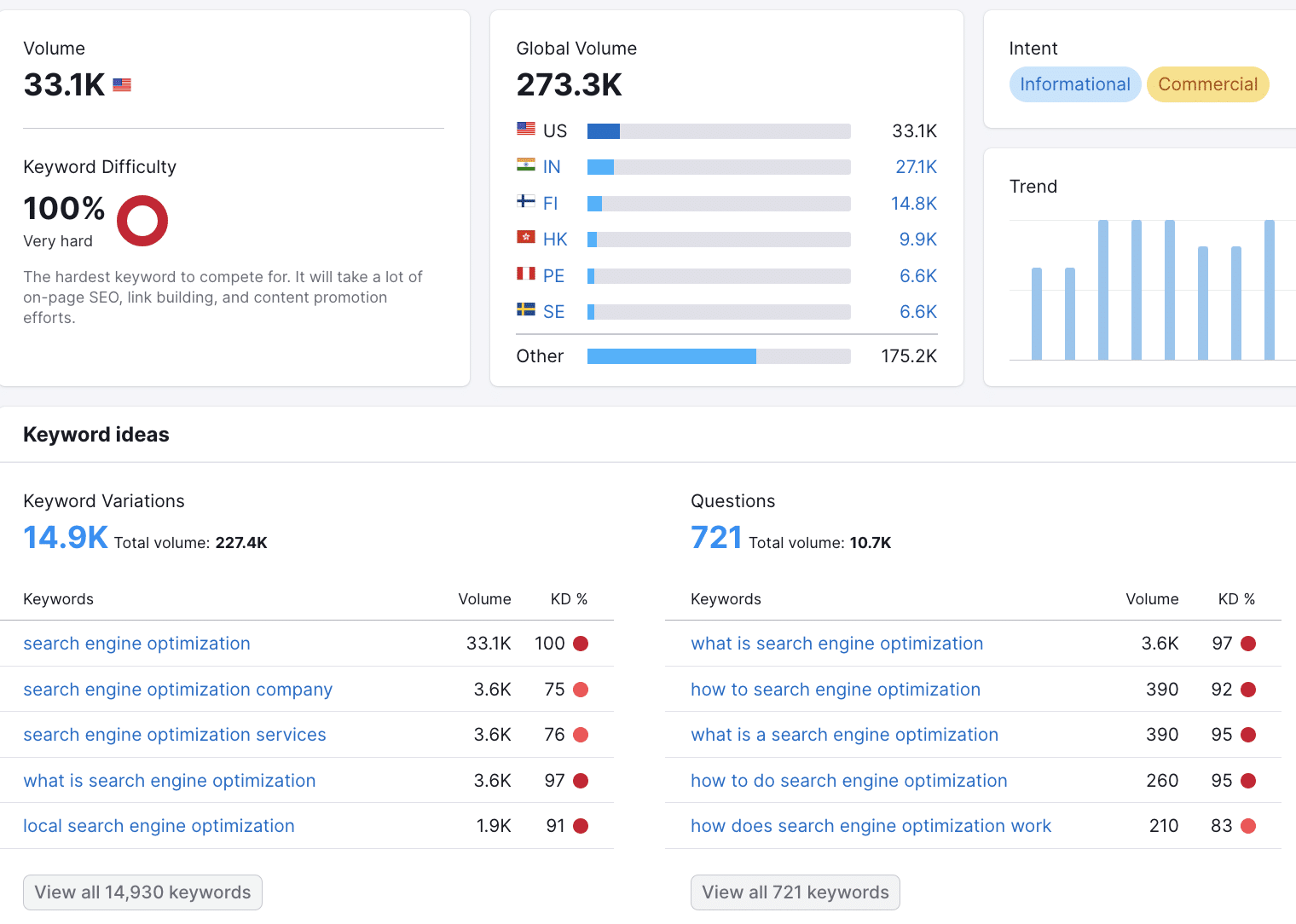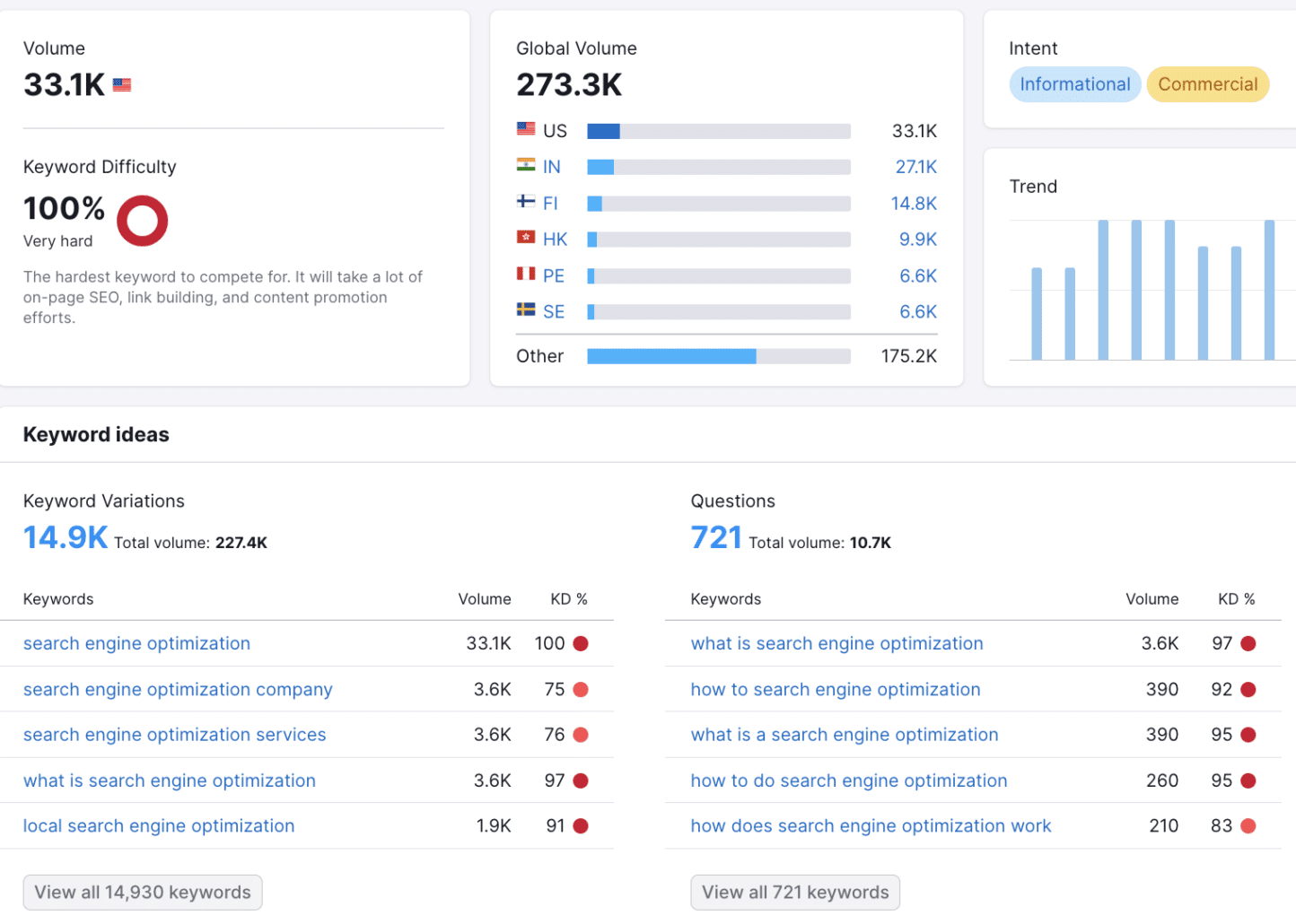 Image from SemRush
7. Test New Audiences
Deploying SEO strategies helps you test markets before releasing new products or solutions.
When you target keywords before launching a product, you can monitor the inquiries and traction from those searches.
The data you collect helps you launch your products more efficiently by addressing known search questions and targeting the highest-performing keywords.
8. Stay Up to Date
There are always new keywords and time-sensitive topics you could tap into through consistent SEO.
For example, the search query "ChatGPT" has a global monthly search volume of 56.1 million. Yet, less than a year ago, it had zero search volume because it hadn't been released.

Updating your SEO along with breaking news, latest releases, and trends helps you jump in early with ranking for high-volume keywords so you can build authority on those topics before competing content floods those searches.
9. Point to Your Business Hub
Your website is your brand's primary hub as the number of online shoppers and researchers increases. In 2022, there were 214.7 million online shoppers, which continues to grow.
Your SEO strategies build roads to your central hub by increasing the number of search results links consumers can follow to discover relevant content.
Consistently creating SEO content makes more roads to your website, increasing your website traffic to that crucial central hub where you can convert those visitors.
Updating content is like maintaining roads and fixing potholes. That way, you remain near the top of search results, so visitors can find your website easier.
10. Maintain Consistent Ranking
When you perform short-term SEO, you will see a temporary bump in ranking. However, short-term SEO isn't sustainable long-term. You need to tend to it the way you might tend to a garden.
If you do yard work, you know that weeding, cutting grass, and watering a garden will temporarily fix your landscape. But, it will begin to lose its fresh appearance unless you regularly invest in your garden.
You must also consistently return to your SEO strategies to ensure you retain consistent results instead of sporadic bumps during short-term campaigns and dips when you don't perform any SEO tasks.
Build a Consistent SEO Strategy for Maximum Results
SEO keeps you on your toes with emerging trends, constant changes, and new opportunities. When you reach the top of search results pages, you must continue investing in SEO to retain that spot and tap into new opportunities.
JS Interactive helps you reach and maintain the SEO results you want. Our responsiveness, attention to detail, and good communication create a seamless process. That way, you can spend less time worrying about SEO and more time converting the new leads you generate through your consistent SEO strategies.
Contact us to schedule a free 30-minute consultation with our Austin SEO company.