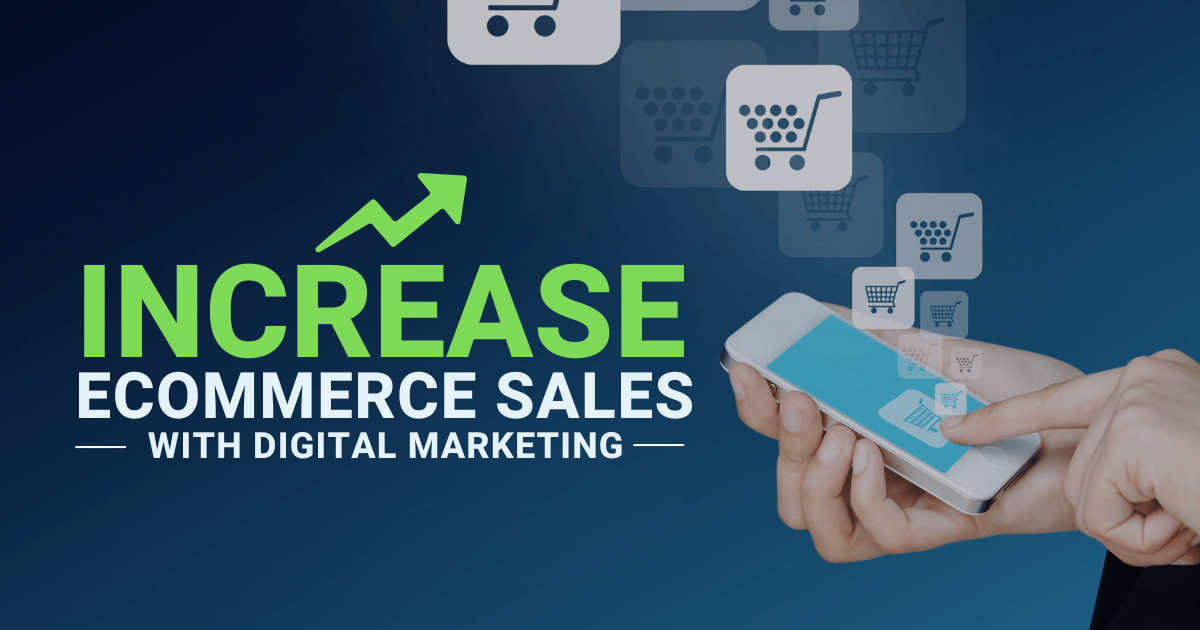 9 MIN READ
If e-commerce websites and digital marketing went as viral as Pedro Pascal's memes, you'd have no problem standing out and reaching your audience. However, while Pedro Pascal can generate millions of views by simply eating a sandwich on social media, brands require more effort to gain the same visibility and engagement.
You can learn a valuable lesson from these viral meme sensations. You don't need a brand-new strategy to engage your audience. Just look at how many social media users share the same viral memes and still generate thousands of likes. Instead, understand what your audience wants (whether a viral meme, video content, or marketing email), then customize that proven strategy to your brand and audience.
Are you ready to get started with the most effective strategies of 2023?
Explore eleven of the best digital marketing e-commerce strategies you can customize for your audience to generate a viral-like response and boost sales.
11 E-commerce Digital Marketing Strategies to Fuel Your Growth
There are over 26 million e-commerce sites globally and 14 million in the US alone. A quality marketing strategy and e-commerce web design are crucial for helping you stand out from your competition, and retain a loyal customer base.
Use these eleven ecommerce marketing strategies to remain competitive in the exploding online shopping world.
1. Create Audience and Buyer Personas
Audience and buyer personas outline whom your marketing should target. You can customize your strategies and understand what your audience wants and needs.
Your audience personas include your target audience's common characteristics, like demographics and buying behaviors. On the other hand, buyer personas look closer at individual buyers to understand potential motivators.
Creating these profiles based on user data and market research helps you segment (create groups based on shared interests and behaviors) and customize your digital marketing strategies. For example, an e-commerce retailer will have very different audiences and marketing tactics for their business clothes than their infant clothes.
Salespeople then sell products based on individual benefits and value each customer's experience by tapping into the audience's emotional intelligence.
2. Design a Seamless Online Experience
Your website's homepage is your shop window. Once people open 'the door' to your website's navigational menu, they begin browsing your shelves; your about page, pricing, and testimonials page. Every shelf should promote and sell your products. But they should also create a seamless and positive customer experience across your website and mobile app.
Investing in quality e-commerce web design ensures customers note your digital shop window and explore your shelves. Quality web design includes:
Content optimized across devices
Fast load speeds
No broken links or duplicate pages
Well-structured websites that make navigation easy
Enough information for shoppers to make informed decisions
High-quality multimedia experiences that attract and engage buyers
Website chat, which enables customers to interact with live agents or chatbots to answer questions the website doesn't cover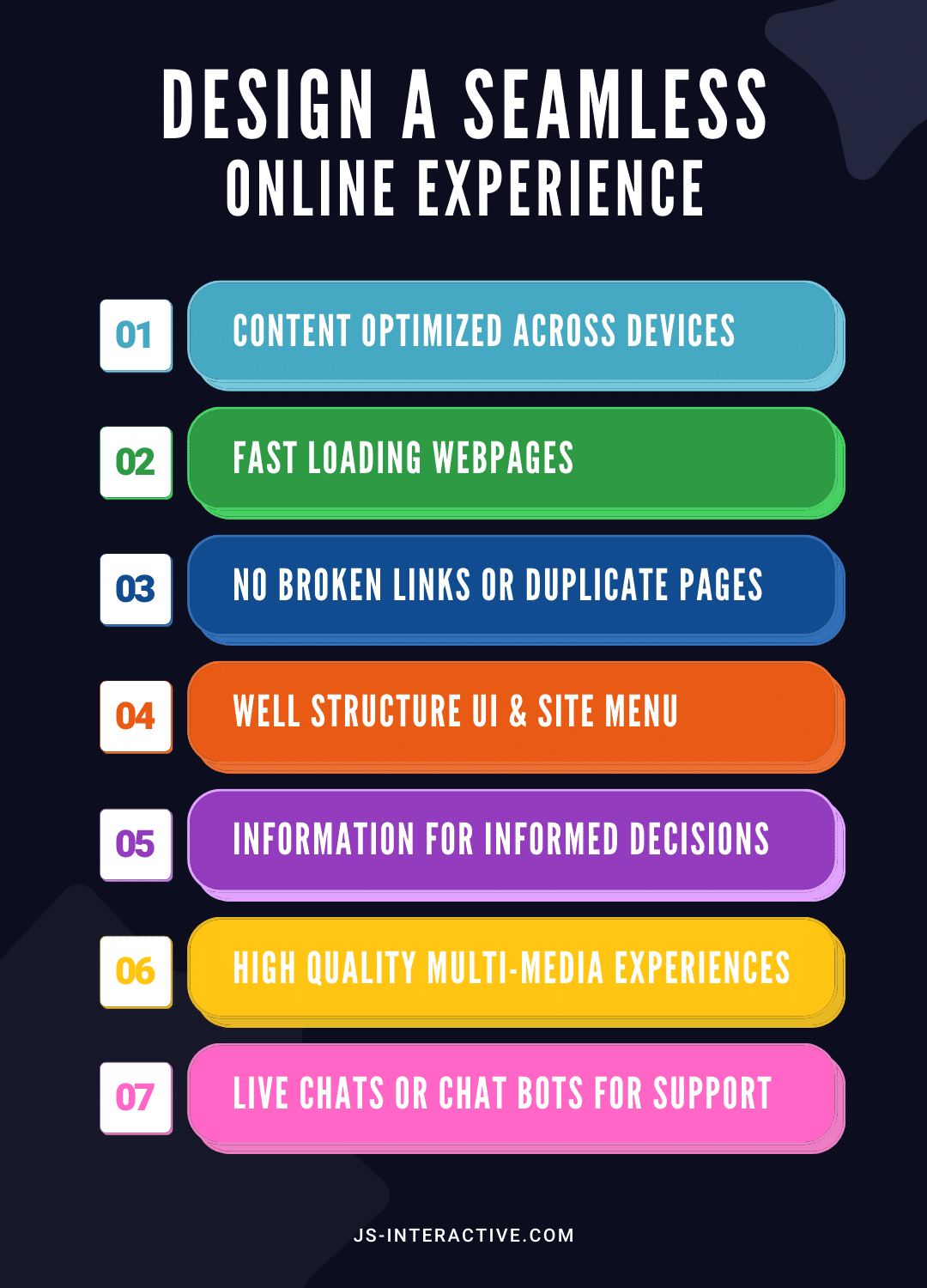 3. Invest in Quality Content
Digital marketing and content marketing go hand-in-hand because most shoppers perform research before purchasing. Content educates buyers so they can make informed decisions. However, it would help if you used more than blog posts to inform buyers.
Other popular content includes:
Video: Use webinars, how-to videos, and video case studies to show your products in action
Images: Incorporate quality, relevant videos to capture attention and inform users
Email: Send content directly to users through email instead of only relying on them finding your content through search engines
Social Media: Post regular posts on relevant platforms (B2B buyers are mostly on LinkedIn, while B2C buyers are on Instagram, Facebook, and TikTok).
Quality differentiates your brand's marketing content from the generic influx of mass-generated user content. "Quality" has several definitions, but Google defines it as content showing expertise, experience, authority, and trustworthiness.
Although AI tools offer convenience in content creation, the quality of writing infused with personal experience and brand authority remains unparalleled when crafted by a human author – meaning you still need to incorporate that human element into your pieces.
Once you've created quality content, optimize it using keywords and backlinks to help that content rank in search results so your ideal audience can find it.
4. Focus Your Call to Action
Your call to action is the heart of your marketing strategies. It builds a bridge from telling your buyers WHY they should buy your products to HOW they can buy them. Without a call to action, you'll have thousands of qualified leads with very few conversions.
A solid call to action provides value. It's not an afterthought at the end of a web page but the climax of the marketing content, whether a social media post, ad, or in-person event.
The call to action says, "Now that you have the information you need to buy, take this next step," so the buyer keeps moving forward. It can be a form, button, or link separated from the rest of your text.
For buyers to step onto that bridge or click that call-to-action link, it needs to offer value through a promised solution or desired result.
5. Equip Others to Promote Your Products
Referrals generate the highest quality leads. Referrals come in many forms (and different price points, depending on your budget).
Here's a look at some of the best ways to generate referrals:
Word-of-Mouth: Motivate customers to refer your brand to others through incentives, exemplary customer service, and quality products.
Affiliate Marketing: Offer a commission to those willing to promote and refer others to your business using unique URLs.
Influencer Marketing: Pay a social media user in your niche with a large following to promote your products.
For example, Burn Right has influencers who willingly demonstrate their stainless-steel incinerators in action. In return, it generates dozens of new quality leads and increases engagement. Because the influencers already have a relationship with Burn Right's target audience, the audience trusts the recommendations of influencers like Nate Petroski (seen below), more than any paid ad.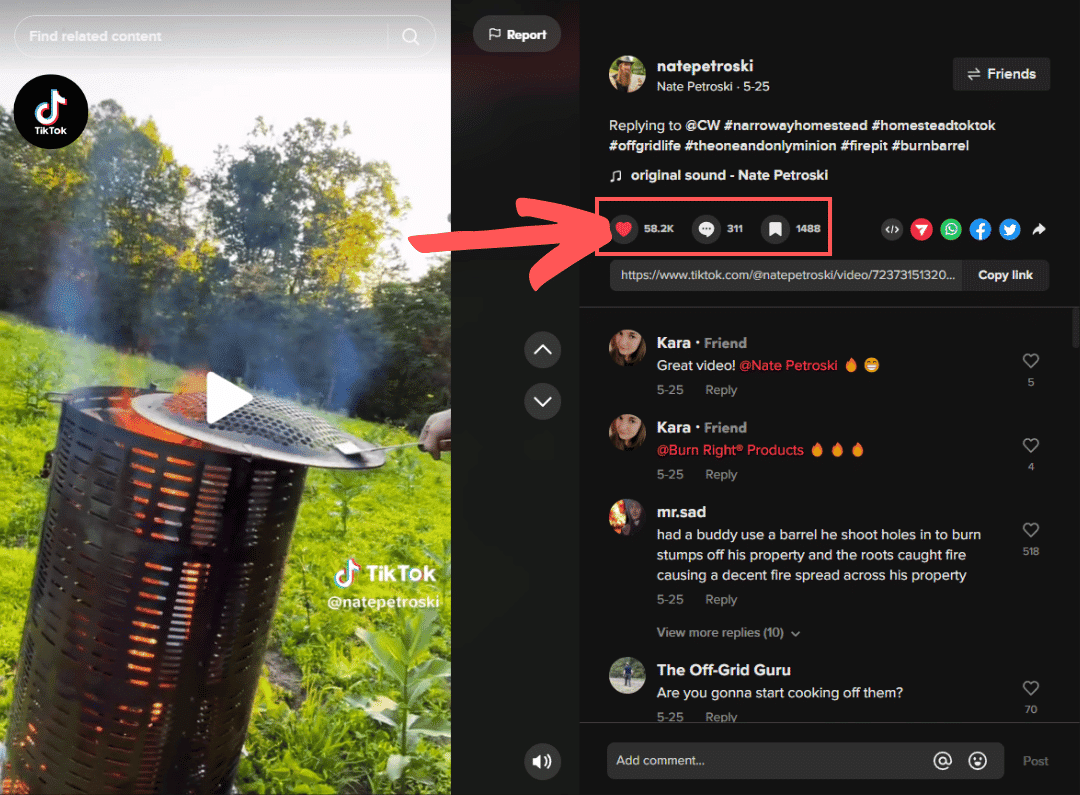 6. Connect Offline with Customers
Take your business offline with physical content marketing and ads.
Offering printables customers can use offline engages your customers through physical touch, which is a crucial sense that digital experiences don't provide. You can also print brochures and cards to hand out at live events or in the mail. To connect those offline content to your online content, add a website or a QR code that takes customers directly to your ecommerce shop.
7. Build Your Reputation through Reviews
What others say about your business matters even more than what you say about yourself. Customer reviews support all your other marketing strategies, letting other buyers know that your claims are real and your products match your marketing.
Use these effective review generation strategies to build your online reputation through customer feedback:
Request feedback after purchases
Incentivize customers to leave feedback by offering promos or discounts
Provide multiple ways to leave reviews so it's convenient (Social media, directly on your e-commerce website, Google)
Share reviews on your website and social media accounts for others to see
Respond to all feedback, especially negative feedback, to show you're engaged and actively address any issues
8. Incentivize Your Buyers
Product differentiation shows how your product is superior or different from your competitors. Incentivizing your products adds another unique selling point, making your e-commerce products even more diverse, and appealing.
Some ways you can incentivize your buyers to try your products include:
Free shipping
Customer loyalty rewards
Promos and discounts (with timeframes and language that create urgency)
9. Target Current Customers
Your loyal customers are your greatest assets since customer retention boosts profits up to 95%. They already trust your brand and have shown interest in your products. You also understand your loyal customers better because of data from past interactions, which you can use to offer more personalized solutions in the future.
Two effective strategies for targeting loyal customers are cross-selling and upselling. Through these strategies, you provide unique recommendations that either upgrade that product (often for a discount) or suggest a related product that would complement their purchase.
10. Use Email Marketing
Email marketing reaches 4.3 billion email users. It offsets the unpredictability of search engine optimization by bringing marketing content directly to customers' inboxes.
One of the greatest strengths of email marketing for e-commerce is your ability to customize content. With other strategies, you aren't sure who will see the ad, video, or blog post. However, emails go to a personalized list, so you know who will read them. Therefore, you can personalize it by name, occupation, interests, or common pain points.
Create distribution lists based on demographic information, as well as on e-commerce platforms, like Google Shopping and Amazon, so the recipients receive the most relevant content.
Then, build those email lists through lead generation tactics like offering free digital downloads behind contact forms, online events, and promotional campaigns.
11. Incorporate Paid Promotions
Paid ads cut through the online noise and provide additional targeting options. Sponsoring content, like sponsored searches, will appear near the top of relevant searches to ensure you reach your audience.
Paid ads use online tracking tools to target users by location, keywords, and activity so they see relevant ads. For example, retargeting ads make your e-commerce products appear in website widgets after customers leave your website. If they view an item but don't purchase it, the ads will keep that item in their mind and provide an easy way back to your website.
Another form of paid ads includes sponsoring online events or products. Your brand name appears next to products or companies your target audience already trusts for added credibility.
Take Control of Your E-commerce Digital Marketing
Do you want to increase your reach, engage more users, and boost your conversion rate?
Online competition feels overwhelming, and marketing strategies constantly change. But JS Interactive can help you stay ahead of change, remain relevant, and beat your competition with our extensive experience and stellar communication.
We can help you take trending digital marketing strategies and customize them to your specific brand, so you consistently surpass your e-commerce goals.
Connect with us for a FREE consultation to see how you can transform your e-commerce brand through modern marketing strategies.