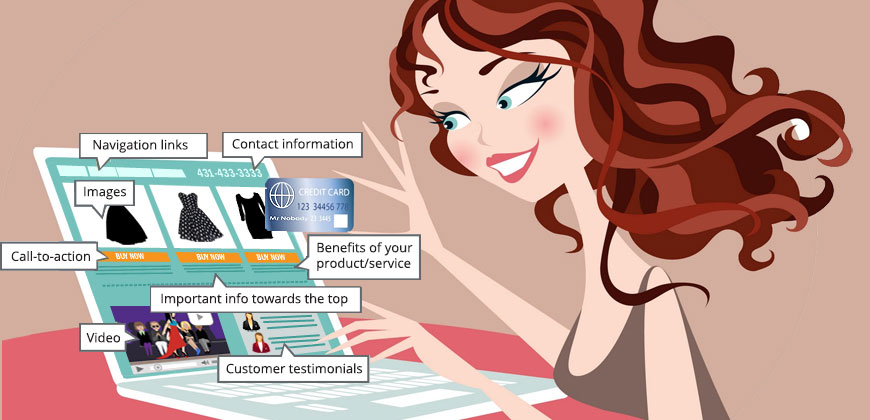 3 MIN READ
Converting website users to customers generally requires extensive testing and data analytic reporting. Below are a few simple web design tips that help improve engagement and accessibility, which in return helps turn site visitors into customers.
Web design to improve online conversions
Provide relevant and useful content. If your business is offering a special deal or promotion, and you'd like to create an ad for it…be sure that your online content is directly related to that ad, so that when a user clicks to view it, you are left confident knowing they're in the right place. Make sure your page has a clear eye-catching headline with descriptive text, relevant bold imagery, and videos (optional) to make the content all the more engaging. Little design details like a prominent call to action item…for example a "BUY NOW" button, makes it easy and appealing for your online customers to find what they're looking for and make purchase.
Make your website easy to navigate through. Keep it clean, easy to follow and efficient with loading time. Keep your navigation simple, and be conscious of your hierarchy with retrievable content, making what's most important easily accessible for your users. Remember your mobile traffic, make your mobile website easy to read and easy to navigate through; be accessible to customers from all mobile devices.
Offer transparency and build trust. Make it easy for customers to access you, personalize your website with friendly faces of happy customers and staff. Feature a weekly blog about trends in your industry and keep your customers connected by encouraging them to subscribe to your blog. Reassure them, that their contact info will not be shared, and be sure to showcase testimonials from satisfied customers who you've worked with in the past.
Getting users to your site by using online marketing may be one thing… but is your website designed to encourage people to do business with you? These simple web design tips can help build you a website that delivers results.
How is your website performing? Are your site visitors turning into real customers? View a simple checklist we've put together for you by clicking below…
[av_button label='Do I need a website redesign' link='post,3356′ link_target=" size='large' position='left' icon_select='yes-right-icon' icon='ue879′ font='entypo-fontello' color='theme-color' custom_bg='#444444′ custom_font='#ffffff' custom_class=" av_uid='av-2naoe9′]