8 MIN READ
A website is a highly effective tool for a nonprofit organization's online marketing strategy. Nonprofit websites serve several purposes:
They're a resource for the community, providing educational information about your mission.
They can help you to seek volunteers or broadcast an upcoming campaign.
They're a critical tool for fundraising efforts. Online donations grew by 12.1% over the past year.
A carefully planned web design creates a positive user experience that gives a strong first impression. It helps you earn constituents' trust and generate leads. This will benefit your volunteerism, community awareness, and increased donations.
13 Best Practices for Nonprofit Websites
An effective nonprofit website should engage your audience and entice them to take action. Follow these 13 best practices to ensure success when designing your nonprofit site.
1. Create a Clean Visual Design
Your website is often your audience's first impression of your organization. Consider a warm, welcoming color palette to capture users' attention immediately. Keep the layout clean, simple, and uncluttered so visitors can easily access information. These elements engage your audience and keep your website front of mind.
2. Use Quality Images
Much of a nonprofit's mission involves emotional impact. Use high quality, impactful photos to tell your story. Show your audience first-hand what your goals are, who your group is benefiting, and how their donations can help. Then, they're more likely to take action. Quality images keep your audience engaged. This keeps them on your site, learning more about ways they can become involved.
3. Provide Clear CTA
Give viewers a clear direction about what steps to take. Provide high-contrast call-to-action (CTA) buttons on multiple pages of your site. Placing a CTA just below a headline can increase click-through rate by 47%. Incorporate bright colors so they'll stand out on the page.
Use strong words that create a sense of urgency, like "Donate Now" and "Volunteer Today," to encourage people to act. Without a clear CTA, your website won't be nearly as effective.

4. Use Marketing Automation
Marketing automation allows you to manage all of your contacts' information in one place. Donors, volunteers, and supporters have different needs when receiving your information. Automation allows you to segment your audience. You can automatically send personalized communications to a more targeted group of people. Through automation, you're able to reach people more effectively and raise more funds.
5. Create Engaging Content
When developing website content, identify your target audience and determine what's important to them. Then, write meaningful messaging that resonates with those people. Effective content increases readership and drives traffic to your site.
Content can boost SEO rankings and lead to an increase in donations and volunteer recruitment. It's so effective, 90% of all organizations use content in their marketing efforts.
Strong headlines catch the reader's eye. Maintain a welcoming tone that reflects compassion and care for the charity you support. Use concise copywriting broken up into brief paragraphs that are easy to digest. Use active language that encourages readers to take action.
Share your story and tell people why they should support your cause.
6. Invest in a Valuable CMS
A content management system (CMS) is an administrative system for your site. It enables your organization to manage content simply and efficiently.
A CMS makes it easy for you to add news, publish information, and ensure your site is current and relevant. This results in increased web traffic, better engagement with your audience, and more donations.
WordPress is a CMS that is versatile and provides a far-reaching platform for web development. It's an effective system for organizations of all sizes, so it's great for nonprofits.
7. Simplify Processes
Make it easy for donors to give on your site. Keep visitors within one click of your donation form anywhere on your site. Offer donors the option of creating an account. Use auto-fill features to capture their information, so it's easy to log in each time. This also allows them to schedule recurring gifts at the click of a button.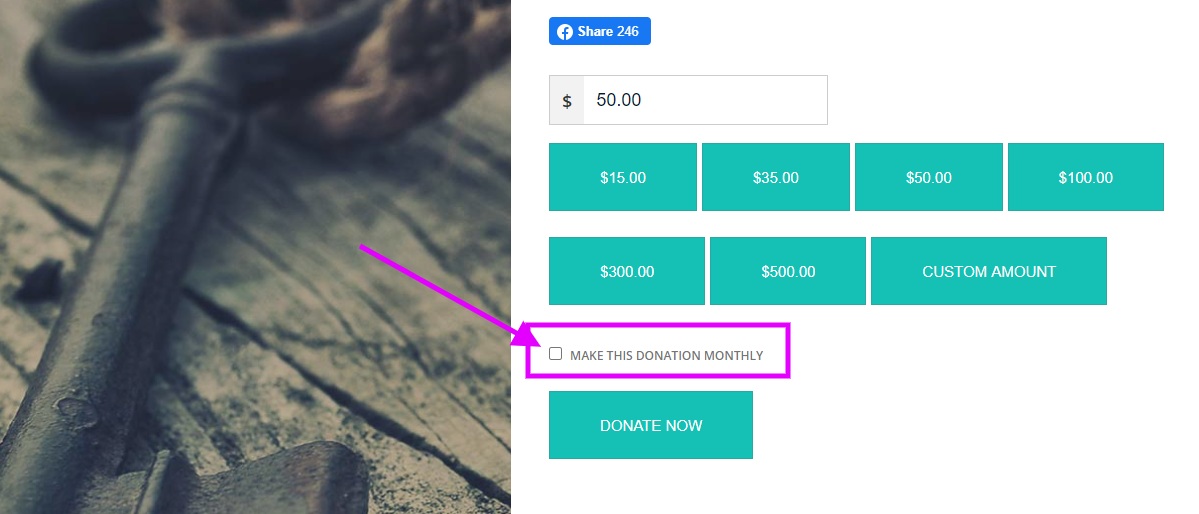 Volunteer recruitment should also be simple. Create a variety of ways people can register online as a volunteer. Provide sign-up forms on multiple pages of your site. Add them as a static tab at the top of the site. If information is difficult to find or registration is too involved, people won't complete the process.
Recommended tool: GiveWP is one of my absolute favorite plugins for online donations that provide users the ability to set up a recurring account.  GiveWP provides attractive donor forms and is easy to integrate and customize within WordPress.
8. Personalize Communications
Most people participate in a charity because they have a personal investment in the cause. Therefore, you should communicate with your audience through customized messages.
Personalized emails have an open rate of 29.95% and a click-through rate of 5.03%. Emails that address people by their first name make recipients feel like you're speaking directly to them. Not only do these emails stand out in crowded inboxes, but they also boost engagement.
Recommended tool: MailChimp is one of my favorite newsletter platforms for sending out customized Email Newsletters. You can personalize emails and create highly targeted and segmented lists for sending out campaigns. You can also cultivate lasting relationships by creating drip campaigns to communicate a series of automated messages to your customer base.
9. Be Transparent
People who donate to charities want to see how their money helps others. Studies show that one in three Americans lack confidence in charities. Half of all donors say it's "very important" for them to know that organizations spend a low amount on salaries, administration, and fundraising.
Transparency is key to earning trust and raising funds. Share financial information about your organization. Let people know where you're applying funds. Put a dollar amount to what your nonprofit has accomplished. This demonstrates your impact on your audience and helps you gain their trust.
10. Share Case Studies and Testimonials
Nothing influences people's decisions like the first-hand experiences of others. Share case studies and testimonials on your website to encourage support from new constituents. Market research shows that testimonials on a lead generation page can increase conversions by 50%.
Case studies and testimonials can be stories from other supporters about why they're involved with your organization. Share reviews about last year's fundraising event to entice people to join this year's efforts. Use video clips so people can tell their stories in their own words.
When it comes to making decisions about where to give their money, people depend on social proof.
11. Maintain a Secure Site
People are especially cautious when it comes to financial transactions. They'll only share their information with organizations they trust. The quickest way to break that trust is through a website data breach. Unfortunately, most security breaches are due to faulty website authentication and weak passwords.
Website security is a must, as it protects you and your supporters' information. Maintain a secure website by requiring strong passwords or password alternatives. Keep your website and software current. When storing your donors' account records, replace sensitive information with unique symbols. This keeps all the essential details about the data without jeopardizing its security.
12. Rely on Analytics to Track Progress
To determine the effectiveness of your website, track your site's performance. You need to know how people are finding your web page. Once they've arrived, how long are they spending on each page?
Analytics allows you to set goals that relate to viewer actions. You can identify how many conversions each goal is achieving. Additionally, you can learn about user behavior and trends. All of this helps you to make changes to your site to bring you the most success.

Recommended tool: Monsterinsights is a powerful, user-friendly plugin that brings Google Analytics directly to your WordPress dashboard. It's easy to integrate and provides the flexibility needed to get insightful reporting about your website.
13. Appreciate Your Donors
While the average donor retention for nonprofits is 43%, the attrition average is 57%. When someone feels valued for their efforts, they'll continue to contribute. Continue to foster relationships by maintaining communication with your donors throughout the year. Don't reach out only when you need money.
Show donors your gratitude through automatically generated, personalized thank you emails. Send a video to share a message of appreciation in someone's actual voice. Take donors to a thank you page on your website once they've made an online gift.
Hand-written notes and phone calls are especially personal. You might even post a message on your social media accounts. Whatever you do, show supporters how their contributions are making a difference.
Hire JS-Interactive for Your Nonprofit Web Design
Your nonprofit's website should be creative and purposeful. JS-Interactive is an Austin SEO, web design, and digital marketing firm. Our web design services result in professional sites, improve user response, and encourage engagement. We have experience working with a number of nonprofits, including Ronald McDonald House Charities and The Priceless Journey in Tampa. We know what it takes for a nonprofit organization's website to succeed. Let us help you design a site that yields results.