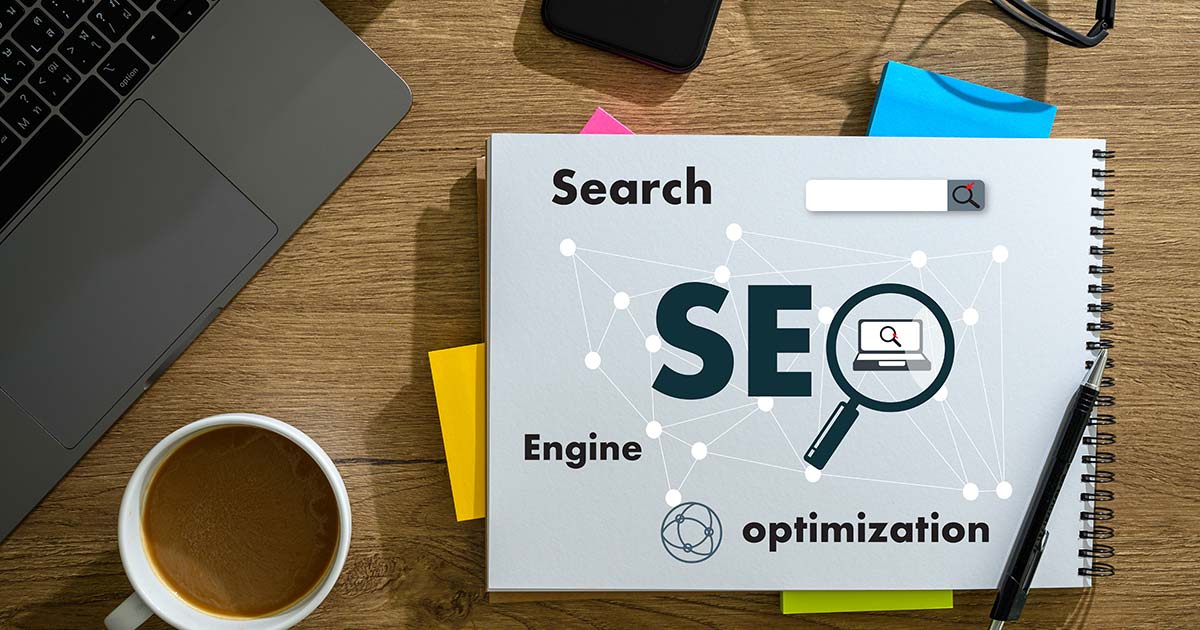 6 MIN READ
The Internet is a great equalizer. A website from a small business can be just as powerful and effective as one from a much larger business. It's true what they say – on the Internet, nobody knows how big (or how small) you are.
This assumes, of course, that you're savvy with how you optimize your site for search. Search engine optimization (SEO) is even more important for a small business because many don't have the same brand equity a consumer would find with a large company. As an experienced digital marketer, I know that a small business can receive these same benefits when you employ a healthy marketing strategy that includes focused SEO.
Local Search
According to Google, 97% of consumers search online for local businesses. To rank highly when a user searches for nearby businesses, with a query like "nail salons near me,"  your site needs to be:
Proximate (close to the searcher)
Relevant (related to the query)
Prominent (rated highly by others online)
For the search engines to determine proximity, you need to fold in your location details, specifically your company name, address and phone (NAP) throughout your website.  You also want to consider local listings (Chamber of Commerce, newspapers, etc) and citations (YP, SuperPages, etc.). To rank highly on relevance, you need to describe the products and (category) services you offer clearly. To rank highly on prominence, you need user reviews and ratings not just on your site but, more importantly, on key review sites – Googly My Business, Yelp, etc.
Local SEO is especially important for businesses like restaurants, salons, medical practices, law firms, chiropractors — businesses that offer a physical location. Take my client Foster Danowsky, LLP for example. A quick search for a "TDLR Lawyer near me" produces a local pack from Google; a curated list of local businesses in the area where users can find useful information from their search.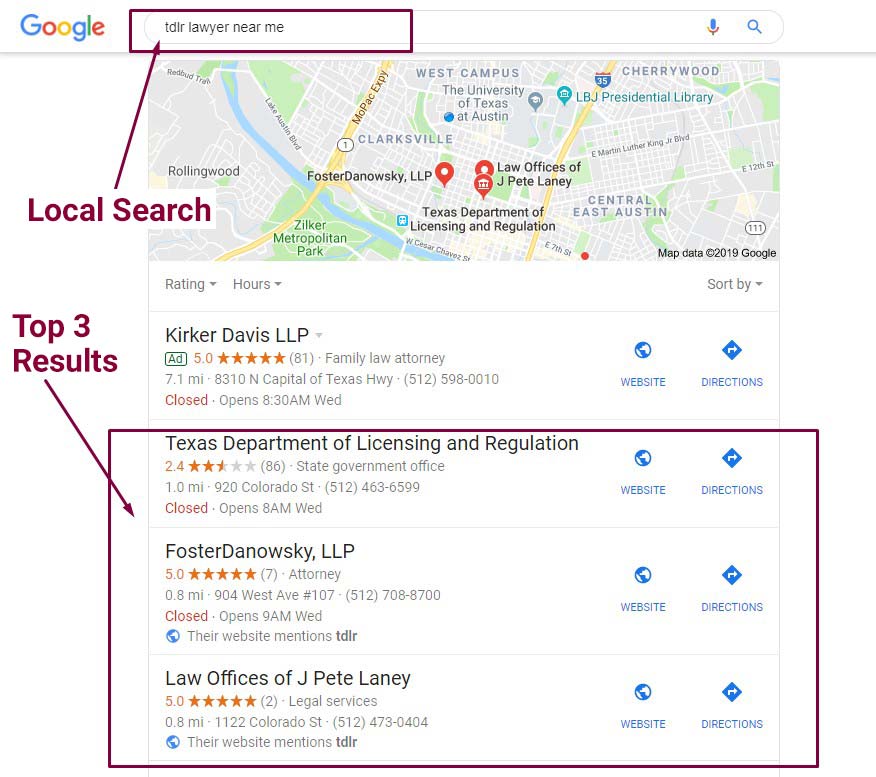 Mobile Search
When you're optimizing the content on your site, know that the majority of potential customers are looking for you on their mobile devices – not on a traditional desktop or notebook computer. Make sure that your site is optimized for mobile users and that both customers and the major search engines can find relevant content when they're viewing your site on their phones or tablets. As of 2018, Google now uses mobile-first indexing, which means it primarily uses the mobile version of your site for its indexing.
Voice Search
Both mobile and home users are now searching by voice, using Apple's Siri, Amazon Alexa, or Google Assistant. The use of voice search is predicted to increase 50% by 2020, so make sure to create content for question based queries. In other words, answer those questions that start with the words "what," "where," "why," "who," and so on.
Relevant Content
SEO is all about the content. The more authoritative and relevant your content, the more likely you'll be visible to qualified users in search results. Ranking alone is not an accurate measurement for SEO success. If your content isn't specifically tailored to the intent of the user they will leave.
Creating the right content can begin with an extensive list of relevant keywords. There are lots of free tools that allow you to analyze keywords that show a high volume of searches and low competition for ranking. Some of my recommendations for tools include SEMRush, Google Keyword Planner and Neil Patel's UberSuggest.

When ready to create content – ditch the buzzwords and jargon, think like your audience thinks and offer content of real value for that targeted market.
Diversified Content
Driving traffic to your business is not all text-based. You want to offer your content to users in a variety of formats, which means using images, video, downloadables, infographics, blog posts, and social sharing when appropriate. It not only helps your ranking, but it also engages your customers.
Long-Tail Search Queries
When writing your site copy, you have to speak (or rather, write) like your target audience, which means using long-tail keywords. These are three- or four-keyword phrases that are highly related to whatever it is that your customer is looking for. Customers today describe what they want in very precise words and phrases. Think like your customer and use keywords that match the way they talk and think. Statistics have shown that while a website may get a larger volume of hits from broad search terms, it's the long-tail keywords that have proven to be more effective for online conversions.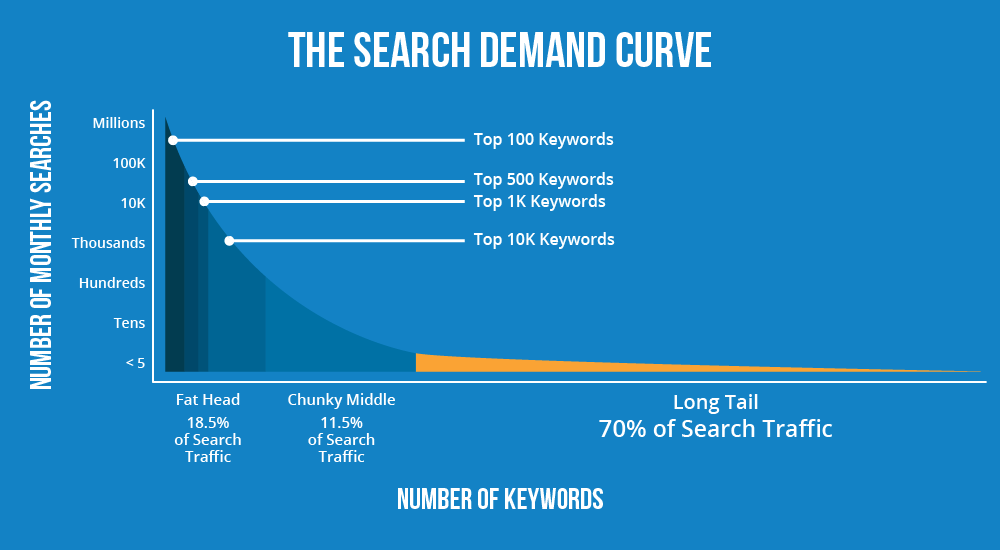 Schema Markup
Schema.org is a Google, Bing, Yandex, and Yahoo! collaboration. It provides concise information about your business to search engines that helps them to better understand your content and deliver the best search results based on a users request. By adding Schema, you can improve the way your page displays in SERPs with rich snippets that display beneath your page title.

Schema can get a bit technical, so you may want to contact your developer to provide you with assistance on implementing it.
Accessibility
Site access effects search results. People want instant access to content; they'll click away if your site loads too slowly or if they can't quickly find the content they're looking for. Even worse, Google and other search engines will lower the ranking of slow loading sites. Optimize your site for speed and create clear funnels and call to action, to better your SEO and increase conversions. As Anna Crowe of Search Engine Journal points out, "Faster loading pages lead to a better overall website experience," which explains Google's move toward making it a mobile ranking factor.
Brand
With all the focus on SEO, don't forget to emphasize your brand. Some marketers have even stated that Google gives brands preferential treatment. It's essential that your website is part of a total marketing strategy that focuses on a clear brand identity, consistent messaging, focused target audience, values, and voice employed across all media channels.
Inbound Links
Another way to improve your search rankings is to have relevant, trusted, and authoritative sites link back to you. Google, in particular, looks at these inbound links and counts them as "votes" to your website and content. It's crucial, then, to build natural relationships with these high-quality sites and encourage them to link back to you.
Analyze Performance
Finally, don't forget to analyze your performance. Use Google Analytics and other tools to track your data – and then make changes based on what's working and what isn't.
Not everything that can be counted counts, and not everything that counts can be counted.
Albert Einstein, Physicist
SEO is an ongoing process and includes multiple areas of marketing; your website must become a living thing that changes based on what you learn.
Let JS-Interactive Help Your Small Business with SEO
JS-Interactive has been designing productive and successful websites for companies of all sizes since 2004. As an experienced web designer and SEO company in Austin, I love to help small and medium-sized businesses make the most of their online marketing.
Have questions? Please feel free to contact JS-Interactive  for a FREE 30-minute consultation today!