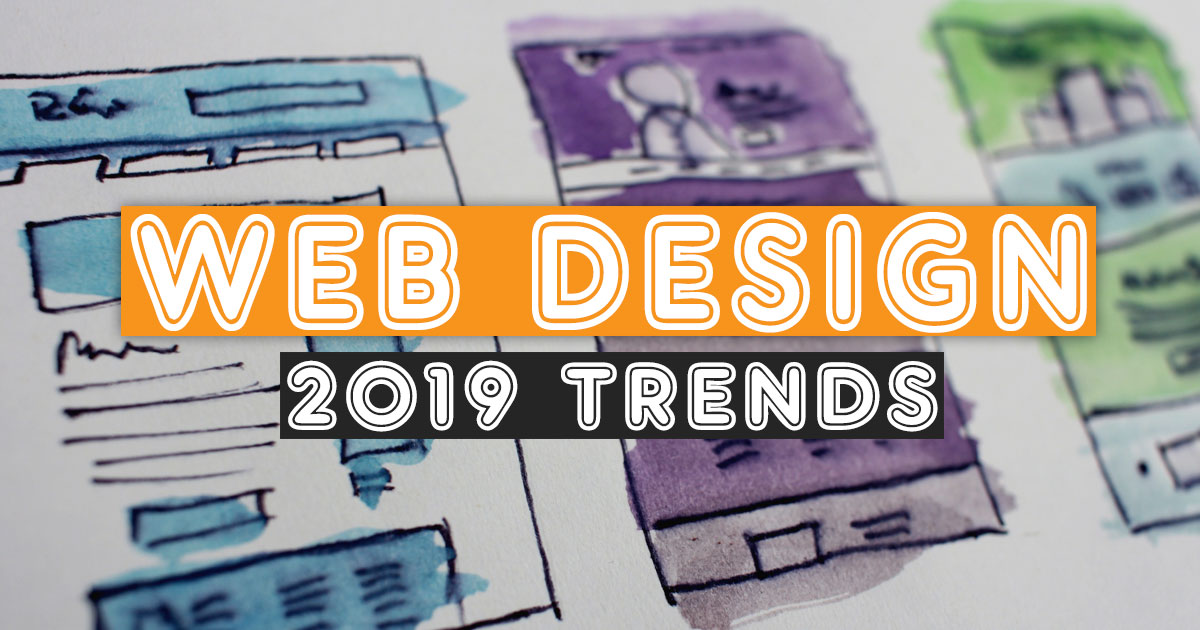 5 MIN READ
As the internet continues to develop, web design practices continue to adapt and bring about new trends. A good web designer remains cognizant of these trends; knowing what's hot and what's quickly becoming outdated.  We are rapidly encroaching on the end of another decade and with it comes plenty of new web design trends designers will want to add to their arsenals.
Growing Trends Web Designers Should Consider
Technology is changing—there's no stopping that, and with it comes changes in how consumers are using the internet. That means that web designers need to evolve with technology.
So, what are some growing trends that web designers should consider in projects for 2019 and beyond?
1. The Minimalistic Approach
In a day where bright and flashy have become the norm, designers enjoy creating a better user experience with a minimalistic web design and the use of technology advancements. Here's the thing, minimalistic doesn't have to mean black and white with little to no flash in the way of images and videos.
In fact, when we talk minimalistic for 2019, we mean making use of whitespace, clean typography, and mobile-friendly design. This also means making use of quality imagery in an effective manner, such as video, illustrations, and 3D artwork to help your material stand out without over-complicating the entire design. Thanks to a mobile-first generation (aka: those who use their mobile devices as their primary method of online searching, the use of a more minimalistic approach is more important than ever.
2. Font Varieties
It's okay to have fun with fonts and use varying typefaces to create an intriguing web design. However, we must keep the reader in mind as well, which means using easy to read fonts.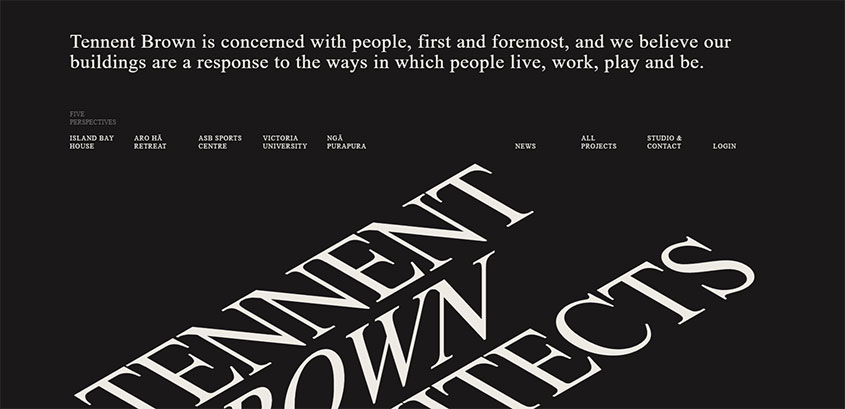 © site by tennentbrown.co.nz
Using fancy scripts is fun and can suit a website's overall design aesthetic, but using too much of those typefaces can make it harder to take in the information being presented to use. This is where having varying fonts in play becomes an effective design element. Highlight specific text that you want to stand out in more vibrant, fun fonts while using a more standard one for the meat of your text.
3. Upping Your Animation Game
That's right; animation is all the rage! Popular GIF website, GIPHY, reported recently that about 2 million hours of GIFs are viewed daily on their site alone.
Animations have come a long way over the years, and even the simplest of animations can convey an important message to those who visit our websites. Animation can be used to guide a reader through information quickly and as a way to break up larger blocks of text to give the reader's eyes a break.
Animation can even be used purely to entertain our readers as well, giving websites a more personable vibe instead of just a tool to move consumers through our sales funnel.
Now, animation comes in a variety of forms and can include:
Animated GIFs
Galleries/slideshows
Scrolling text
Page motion
Animated backgrounds
While incorporating animation into your design is an excellent idea, remember to keep it simple. The more animation you include, the higher the possibility of your page load time decreasing.
4. Adding Chat Boxes
While chat boxes may not seem like an entirely new concept, this technology is gaining traction this year. Consumers want to always reach someone from a brand, which is where chat boxes come into play. Thanks to advancements in both AI and machine learning, chat boxes are able to bring this expectation to life.
Web designers are beginning to add chat boxes to websites of all types, and in doing so, applying a lot of the trends we've already mentioned. This includes adding varying fonts and colors to chat boxes to help them stand out while still remaining consistent with the rest of your site branding. Web designers are also learning that chat boxes can adapt well to a minimalistic approach because that makes them simpler to use for the consumer.
5. Include Illustrations and 3D Artwork
Friends, gone are the days of the standard, overly used stock images. It's time to welcome in illustrations and 3D artwork into your web design practices.
Okay, so stock photography isn't going anywhere. However, we are seeing more brands choosing to go the illustration route to help set them apart from others. In fact, brands such as Slack, Mailchimp, and Dropbox have all opted to highlight illustrations as a way of catching their reader's attention.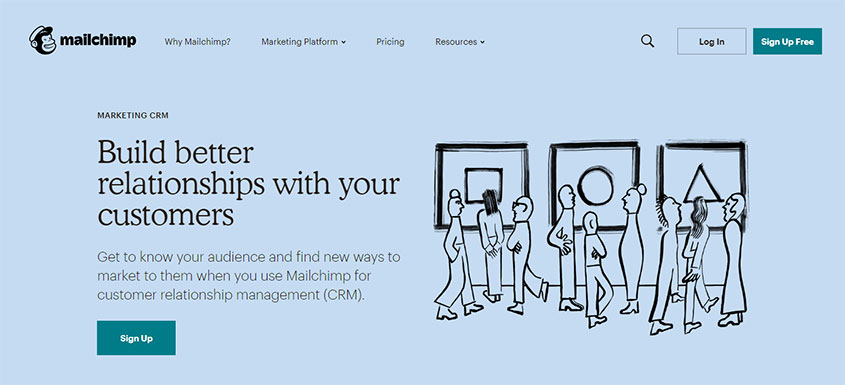 Want to stand out even more? Then we suggest considering 3D illustrations! 3D artwork helps to draw the eye in a way that 2D illustrations simply don't.
6. Include Videos
Videos, like animations, aren't going anywhere. With 45% of people claiming to watch more than an hour of Facebook or YouTube videos during the week, videos are a must for web designers.
Again, much like animations, videos are a great way to give your viewers a break from long walls of text. In fact, many consumers prefer short explainer videos than text in many situations simply because they are easier to digest. Not to mention videos are more effective when it comes to the human's ever-shortening attention span.
Videos come in all shapes and sizes, including:
Explainers/Tutorials
Product reviews
Presentations/Webinars
Interviews
LIVE streaming
Testimonials
As an SEO company, we know just how vital website design is to build your brand and inspire engagement. Websites are considered a brand's first impression to the world, and that's why we offer more than just search engine optimization services.
Our web design services are individually tailored to our customer's needs, not our own and can include:
Usability/User Experience Considerations
Creating a Mobile & Responsive Design
Content Writing & Development
SEO Friendliness
Want to learn more about our website design services? Contact me today for more information.