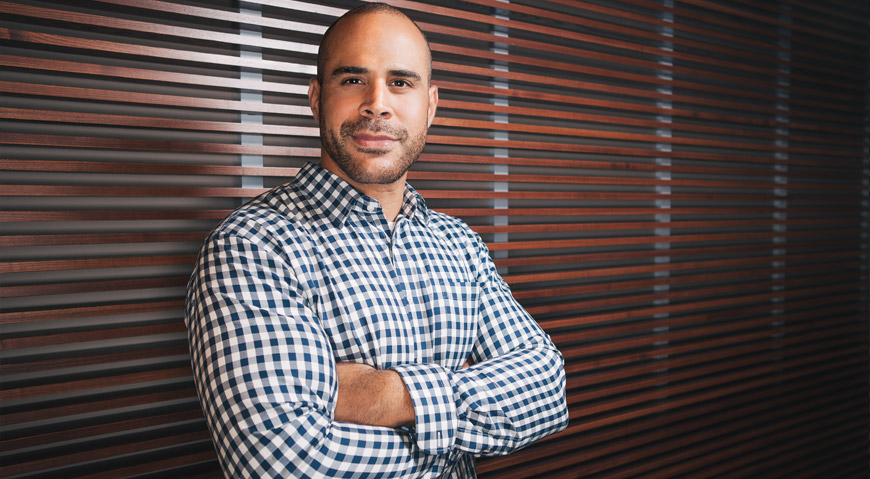 5 MIN READ
How did you arrive at running this business? What path brought you here?

As far back as I can remember I have always wanted to be my own boss. I spent a number of years as a contractor outside of my full-time job, working at wee hours of the morning. It was in 2012 with a business plan and a leap of faith, that I started running my own business.
What are you known for professionally? What do you have a knack for?
Creativity, exceptional attention to detail, very knowledgeable and resourceful in multiple facets of internet development and marketing. I am a problem solver. I love being faced with new challenges, and being able to think through them both creatively and strategically.
What's the one problem you are best at solving for your clients? What do your clients say about you?
Combining a creative and intuitive product that is functional and engaging. The consistent feedback from clients has been "a wealth of knowledge and understanding for both creativity (purposeful design) and technology."
Who have you worked with in the past? And what have you done for them?
I have collaborated with a wide range of small businesses, offering services in internet development and marketing, as well as collateral (corporate identity and visual communication). I've formed strategic partnerships with a number of start-up to well-established small businesses. A wide range of services have been provided: logo design, corporate identity packages, website design and development, content marketing and internet marketing.
How long have you been doing what you do?
Almost 12 years of agency life, and three years of full-time business ownership.
Why would I choose to work with you?
I follow a unique business model that offers many benefits to my clients. As an independent consultant, I partner with other consultants to offer a full-suite of services and build sustainable, long-term relationships with clients. This is vastly different with the traditional business model based on an office setting with employers and employees. Today's business world is driven by technology; we are in a mobile world that allows so much flexibility – for myself, my clients, my consultants and the wide audience across the world wide web. Thinking back to when I worked in larger organizations, I question how efficient it was having a dozen people sitting in a room, eyes glazed over, holding hours-long conference call meetings. Time is precious, and you're far more conscious of it being a small business owner. Productivity is everything.
What are you most passionate about professionally? What most excites you about your work and the contribution you can make?
I love working with people. Just being able to come alongside businesses, and other like-minded professionals. I get really excited about being able to share their vision, and to be a strategic partner in their business growth and development.
Where can we find you when you're not working? What's your favorite way to spend a weekend or a Sunday afternoon?
Outside of work, I live a fairly active life. I am either in a gym, in hiking shoes, on a bike, on a sailboat or strapped into a snowboard … depending on the season. Spontaneously is how I like to spend a weekend, and that's usually balanced between some form of outdoor activity, and some well-needed R&R with a book and mother nature.
Where did you grow up and why aren't you there now?
I am originally from Jamaica. I am an island boy … spent 15 years there. Jamaica doesn't quite fit in with the 20- year business plan … less opportunity there. However, with retirement, that's another story. Ideally I would like to have a home there again; Jamaica is a beautiful island with a beautiful people and culture.
Any volunteer activities you're crazy about?
I was part of wonderful ministry in Milwaukee called "City On A Hill" for a couple years. Truly inspiring story about a doctor who gave up her successful career to work with the poor and the homeless within the city of Milwaukee. Lots of lives have been transformed as a result of the ministry.
Any nonprofits you love, & why?
The Priceless Journey, a powerful ministry that speaks into the heart of others, and is pro-actively involved with providing healing to women who have been victimized by human trafficking. And The Ronald McDonald House Charities in Eastern Wisconsin. Ronald McDonald is a "home away from home" for families who are seeking medical care for their children at a Milwaukee-area hospital. Great staff, a great mission, and a beautiful facility.
Any awards or medals, or even medallions? Personal okay, too.
Personally received a few medallions for swimming. I use to be a competitive swimmer in my early teens. I miss those days …. hours of weekly practice with the 'Marlins' and competitive swim meets.
What would be impossible for you to give up?
My faith in God.
How do you want to be remembered?
Not complicated. Simple, and living out my faith in God.